The Dolphins had some special guests at their OTA practice Tuesday when they served up another example of their commitment to youth and high school football in South Florida.
The players and coaches watched the second OTA practice of the spring from the sidelines and observed Dolphins players going through individual and team drills.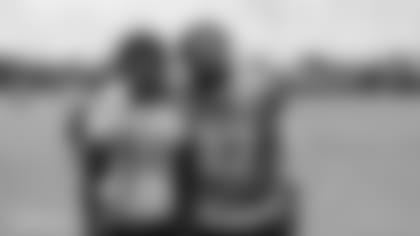 After practice, they lined up and got autographs from Dolphins players as they walked off the field. And then the Coconut Creek High players and coaches moved inside to the practice bubble, where they heard former NFL player and Dolphins Youth Programs Ambassador Twan Russell deliver a speech about character.
"It was great to see how the practice goes and all that, getting the experience," said Coconut Creek running back/receiver John Blackmon. "It makes me want to work harder to get here."
Since 2017, the Dolphins have hosted 67 teams and more than 3,000 student-athletes at their OTAs, minicamp and training camp practices. The team visits aim to recognize, inspire and increase football participation at the youth and high school levels.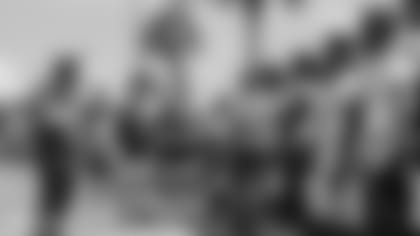 "To come out here and have the opportunity to interact with pros was really special, especially for me getting a chance to meet Brian Flores," Coconut Creek High Coach Gerald Cox said. "Tempo is the main thing we're preaching now and it's the same thing Coach Flores is preaching. To have the kids see that, I think that's a big sticking point in their heads."
"For my program, it means a lot. The fact that the Dolphins would think of us to even come out here is real special. It's awesome. It's a good opportunity for the kids to see pros work. They kind of think they don't do much once they get to that level. One kid asked me, 'Coach, you're still getting penalized for doing something wrong in the pros?' It's stuff like that that's going to help our kids understand that we're not just talking for our health. We're talking for a reason. That's the beauty of today for me."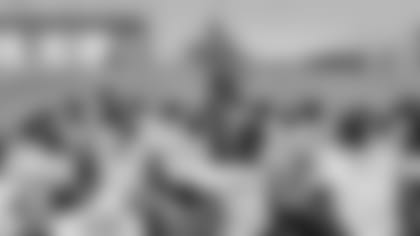 Blackmon was inspired by what he saw at practice Tuesday.
"How the receivers run their routes, how they do their moves and stuff, it made me try to perfect my game more and get better at my craft," he said. "I was just watching all the receivers to see and try to take notes on everything they do.
"It's cool to see how big you have to get and how much you have to develop yourself in order to play at the next level," junior defensive end Christopher Jones said. "From the D-line, I learned to always keep your hands extended, always be aggressive and keep your hands moving, eyes up and that first step is really important and crucial."
Cox is confident his players got a lot out of the experience.
"Some of it was a little shock and awe, being close to a lot of guys you see on TV," he said. "But then a lot of it is seeing the same things that our coaches are teaching them is the same things that the pros are doing. It allows them to finally think that, hey, man, I could get there if I work and I keep doing what my coaches are asking me to do. That was the major thing.z
"We're already talked about it as coaches what's going to happen when we get back to practice today. It's going to be interesting to see if we can take what we learned today over to practice later on today and see if our energy level is high and if our tempo is the same as what Coach Flores was saying out here. We're going to see."