MIAMI – Miami Dolphins players Doug Middleton and Christian Wilkins, cheerleaders and T.D. visited alex's place at Sylvester Comprehensive Cancer Center to distribute gifts and brighten the spirits of young cancer fighters and their families on Tuesday, Oct. 8.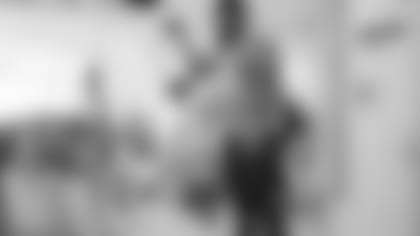 "You come here always trying to brighten someone's day and bring good energy to them. But you always leave with them cheering you up and them bringing you that energy because just knowing what they are going through and how they can still have such a big smile on their face is pretty awesome to see," Wilkins said. "What they are going through gives me extra motivation. It puts it all into perspective. What I am doing is nothing compared to what they are going through as far as me going out there on the field every day because they are literally fighting for their lives. I'm playing for them."
"It reminds me of when I was visiting my father at Sylvester when he was being treated for cancer. To see the people that came in to bring a smile to his face just lit me up and to be that part of it in somebody else's journey -- there is nowhere else I would rather be," Dolphins Cheerleader Paige said.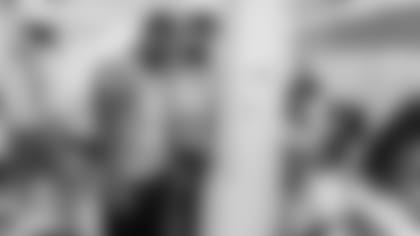 The children and their families had a chance to interact with the team, get autographs and take photos. The children also received gift bags from AutoNation, a supporter of the DCC, in celebration of the automotive retailer's DRV PNK Initiative.
"I think it's a really good thing that they are doing that so the patients can feel better not just when they need transfusions but also feel happy when they come here. It makes it make you want to come here," alex's place patient Sophia Treadwell said.
"A visit like this gives their lives a little normalcy. It's a very welcome distraction to the real reason they're in clinic today, needle pokes and strong medication, but it also brings joy and smiles getting to meet up close and personal star athletes, professional cheerleaders and the team mascot, something they might otherwise never be able to do. It's their moment to be special," alex's place Child Life Specialist Leslie Hutchins, MS, said.
This visit is in advance to the Dolphins' Crucial Catch game on Oct. 13 against the Washington Redskins presented by Sylvester Comprehensive Cancer Center, part of UHealth, the University of Miami Health System. At this game, the team will celebrate and honor on-field cancer fighters and survivors from Sylvester and researchers who have received funds from the annual Dolphins Cancer Challenge (DCC) with a halftime presentation.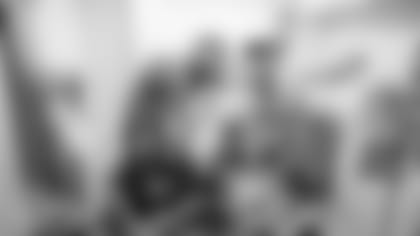 The Dolphins Cancer Challenge (DCC) was founded in 2010 by the Miami Dolphins organization as the signature initiative of the Foundation's health impact area. The DCC's purpose is to improve people's lives through financial support for innovative cancer research at Sylvester, South Florida's only NCI-designated Cancer Center. With this recent recognition from the National Cancer Institute (NCI), Sylvester is now among the top cancer centers in the United States and joins a highly select group as one of only two NCI-designated cancer centers in the state of Florida, and one of just 71 across the nation. Since its inception, the DCC has raised more than $32.5 million, donating 100 percent of participant-raised funds to Sylvester.
These initiatives align with the Miami Dolphins Foundation's commitment towards leveling the playing field through the power of teamwork to inspire a healthier, more educated and united South Florida Community.