Head Coach Brian Flores spoke to the media for about an hour at the NFL owners meetings in Phoenix. Here were some of his comments that stood out along with some perspective:
"Being a head coach in the NFL is about leadership. I'm just a coach. I can coach offense, I can coach defense, I can coach special teams."
— Flores made it clear what he believes is the most important quality in a head coach, and that's the ability to lead and to get the most out of each player, coach and pretty much everybody under his supervision.
"I've known about him for a long time. The one thing you hear over and over again is his ability to connect with players. He's a great fit for us."
— Flores' career in the NFL started just a little before quarterback Ryan Fitzpatrick arrived after playing at Harvard, so he's clearly got a lot of familiarity with him. Fitzpatrick started for the Buffalo Bills and New York Jets, so Flores also got to coach against him.
"It was a great moment for me sitting down with the other head coaches in the league. Very fortunate, very lucky to have this opportunity and try to make the best of it."
— Flores joked that his first thought when he posed for a group picture at the owners meetings Monday was that it was hot outside before reflecting on just what the picture meant.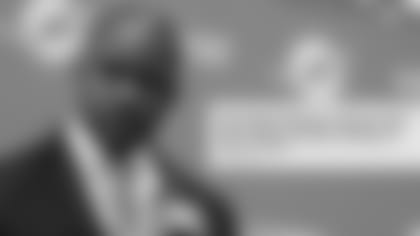 "Get better every day, that's my goal. That's been a winning formula for me my entire life and I'm going to stick to that."
— Flores has talked about staying in the moment from the time he took over as Dolphins head coach, and that clearly hasn't changed. He said during his media session Tuesday that his only focus at that time was the ongoing interview because that's what was happening then. As he said, whatever formula Flores has employed has worked wonderfully for him given his rise in the NFL, so there's no reason for him to change that approach.
"It's good business practice to have your eyes on the future. I think every business should do that."
— Flores made it clear he's going to do everything in his power to win every single game the Dolphins play, but he also understands the importance of the big picture. That means not sacrificing the long-term health of the franchise for immediate gains. Flores says Owner Stephen Ross, General Manager Chris Grier and himself are perfectly aligned in that belief, and every decision is made with the idea of helping the franchise both in the present and the future.