Each week, "In My Own Words" looks back at a past game against this week's opponent through the eyes and words of a Dolphins player who played a key role in that game. This week, legendary wide receiver Mark Duper takes us back to Oct. 9, 1983, when he caught seven passes for 202 yards and two touchdowns at the Orange Bowl. Although the Dolphins lost in overtime to the Buffalo Bills that afternoon, the game had far greater significance as it was the first career start for Duper and for Hall of Fame quarterback Dan Marino. Over the next decade, Marino, Duper and fellow wide receiver Mark Clayton owned the best aerial attack in football.
Going into that game against Buffalo, we were 3-2, and we had lost two of our last three games. Coach Shula told (quarterback) David Woodley and (wide receiver) Duriel Harris that he was going to start Dan and I in their respective places that week. Once that news was out, Dan and I got after it in practice.
Everything went smoothly that week. Our practices were great. I had a lot of passes thrown to me, and that prepared me for what was going to go down in the game. There was a lot of hype surrounding the team that week because it was Dan's first NFL start, but for me, those days went by like a blur. Thinking back on that, it was very surreal.
Dan and I knew that we could make that offense go. We had great teachers around us. We had veterans on the offensive line and some older wide receivers, guys like Nat Moore and Jimmy Cefalo. Everyone on the field was older than Dan, Mark Clayton and I. We were the only young bucks in the huddle, but we were confident.
I still remember how excited I was when I woke up that morning. I was in my second season, but I hadn't really spent that much time on the field during my rookie year with the Dolphins or to that point in 1983.
I was a little country boy from a town in Louisiana with a population of about 500 people, and I was starting for the Miami Dolphins, one of the NFL's most storied franchises. To make it even more exciting, I was playing against (Buffalo quarterback) Joe Ferguson, who had taken me under his wing when I was in college. He practiced with me for an entire summer leading into my senior year of college at Northwestern State in Louisiana. Without him, I wouldn't have had a good senior season, and I certainly wouldn't have gotten drafted.
I really wanted to play well against Buffalo, so that I could show Joe how much he helped me to become an NFL caliber player. I wanted to thank him for taking the time to teach me how to play football.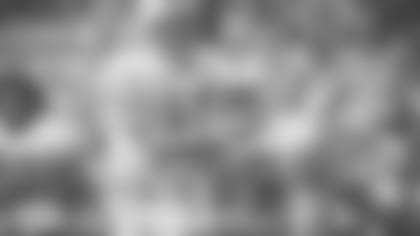 We didn't have a great start to the game. We were losing 14-7 at halftime, but we knew that we could get back into the game. Back in the day, Dan used to throw the football over my head, and I would just run after it. All week, I practiced getting behind the defensive back, and letting Dan throw the ball as far as he wanted to. Dan could throw the deep ball more accurately than any other quarterback in history, and he proved that to the world for the first time in the third quarter of that game. I got past the secondary, and he threw a perfect pass. I high stepped into the end-zone on a 63-yard touchdown that tied the game at 14.
Buffalo took the lead again in the third quarter on Joe Ferguson's third touchdown pass of the day, and we answered with some creativity. On a play that we had practiced all week, Mark Clayton took the football on a reverse, and I ran toward the inside and got the Bills to think I was going block for him. But as soon as the defensive back covering me took off after Clayton, I headed up field. Clayton threw a perfect pass to me, just like Dan Marino would have. I called him Dan Marino 2 that afternoon. I caught the pass in the middle of the field, raced toward the sideline and ultimately got into the end-zone. That was a great feeling, and of all the touchdowns I scored in my career, that is still the most memorable one.
Buffalo took a seven-point lead again in the fourth quarter, but Dan brought our team down the field two more times, throwing touchdown passes to Nat Moore and Mark Clayton. When we took the lead back, we thought we were going to win the game. Then, all of a sudden, Joe Ferguson walked the Bills back down the field and scored another touchdown to send the game into overtime.
I was able to catch a long pass in overtime, and that set up our kicker, Uwe von Schamann, for a potential game-winning field goal. He missed the kick, and we were just hoping to get back onto the field after that. That's all I was thinking about. But it didn't work out for us. Joe Ferguson got the Bills into scoring position, and they won the game with a field goal.
I was sad that we lost that game, but after catching all those passes and scoring two touchdowns, I felt that what I did that afternoon brought me to the top right away. It gave me the confidence that I could compete in the NFL. It gave our coaching staff and Dan the confidence that I could run routes and catch the ball. It gave my teammates the confidence that they could depend on me.
I also felt great about how well Dan played. I knew that I was going to be catching passes from the best quarterback in football for a long time. Dan, Mark Clayton and I tore up the NFL for 10 years after that. We never looked back.