Each week, "In My Own Words" looks back at a past game against this week's opponent through the eyes and words of a Dolphins player who played a key role in that game. This week, running back Mark Higgs takes us back to Sept. 14, 1992, when he rushed for 90 yards and two touchdowns, including the game-winning score with just 10 seconds remaining in regulation, to give the Dolphins a 27-23 win on Monday Night Football at the Cleveland Browns. The game was played shortly after Hurricane Andrew devastated parts of South Florida and forced the postponement of the team's regulatly scheduled opener against the New England Patriots.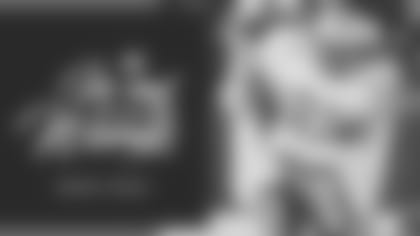 I had just gotten here in 1990 so we had never been through a real big storm like Hurricane Andrew. I'll never forget the lead up to the storm on this team and the area. I had just had my house built and then we are in the path of a hurricane. I remember thinking that this is going to be a big one and I didn't know what was going to happen to me or my house. The whole team ended up staying together at the stadium in the locker room to ride out Hurricane Andrew. We were worried about our friends and what they were facing with the storm. I was fortunate because the only thing that happened to my house was that I got one little tree knocked down. We were blessed that we were north of where the storm hit.
The real damage happened in South Miami. Our team went down there to help out and deliver supplies. It was a difficult time down there. It was like a bomb was dropped in the middle of the area. You never thought in a million years that you would see something like that. The whole area was devastated. I could not believe it.
We had to try to get back to normal life as a football team. We were originally scheduled to play at home against the Patriots, but the game was postponed because of the storm. It would be 18 days before we played a game. We ended up opening the season a week later on the road in Cleveland on Monday night against Bernie Kosar and the Browns. It was a good match up with Bernie and Dan Marino going head-to-head. It was good to get back to football on a Monday night and the whole team was fired up. We knew that everybody would be watching us back in South Florida on tv and that the fans needed to get away from the devastation for a little while and watch a football game. We knew we weren't just playing for us, but for all of South Florida.
The layoff didn't seem to affect us. We got off to a fast start taking a 14-0 lead on our first two possessions. Dan threw a 26-yarder to Mark Duper and I had a 7-yard touchdown run. Cleveland had a good defense, but we were moving the ball up and down the field. It worked out well because we were doing a combination of things using the pass to set up the run.
We started fast and it stayed that way until the start of the fourth quarter. We were up 20-3 and then Kosar threw a touchdown pass to make it 20-10. On the next drive, I broke a tackle and ran for a first down, but they got a hand on the football. I fumbled and they returned the ball for a touchdown to cut the lead to 20-17. I felt so bad. At that point, I was having such a good game. I tried to get extra yards and I fumbled. They made the big play and turned the game around. Dan and everybody told me to keep my head up. Coach Shula told me that he'll come back to me in the game and that I'd play an important role.
Kosar drove the Browns down for a touchdown with only about a minute left to take a 23-20 lead after they missed the extra point. Dan was one of the best ever in those situations of having to drive us down the field in the hurry-up offense. I had been on four teams and no team practiced those situations as much as we practiced it. Dan embraced being down like we were and coming back because he'd done it over and over in practice. I knew if we got the ball then we have a chance to score.
Dan drove us down to the 1-yard line with 10 seconds left and I went over the pile for the winning touchdown. I knew if I got the opportunity that I was just going to jump as high as I could. I had the highest vertical jump at 44 inches coming out of the combine. I was definitely going to jump over everybody. I'd been watching Walter Payton doing that growing up and told myself that I'll do that same thing. I said I'd worry about the coming down part later (laughs).
I was so emotional after the game. I was crying. I was just proud that Coach Shula had enough faith in me that he would let me redeem myself. It makes you feel good when your coach and your teammates have confidence in you that you'll be able to pull through the tough times. It makes you a better person because you appreciate the opportunity you got and try to take advantage of it at every opportunity because you never know when you're going to have that happen again.