When St. Thomas Aquinas plays host to Deerfield Beach High tonight, one player from each team will be wearing special — and meaningful — cleats courtesy of the Miami Dolphins.
Quarterback Jake Rudock visited his alma mater St. Thomas Aquinas earlier this week and Dolphins alum Troy Drayton was at Deerfield Beach High to present special My Cause My Cleats shoes to a player selected by each school.
Offensive lineman Marlo Martinez was chosen as the St. Thomas Aquinas representative, while running back Jaylan Knighton earned the honor for Deerfield Beach for the game, which will be the setting for The Audible: Football Fridays this week.
The shoes Rudock presented to Martinez recognized Jack and Jill Childen's Center, a nonprofit organization that provides early education for working families.
Drayton presented Knighton with shoes meant to raise awareness for autism.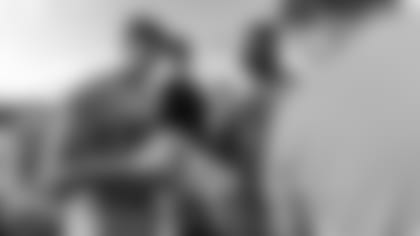 Both Rudock and Drayton addressed players from both high schools about the importance of getting involved in worthwhile causes.
"That was the biggest thing behind the My Cause, My Cleats (campaign) is we're all football players, but there's stuff that we can maybe help with outside of just football," Rudock said. "For that, I just tried to basically explain to them what this actually means. A ton of guys have foundations and charities, and some guys work really closely with charities."
As an example, Rudock does a lot of work for the ChadTough Foundation, whose mission is to research and drive awareness for pediatric brain tumors and is named after Chad Carr, the grandson of former University of Michigan head coach Lloyd Carr and former U-M All-American and former Dolphins safety Tom Curtis, who passed away at the age of 5.
Rudock won three state titles and two national titles during his time at St. Thomas Aquinas and was named the Broward County Player of the Year as a senior in 2010.
He became familiar with the Jack and Jill Children's Center during his time at STA.
"I like going back to my old high school," Rudock said. "It's nice. I've still got a couple of coaches that I still know there and obviously the newer coaches I get to know. It's just cool to go over there, see the kids, see what it's like. It's changed a little bit obviously, but it's still nice to go back and see everybody.
"The (players) were pumped. They were very excited. Marlon was very surprised. He was like, me? It was really funny. That's who the coaches selected and thought would be a great fit for. I saw the cleats. It was cool. It was a really cool design. They still have St. Thomas colors, but obviously they Jack & Jill was on the side, so it was pretty cool."
The NFL designated Week 14 for its My Cause My Cleats campaign in 2019. The Dolphins face the New York Jets at MetLife Stadium on Sunday, Dec. 8 that weekend. The Dolphins will also be permitted to wear their custom cleats for their Week 16 matchup against the Bengals.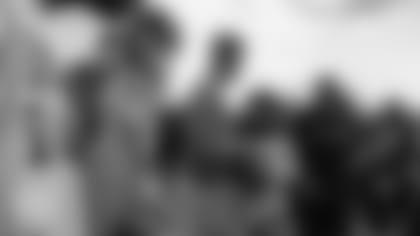 As part of the collaboration between the NFL and players, players will represent hundreds of charitable organizations that focus on causes from youth wellness to sex trafficking prevention and support for single parents.
For the third consecutive season, the NFL will celebrate Unboxing Day, a league-wide unveiling of the players' custom cleats. Players will unbox their cleats in hospital visits, classrooms, locker rooms and on stadium fields on Giving Tuesday, Dec. 3. Through Week 14, players will share images of their cleats and the stories behind them on social media, using the hashtag #mycausemycleats.