MIAMI GARDENS, Fla. – As part of Huddle for 100, the NFL's season-long initiative to get 1 million people to give 100 million minutes of their time to community service, the league is awarding a monthly community-focused donation to top-ranking clubs based on volunteer minutes for each month. During the month of August, the Miami Dolphins donated the most time back to their community.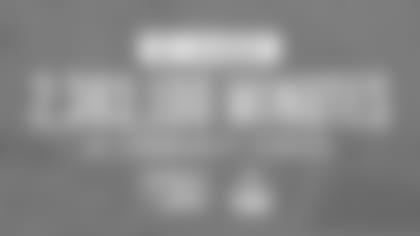 Throughout the month of August, the Dolphins and their community partners were able to contribute a total of 2,383,100 minutes through 27 #DolphinsHuddlefor100 events. Some of the Dolphins August Huddle events included: a meal pack at Hard Rock Stadium with Miami Dolphins FOOTBALL UNITES™ partner Feeding South Florida, a back to school shoe-shopping spree with Miami Dolphins FOOTBALL UNITES™ partner His House Children's Home, and high school and youth football teams that visited the Miami Dolphins training camp practices through the Junior Dolphins program brought canned goods that were donated to Feeding South Florida and wrote thank you letters to those who have inspired them.
"We are honored to receive this recognition from the NFL and excited to make such as positive impact in our community through the Miami Dolphins FOOTBALL UNITES™ and Huddle for 100 program," said Jason Jenkins, Senior Vice President of Communications and Community Affairs. "We are passionate about our roles as community stewards led by Stephen Ross and Tom Garfinkel to make South Florida, healthier, educated and more united."
"Feeding South Florida is ecstatic that the Miami Dolphins won the Huddle for 100 initiative during the month of August. Given their commitment to bettering the South Florida community, evidenced by the many volunteer and charity events they support, it's no surprise the Dolphins won this competition. We're proud to call the Dolphins a partner and appreciate their commitment to ending hunger in South Florida" said Sari Vatsake, Executive Vice President of Feeding South Florida.
Clubs are only eligible to win the monthly grant once, but there will be one community-focused grand prize at the end of the season that will be awarded to the club with the most volunteer minutes throughout the course of the initiative. Dolphins fans are encouraged to boost the Dolphins' ranking by volunteering 100 minutes and logging their service using #DolphinsHuddlefor100 on social media.
Throughout the Huddle for 100 initiative, the League will give participating fans the chance to win a variety of prizes, including game tickets, team gear or a monetary donation to a charity they select when they track their participation on the Huddle for 100 website. Fans can also share their volunteer efforts on social media using both the #NFLHuddleFor100 and #Sweepstakes hashtags. For more information on the NFL Huddle and to see volunteer opportunities with the Dolphins, visit https://www.miamidolphins.com/community/specialteams.