MIAMI GARDENS, Fla. – The Miami Dolphins and cornerback Xavien Howard surprised the North Miami Senior High School football and girls flag football team with equipment to help create a safer and healthier environment for their program. The donated equipment included Dolphins branded shirts, footballs, cleats, blocking shields, backpacks and a JUGS machine. The teams also had the opportunity to hear from Howard about his experiences as a collegiate and professional athlete. North Miami Police Department Chief Larry Juriga and North Miami Police Department officers also were on hand for the donation.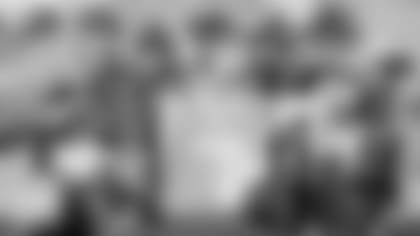 "I feel like if anybody would've done this for my school – better cleats, better jerseys – it would've given us a fair opportunity," Howard said. "I went to a small school and we didn't really have equipment to work with, so it feels great to be able to give back to North Miami and now they can keep working to raise their game and be competitive."
This is the ninth Junior Dolphins Equipment Donation this year. The Dolphins also made a donation to Pahokee High School, Felix Varela Senior High School, Stranahan High School and Ronald W. Reagan Doral High School in April and South Broward High School, Santaluces Community High School, Miami Beach Senior High School in May and Piper High School in September. In 2018, the Dolphins made donations to Miramar High School in May, Pompano Beach High School in July, Booker T Washington in August, Spanish River High School, Key West High School, Marathon High School and Coral Shores High School in September and Glades Central Community High School in November.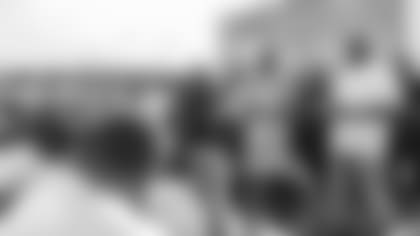 The Junior Dolphins program encourages youth players and coaches to teach, learn and play football in a fun and safe environment. The Junior Dolphins program is designed to give kids access to learn the fundamentals of football using the NFL's top resources. To grow the game, the Junior Dolphins program will work to educate coaches, parents and youth on the health and safety of football with a strong emphasis on character development. Junior Dolphins is building the next generation of Dolphins Fans.
This event is part of an ongoing series of the #DolphinsHuddlefor100 service projects as part of the NFL's 100th celebration. The NFL has invited fans, players, clubs and employees to join Huddle for 100, an effort to inspire 1 million people to volunteer 100 minutes of their time to make meaningful contributions to their communities. These activities are in connection with the Miami Dolphins' initiative to level the playing field through the power of teamwork to inspire a healthier, more educated and united South Florida community. For more information on the NFL Huddle and to see volunteer opportunities with the Dolphins, visit https://www.miamidolphins.com/community/specialteams.