Those all are words that could be used to describe training camp.
The offseason program may represent the first steps toward the regular season, but training camp is where the real work begins.
Each summer, the Dolphins fight through the South Florida heat for three weeks with one simple goal in mind: prepare themselves to be the best team they can become at the start of the regular season.
"We just want to establish a grind each and every day, not looking too far behind, not looking too far ahead, just take that day on and see if we can get a little bit better as a team each and every day," defensive line coach Kris Kocurek says. "Make sure when the players walk out of the building, the team has gotten better and just grind it out one day at a time."
Without question, training camp is a lot of hard work. It's a lot of meetings, staying at the team hotel away from family, and practices in the brutal South Florida heat.
It's also a most important time of the year. Training camp is when a team really can sow the seeds for success.
It's where the coaches can ingrain in their players the fundamentals and ideals they have implemented, where team chemistry really gets established.
This is how veteran defensive end Robert Quinn, who joined the Dolphins in March when he was acquired in a trade with the Los Angeles Rams, described training camp: "I would say hard-working, grueling, but also it's a time when the guys get to come together and build not just teammate chemistry but the friendship chemistry. Being teammates and also making your friendships a lot stronger makes it a lot easier to come out here on the field. That's the gist of training camp, a few weeks of just grinding through the hard stuff."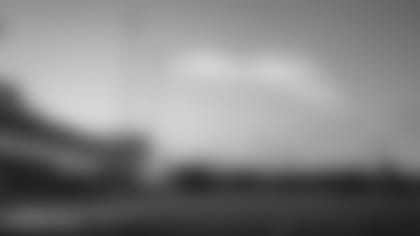 For the Dolphins, training camp officially began Thursday, July 26, the day after veterans reported to the Baptist Health Training Facility at Nova Southeastern University for their physicals and conditioning tests. The rookies had reported a week earlier, on Wednesday, July 18.
Training camp officially ends Tuesday after 20 days and 14 practices, not including walk-throughs, with the preseason opener against the Tampa Bay Buccaneers mixed in there.
While each practice might have a different focus — it could be the red zone one day, special teams the next day, two-minute offense the next day, and so forth — the goal remains the same: keep grinding and keep getting better.
"The emphasis, it's constantly changing in the NFL," Kocurek said. "Certain things you're trying to get accomplished in a practice setting, whether it's situational football or whether it's more physical drills like half-line or tackling circuits and things like that. The emphasis changes from a schematic standpoint, but the grind doesn't change. We want to stress the things physically and mentally with the goal being ready to roll opening Sunday of the season."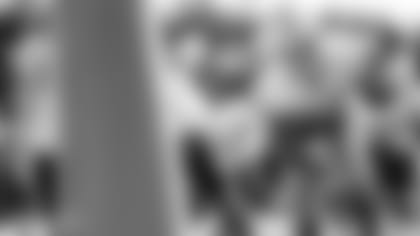 Training camp practices are divided into position drills, individual drills and team periods, all with the goal of fine-tuning the techniques that will be expected to show up on Sundays from September through December and hopefully into January.
What happens in a practice doesn't have a bearing in the standings on that particular day, but the idea is that it could be when the games actually start to count.
"Every rep, every play, every drill matters," defensive backs coach Tony Oden said. "But when you look at it all, we try to look at it collectively. We want to look at it as one, as a game of ones. We want to win this drill. We want to win this segment in practice. We want to win this alignment. You want to win this play. You want to win this series. You want to win this drive. And then you want to win a quarter in a game. You want to win the half. And then you win the game. So, it's a game of ones.
"So, you try not to look at it big picture. You want to look at it in small increments. If you win those ones, you add them up. You win enough of those ones and you win the game. That's what we're trying to do."
Players take the drills seriously, make no mistake about that.
All those guys are competitors, otherwise they wouldn't have gotten to the NFL in the first place. Not one of them likes to lose, even if it's just for one play in practice.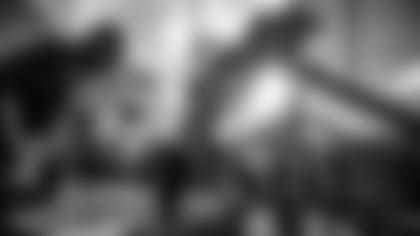 That competitiveness, and the occasional trash talking that can come with it, sometimes produces some spirited — you also could call them heated — moments at practices. Coaches don't mind a surge of intensity at practice — as long as it's channeled properly.
"There is a kind of bleed-over effect to it, so it's a line, but sometimes it does cross a little bit and that's OK," Oden said. "This is a competitive sport and has a phenomenal physical aspect to it. Being competitive, if someone beats you, say, OK, you got me that time, but I'll get you next time. Being combative is taking time away from us getting another rep. We don't want that. We want to keep the practices moving, but sometimes it happens. It's a competitive sport."
Kocurek says no drill should be overlooked when it comes to its significance.
"Everything you do matters in the NFL," he said. "There's not a second in a day that goes by that, in my opinion, you're either getting better or you're getting worse. There's really no in-between. If you're not consistently getting better, somebody is passing you. That's the approach we take. We step in the building and work, establish a work ethic that's contagious as a defensive line. We try to establish a work ethic that's contagious to the whole team. When they look down and see us working and then when they see the work we're putting in in team drills and the effort we're trying to put in, hopefully it's contagious throughout the team."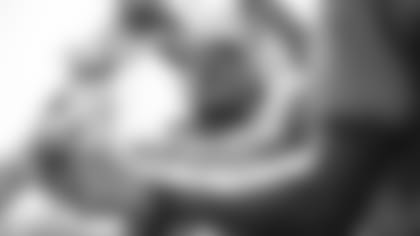 As is the case with everything in the NFL, things don't always come easy during training camp. To quote the great Tom Hanks from the movie "A League Of Their Own," if it were easy, everybody could it.
Given the physical nature of football, it's only natural that players will have to endure their share of bumps and bruises. And there are other obstacles that will pop up as well.
Dealing with adversity is a fact of life in the NFL, and the ability to overcome said adversity is a key component to success.
"Yeah, it separates everything," Kocurek said. "We can't have players on the team that when the going gets tough they shrink. In my mind, when the going gets tough, the tough get going. There's going to be adversity usually on a play-to-play basis. The NFL is an adverse league. Adversity sets in daily. It ain't like we're going to go months at a time without any adversity. Our team has got to embrace adversity. When adversity strikes, we've got to be at our best.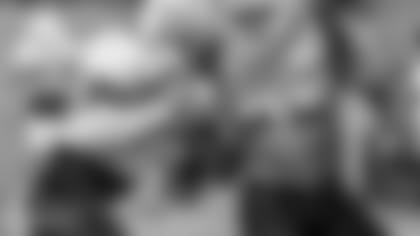 "That's what this whole process is for. Putting them through camp in this heat down here in South Florida and going outside and practicing and trying to establish the work ethic that we envision our team to work at. Put them in adverse situations before they get there. It can't just be, hey, the first Sunday is the first adverse situation we're going to encounter. You gotta put them through it in practice and they gotta feel what it's like to go through adversity and fight through it and come out on the other end."
Oden said what he wants from his players is all-out effort, regardless of circumstances.
"I expect 100 percent realistically knowing that each person can't come in every day by themselves and bring it," he said. "That's why we have our room. That's why the culture in our room is a certain way. If I come in as a coach and I'm not 100 percent, they pick me up to make me 100 percent. If one of our players is having an off day, they have their brother next to them to pick them up to be 100 percent to give their maximum effort. To me, it's a collective, group thing that we all want to have our standard but we can all lean on each other if we're falling sub-par, then it's time to pull each other up. That's the great thing about our room. We have a family. We're developing our family more. We're developing a culture where we can pick each other up. We have a circle of trust that we talk about in our room, so we hold each other accountable and if someone is not feeling it that day, he knows the guy next to him is going to pick it up for him or help him raise the standard that we need."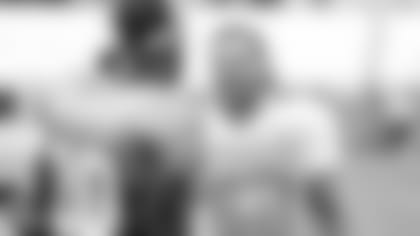 Training camp isn't just a time for working and fundamentals and techniques, it's also a time for bonding.
Players stay at the team hotel for the duration of camp, their interaction with their loved ones limited to visits at the training facility and playtime with the kids after practice.
For those 20 days, the players spend an awful lot of time together, and hopefully a bond is formed.
"I think it's been growing very strong," Quinn said. "You just hang out with your position group and you can just see the interaction, the friendship, the chemistry just by sitting back and listening to the jokes and just the locker room talk. Being up here all day, being at training camp, you better start liking the guys you're around because you're going to be around them all day. And I just think it allows you to see the true genuine come out of everyone as long as you get to stick around together."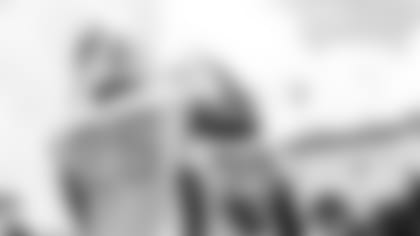 The bonding takes place in the meeting rooms at camp, on the practice field, and certainly in the locker room where the competitiveness of the players has an outlet or two.
"We're all competitors by nature, so in the locker room we have a four-square set up in the middle of the locker room where we have tape and boxes lined up and we kind of go at it," running back Kenyan Drake said. "We also have a little basketball, a little hoop in the locker room, so friendly wages, nothing too crazy, just to kind of go back and forth, push-ups, things of that sort. And then obviously in the game room we have video games — FIFA, Madden, 2K, those things of that sort. Like I said, we're competitors, so if we're not on the field competing, we're in there competing."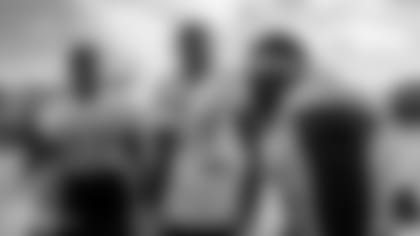 In a league where the difference between winning and losing is so small, an intangible such as camaraderie can make a big difference in the standings.
"You work together and you go through tough times together and you have to grind through things together, relationships become tighter and tighter and tighter, and then you feel a strong accountability to hold up to the standards that everybody sets forth that we're going to get accomplished and the way we want to conduct ourselves on a daily basis," Kocurek said. "We have that going right now. We've got a tough team. We've got good guys that are out there fighting for each other. The work ethic has been outstanding. We've just got to keep it going. One day at a time. Don't look too far ahead. Don't look too far behind. Let's attack that meeting and let's attack that weight room session, then let's attack that next practice and let's attack that next rep."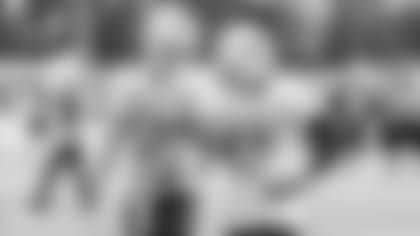 Ultimately, that's what it comes down to when it comes to training camp, attacking every practice, attacking every rep.
You'd be hard-pressed to find a player to tell you that it's his favorite part of the job, but every one of them understands it's one of the most important.
It's hard work physically, but also mentally because there's new information to absorb pretty much on a daily basis.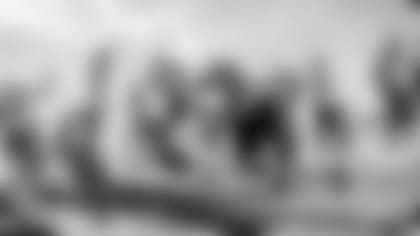 "We stress them out mentally," Oden said. "There's a lot of installs, a lot of defenses that they have to learn, a lot of different checks and adjustments. That's challenging. You also add in the fact that it gets competitive. Our offense, they want to get a first down, they want to move the chains. We're trying to stop them from moving the chains, but yet we're still trying to work together as a team. They're going to win some. We're going to win some. But yet we still have to grow, so the challenges in that would be to keep everybody calm. We always tell our guys we want them to be competitive, not combative, to that extent we're going against ourselves. But guys have been working hard. We're excited about it. They've done an excellent job of taking care of their bodies, being ready, learning, bringing energy to our practices."
For Dolphins players, there's the extra challenge of practicing in some of the most brutal conditions around the NFL.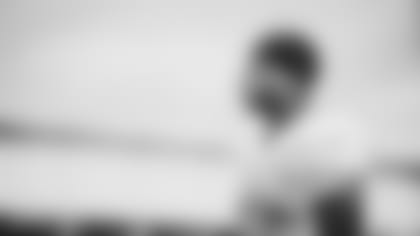 In fact, Drake says it's the hard part of training camp.
"Just coming out here and running around in this heat," he said. "You have to stay hydrated for sure, make sure you get the proper recovery. It's just definitely a very dynamic environment to practice in. Not many people in the rest of the league have this type of environment to practice in. It's very unique, but it'll help us for the season ahead also."
"The most challenging is probably just the first couple of days, just adjusting to the heat," Quinn said. "After that, when you're in the league for a little while, you kind of understand how training camp works. Even though it's not easy — let me be honest, it's never, ever really fun, but it's something you gotta do to get to where you're trying to go."