The Dolphins released their first depth chart of the 2018 season in advance of their preseason opener against the Tampa Bay Buccaneers and, while Head Coach Adam Gase downplayed the significance of it, it still generated some conversation after practice Monday.
Perhaps the biggest topic regarding the depth chart was the running back position, where the Dolphins listed Kenyan Drake OR Frank Gore as the first-team players.
"They're both going to play," Gase said. "I'm not worried about it. It's not something I'm losing sleep over. They both deserve to be on the field. I like what both those guys bring to the table."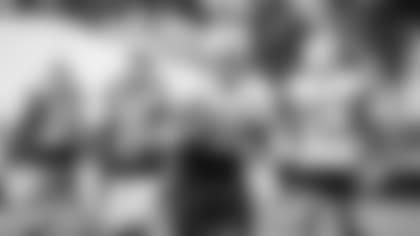 Drake started the final six games of the 2017 season for the Dolphins and led the NFL in rushing yards over the final five weeks. Gore, meanwhile, has started 181 of his 182 games since 2006, his second year in the NFL.
Both players said Monday the issue of who would be the starter really was a non-issue.
"That really doesn't matter in the sense of we're going to come in and make the plays that we're supposed to," Drake said. "(It's) not just me and Frank but me, Kalen (Ballage), Senorise (Perry) and whoever else we have coming out of the backfield. I feel like when we go out there, there shouldn't be any type of fall-off. We should go out there and make plays with whoever is on the field."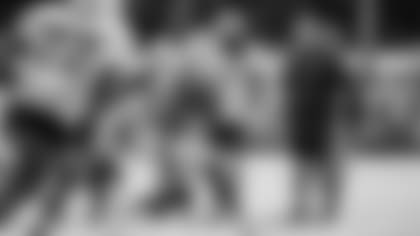 Said Gore: "I come out here and compete every day. Not just with Drake, but with every guy in my room. I think we have a good talented room. I think we all push and help each other. With me, whatever my coaches want me to do this year, I'm going to do it. If they want me to start the game off, I'm going to start it off and give them 110 (percent). If they want me to come in behind Drake or Kalen, I'm going to do that and give my teammates 110 percent. Whatever my coaches want me to do, I'm going to be ready."
Drake also didn't care about the fact he wasn't listed first on the depth chart after ending last season as the starter.
"I want to go out there and win games," he said. "I'm sure he doesn't care. I don't care. I don't think anybody really cares about where they are on the depth chart before preseason even starts. I feel like we've got to go out there and earn our spots and go out there and play football. At the end of the day, we're going to go out there and do what we've got to do."
Depth chart: The depth chart came up a few times during Gase's media session Monday and he had a clear message for the media. "I wouldn't look too deep into this depth chart," Gase said, adding that reporters make too big a deal of it. Gase says the players have done a good job of focusing on their work and not paying attention to who's listed on what team.
Carroo ready for action: Wide receiver Leonte Carroo has been looking to make up for lost time after missing most of the offseason practice because of a knee injury and now he's ready to make things happen in the preseason now that he's back at 100 percent. "I'm very eager," Carroo said. "I can't wait for Thursday. Especially after missing all of OTAs and just being in training camp, I'm excited to go against another opponent and go out there and play and showcase my ability." The 2016 third-round pick has a pretty good idea what he needs to get the next four weeks, starting Thursday against the Tampa Bay Buccaneers. "Just go out there, do my job," Carroo said. "Special teams is going to be a key part and just go out there and make plays. Last year I was able to score a touchdown in a preseason game. It's always good to make plays on offense and do your job and also make no mental errors and just go out there and play." Carroo said that missing time in the spring had him playing catch-up at the start of training camp. "I feel like the biggest thing was getting my legs back underneath me," he said. "Missing all of OTAs, I missed the feeling of what it was like to compete for footballs and go against another DB in front of you. This offseason I just worked on getting healthy, getting healthy, and I forgot what it was like to kind of play 11-on-11 football. I feel like I'm finally up to speed now and I'm ready to go out there and make plays."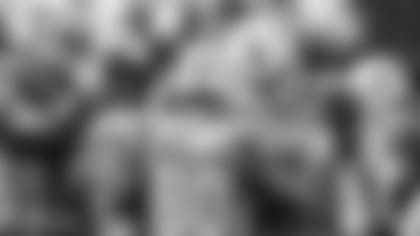 Practice report: The Dolphins practiced in shoulder pads Monday. … Tight end A.J. Derby returned to practice after missing last week because of a foot injury, although he did not participate in team drills. Wide receiver Isaiah Ford (shoulder) also was back at practice, although he was wearing a red jersey. … Defensive end William Hayes (hamstring) and offensive lineman Jake Brendel (calf) were the only two players to sit out practice. … Second-year player Torry McTyer lined up at cornerback with the first-team defense opposite Xavien Howard. … Defensive end Andre Branch broke through the line of scrimmage to meet the running back in the backfield on a running play. … Defensive tackle Jordan Phillips got a sack against Brock Osweiler. … Rookie free agent Greg Joseph handled the kicking duties Monday. He was 7-for-7 on field goal attempts, with a long of 61 yards. … Cornerback Taveze Calhoun stepped in front of a receiver to intercept a pass in team drills.
Special help: Fifth-year player Walt Aikens has developed into a leader on special teams and he takes that role very seriously. That's why he's been spotted working with younger teammates after practice. "We want to win, man," he said. "If a younger player is not getting it and an older player knows that he's not getting it, we'll stay with them after. At the end of the day, when we step on that field, we represent the Dolphins, so we all have to look as one and play as one." Aikens mentioned Mike Hull and Chase Allen when he was asked which players have taken a step forward in special teams drills this summer. He also said rookie first-round pick Minkah Fitzpatrick, who played special teams at Alabama, also could make a strong contribution in that area. "Minkah is a big, fast body," Aikens said. "Wherever we can use him on the field, I'm pretty sure that he'll go out there and get the job done."
Youth is served: In keeping with their commitment to youth football, the Dolphins welcomed members of the Junior 49ers and the Prep Bills from the Palm Beach Youth Football League to practice Monday. After watching practice, the players got the chance to meet Dolphins players and get autographs, and the teams later scrimmaged. Before that, one of the youngsters got the chance to race Aikens. The Dolphins safety came out on top and went the professional wrestling route as he opened his media session. "In the matter of sprinting the length of the field, no kid in the state of Florida can rock with me," Aikens boasted with a smile. "If you all got a kid out there that wants to race me in the 100-yard dash or 100-meter dash, whichever, you all know where to find me."
Sad news: Former Dolphins front office executive Tom Heckert died Sunday night of a heart attack at the age of 51. Heckert worked for the Dolphins from 1991-2001, including two years (2000-01) as director of pro personnel. His father, Tom Heckert, worked in the Dolphins personnel department from 1989 to 2007.