Running back Mark Walton got a little bit of a chance to show what he could do for the offense in the Dolphins' last game, and he's hoping it leads to more opportunities.
The former University of Miami standout had a season-high six rushing attempts in the game against the Los Angeles Chargers on Sept. 29 and finished with 23 yards, including an 11-yard gain that has been the team's longest run of the season.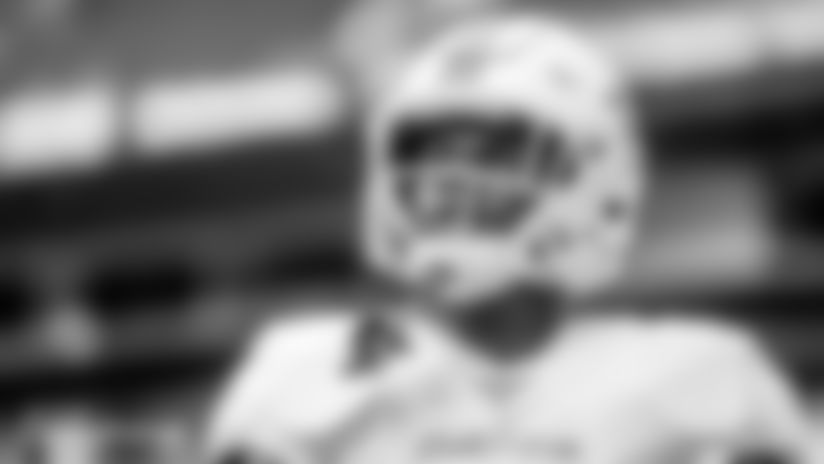 "It's just showing that all my work I'm putting in, getting the coaches' trust around this building to be able to get some carries," Walton said after practice Monday. "It's something I've been looking forward to and it's just been paying off. I'm just going to continue working.
"I've just been coming here every day, just come in and do my job, not trying to figure how many carries, how many reps I'm going to have. I'm just trying to do my job each day, every day. That's what I come in to do and that's why I'm here, to do my job."
Two days after the Chargers game, running backs coach Eric Studesville said the coaching staff likes Walton and wanted to see him more involved in a game after he had four carries in the first three weeks.
"We just got him in the offseason, so I'm still learning him and what we're finding out is that he takes advantage of opportunities," Studesville said. "He's gone in and played well the times he's gone in."
Four veterans who missed the game against the Chargers because of injuries practiced Monday when the Dolphins returned from their bye weekend.
Head Coach Brian Flores said before practice that wide receiver Allen Hurns remains in the concussion protocol.
Prince started at right tackle after veteran J'Marcus Webb moved over to left tackle to replace Davis.
Flores said Monday he'd like to see Prince in action again, but that no determination on when that might happen.
"He was excited to play and said he had so much fun playing," Flores said about Prince. "So he is motivated and that is a good thing. I think with a young player like that, you want to get them more snaps and get them more comfortable so you can develop them, especially on the offensive line. A guy with his size, his athletic ability, we want to get him in there and try to see if he can get better. But that is up to the player and we have got some other guys that are playing well also, so we will see how it all unfolds over the course of the week."
Take me out to the ballgame
It's common for NFL players to go watch a game during their bye weekend, but it's usually a college football game involving their alma mater.
Running back Kenyan Drake went back home to Atlanta this past weekend and took advantage of the opportunity to take his two younger brothers to SunTrust Park to watch the Atlanta Braves face the St. Louis Cardinals in Game 2 of the National League Division Series.
"It was real cool," Drake said. "I think the coolest part was just taking my brothers there. I remember when my dad used to take me to the games. I came in town, I had a little off time, so I wanted to treat my little brothers to a game and kind of let them dream for themselves."
Drake also happens to be friends with Braves starting shortstop Dansby Swanson, who was the first overall pick in the 2015 Major League Baseball draft. Drake and Swanson both grew around Marietta, Georgia, and Drake has been seen in the Dolphins dressing room in Davie with a Swanson Braves jersey.
Atlanta won the game that Drake and his brothers attended, 3-0, to even the best-of-5 series at one game apiece.
"Baseball is in my blood," said Drake, who texted Swanson after the game. "I played baseball when I was 8 through high school. Watching the game, obviously the Braves are one of my favorite organizations to root for, so to see them do well and obviously see one of my buddies that's on the team and doing well also, it means a lot."