Foundation Programs | Miami Dolphins
Miami Dolphins Foundation Programs
50/50 Raffle
Participate in the Miami Dolphins 50/50 raffle and you could win half the jackpot! Tickets will be available online when live by clicking the link below or throughout the stadium on gamedays.
All proceeds will benefit various community initiatives supporting the mission of the Miami Dolphins Foundation. Specific beneficiary information will be provided for each raffle event.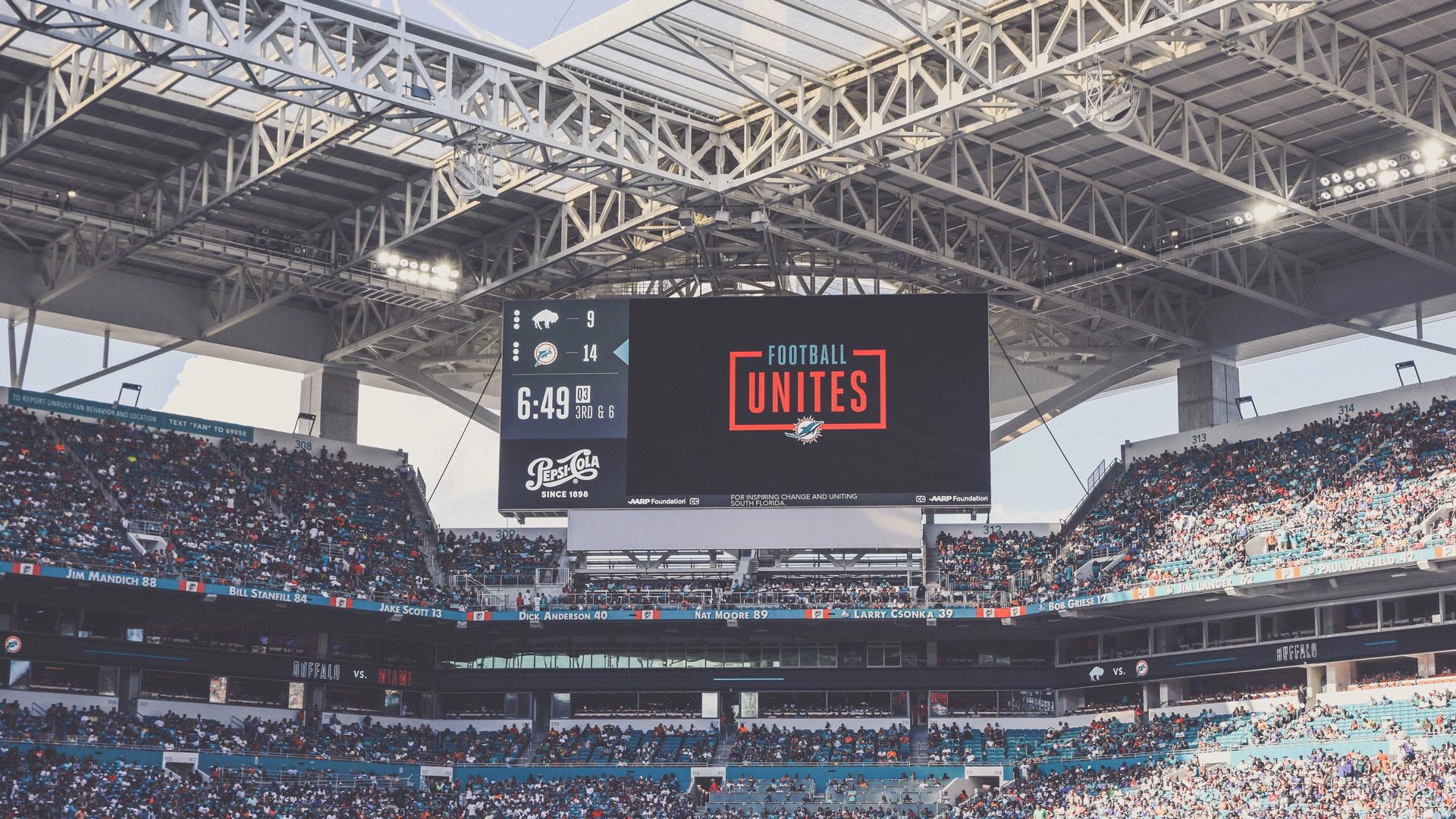 Video Board Messages
Want to give a special birthday or anniversary shoutout? Have a proposal in mind for your loved one? During the season you can make a donation to the Foundation and purchase an in-game video board message for just the occasion!
Still Shot - $250.00
Live Shot - $400.00
If you have any questions, please email Foundation@Dolphins.com.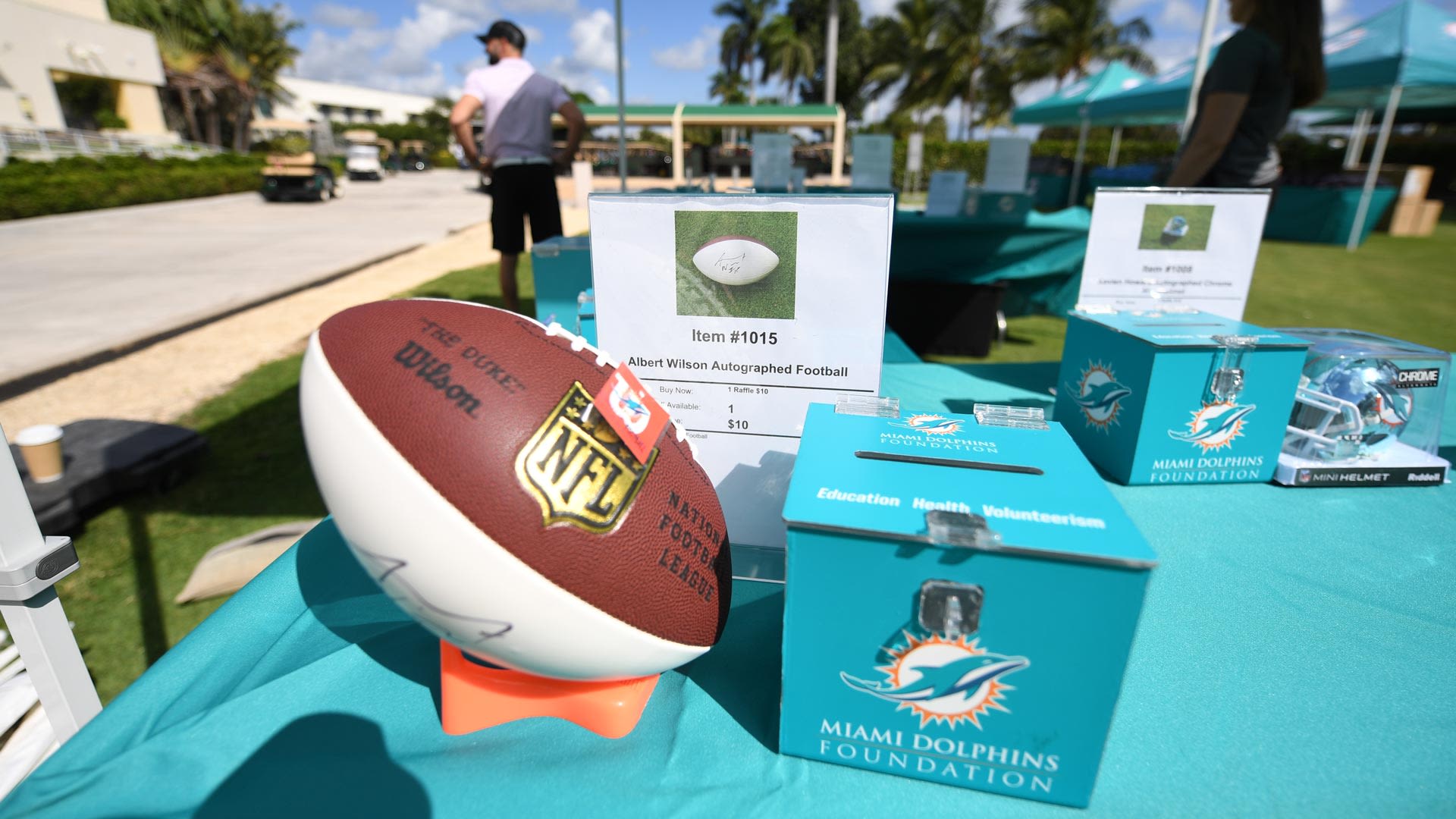 Silent Auction
Visit our online silent auction for exclusive Miami Dolphins memorabilia, experiences, and items from our partners in the South Florida Community. All proceeds directly benefit the Miami Dolphins Foundation. Visit frequently as new items and experiences are added at any time.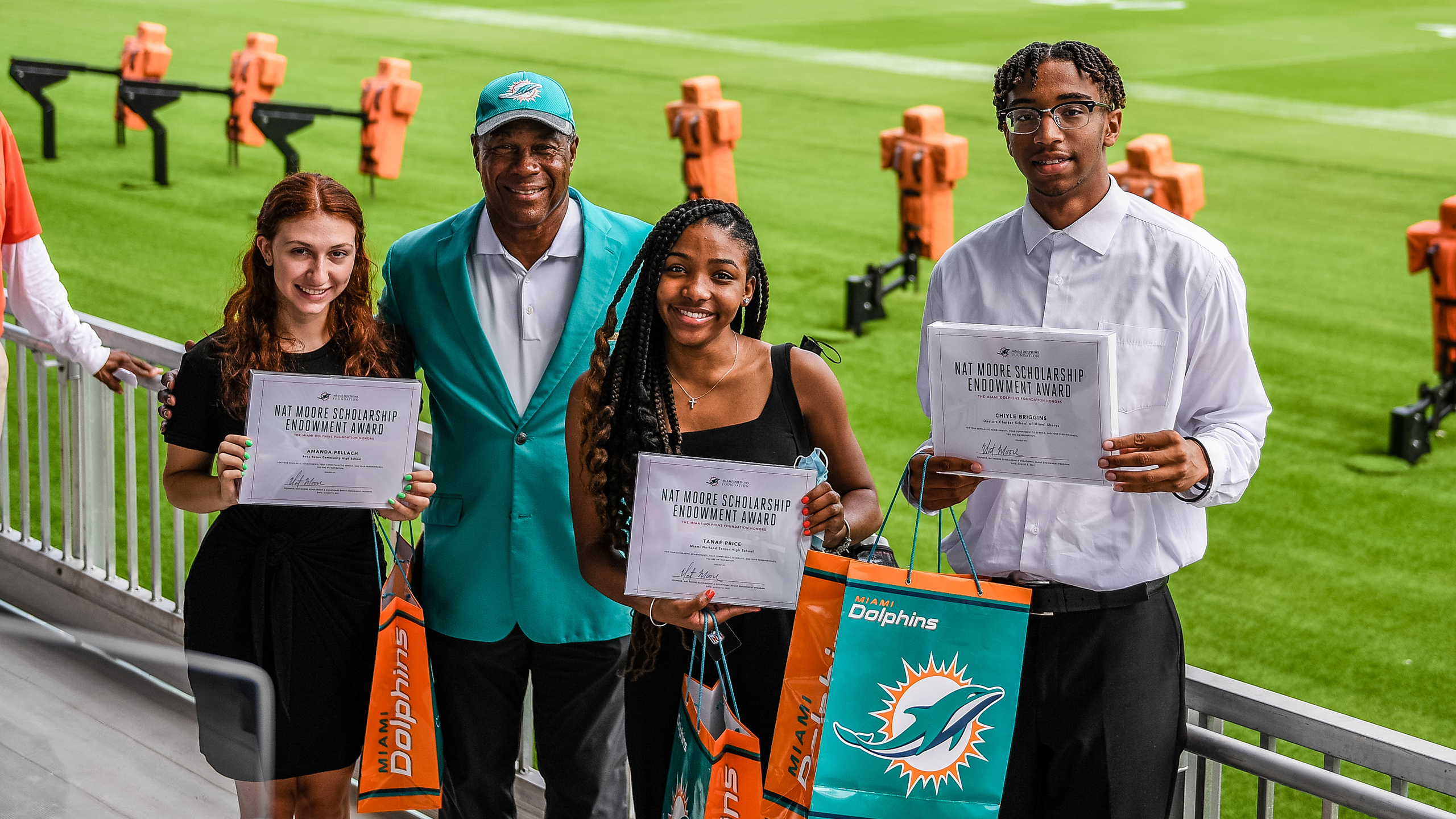 Nat Moore Scholarship and Vocational Grant Program
The Nat Moore endowment will provide scholarships to graduating seniors from high schools in Miami- Dade, Broward, Palm Beach and Monroe counties. No restriction is placed on the students choice of school or discipline of study. The number of scholarships awarded is based on the funding available and the number of quality applications received. The scholarships are primarily distributed directly to colleges over four years, which helps ensure that the student remains in school. The maximum award amount is 10,000 and will be disbursed in increments of $2500 per year for (4) four years. Application deadline is February 28 of each year.
Food Relief Program
The Miami Dolphins organization is committed to combating food insecurity and providing employment opportunities as the primary step in rebuilding our communities from the COVID-19 pandemic. Miami Dolphins Owner Stephen Ross and the Miami Dolphins organization have committed $2 million to fund a minimum of 1,000 meals each weekday for up to one year to assist those in need of hunger relief and with food insecurities.
Miami Dolphins License Plate Program
The Florida Department of Highway Safety and Motor Vehicles (FLHSMV) is pleased to share the Miami Dolphins specialty license plate is now available in all tax collector and tag agency offices across the state.
Floridians interested in purchasing the new Miami Dolphins plate are encouraged to visit their local tax collector or tag agency office. A list of locations can be found online at flhsmv.gov/locations. There will be a $25 specialty plate fee in addition to the other registration fees. A percentage of the revenue from the sale of this plate is allocated to the Florida Professional Sports Development Trust Fund and the Miami Dolphins Foundation.