With free agency now well under way and Pro Days going on around the country, dolphins.com continues its series of draft previews with the wide receiver position.
This is one of the positions where we've seen the most action in the offseason, starting with the trade of Jarvis Landry to the Cleveland Browns and followed by the signings of free agents Danny Amendola and Albert Wilson.
Amendola and Wilson join a group headed by returning starters Kenny Stills and DeVante Parker and featuring 2016 draft picks Jakeem Grant and Leonte Carroo. Also on the Dolphins roster at wide receiver are 2017 seventh-round pick Isaiah Ford, along with Malcolm Lewis, Drew Morgan, Francis Owusu and Rashawn Scott.
THE TOP PROSPECTS AT THE POSITION
Calvin Ridley, 6-1, 190, Alabama — Ridley, who starred at Monarch High School in Fort Lauderdale, is hoping to join Amari Cooper and Julio Jones as Crimson Tide wide receivers selected in the first half of the first round in recent years. A three-year starter at Alabama, Ridley is viewed as the most NFL-ready wide receiver prospect in the draft even though his 2017 stats weren't overwhelming (63 catches, 967 yards, 5 touchdowns).
Christian Kirk, 5-11, 200, Texas A&M — Kirk was remarkably consistent in his three seasons at Texas A&M, catching between 71 and 80 passes every year and scoring at least seven touchdowns. In addition to excelling as a slot receiver, Kirk was a difference-maker as a punt returner with a 22.0-yard career average with six touchdowns.
D.J. Moore, 5-10, 215, Maryland — The Terrapins used five different quarterbacks while going 4-8 in 2017, but that didn't slow down Moore, who earned Big Ten Receiver of the Year honors after setting a school record with 80 catches for 1,033 yards and eight touchdowns.
Deon Cain, 6-1, 198, Clemson — A dual-threat quarterback in high school, Cain is viewed as an ascending prospect with plenty of room for growth. Cain entered the draft as an underclassman after catching 58 passes for 734 yards and nine touchdowns last season.
James Washington, 6-0, 215, Oklahoma State — The 2017 recipient of the Biletnikoff Award as the top receiver in college football, Washington was a four-year starter at Oklahoma State who reached 1,000 receiving yards each of the past three seasons. He saved his best for last in college, finishing the 2017 season with 74 receptions for 1,549 yards and 13 touchdowns, with an impressive 20.9-yard average.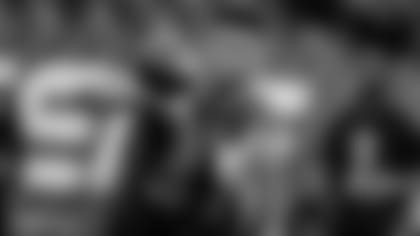 DJ Chark, LSU — Chark, who stands 6-3 and runs a 4.4 40, is an intriguing prospect because of his size/speed combination, even though he may lack polish. He did average more than 20 yards per catch in 2017 and also had two punt returns for touchdowns.
Anthony Miller, Memphis — A skilled route runner, Miller finished the 2017 season second in the NCAA in receiving yards (1,407) and receiving touchdowns (17).
Courtland Sutton, SMU — Sutton is a big-bodied (6-3, 218) wide receiver who may not have great speed, but was highly productive at SMU with 31 touchdowns over the past three seasons.