General Manager Chris Grier and Head Coach Brian Flores each has earned the respect of pretty much every person around the NFL, from other coaches, executives and media members.
There's also a strong conviction that they will make a great team for the Dolphins moving forward.
"Having those two guys on the same page is incredibly, incredibly important," national writer Albert Breer of SI.com said at the scouting combine. "If you look at a place, like we're here in Indianapolis and they're looking at all these (prospects), the mutual investment in all those decisions is so important. So is the GM picking a player that the coach is vested in, that the coach has a vision for? If he's not, then that's a problem. I think that Flo and Chris certainly have that. I think there's very much an idea of what the other is thinking, a commitment to building a singular vision. The fact that there's a standing relationship there really helps."
Grier mentioned that common vision when he introduced Flores as the Dolphins' new head coach at a press conference the day after Super Bowl LIII.
NFL Network analyst Charles Davis also believes Grier and Flores will work well together.
"They've probably already established that agreement about who's taking care of what and how they'll be involved," Davis said. "And I'll bet you the lines of communication are wide open, back and forth with each other. Brian is a first-time head coach, so he's going to need to absorb and soak up some things. Chris, of course, is now the true general manager there. I think he understands this is his opportunity to show his full wares now. This gives them a chance.
"But I think the best relationships we've seen, the top teams, you have that collaboration between GM and head coach, and it's a good collaboration. That doesn't mean everything is roses all the time, either. They may lock the door and throw down sometimes, but they come out as a united front."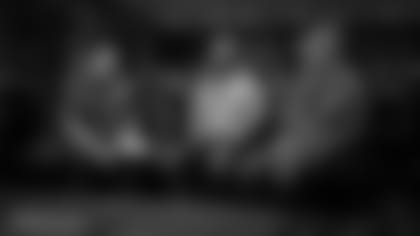 NFL Network analyst Daniel Jeremiah is a former scout who has known Grier for a long time. He paid him a big compliment when he said anybody can work with him.
"The next person I talk to that doesn't either like or really respect Chris Grier will be the first," Jeremiah said. "He's respected for the work he's put in, he's earned his way, he knows what players look like, he's a great evaluator and most importantly he's a communicator. I've known him for a long time and he's just, again, comfortable in who he is. I expect that to be a great marriage."