1) Quickness at Receiver - Quarterback Ryan Tannehill looks accurate throwing the football, and some of that credit is directly the result of who's on the other end of his passes. As a group, this unit looks fast and efficient. The addition of Danny Amendola and Albert Wilson has added short space quickness to the linear speed of Kenny Stills and DeVante Parker. Both Amendola and Wilson can separate from coverage quickly while not losing any of their speed coming out of their routes. Add in Jakeem Grant, who arguably could be the fastest player on the team, and you have three smaller receivers that can line up anywhere in the formation. Both Grant and Wilson hauled in passes behind the secondary in practice and their speed played a major role.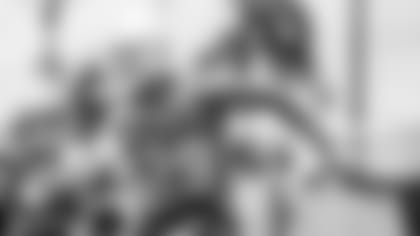 2) Options at Safety - Rookie safety Minkah Fitzpatrick fell into the hands of the Dolphins on draft night, and, as a result, Miami's secondary should benefit for multiple seasons to come. Fitzpatrick looks the part in every way and should contribute immediately in 2018. His presence with veterans Reshad Jones and T.J. McDonald give the Dolphins defense plenty of options in the middle of the secondary. Through three workouts, I can see why Fitzpatrick was so successful at Alabama. He always takes great angles to the football and understand leverage on the perimeter. It only took one practice to get his hands on the football and I would expect many more impactful plays when September rolls around.
3) "Finish" on Defense - It a word that multiple defensive players have used in interviews so far through three days of practice, and it seems to be a theme with the defensive staff as well. In order for this group to improve this season, the defense must do things differently. Finishing every rep in a drill with speed and effort has been the focus and it shows up consistently in team drills. The entire defensive unit has been sprinting to the football, no matter where the runner or receiver is on the field to complete the play. It's something that seems so simple, but that extra effort might be the difference in forcing a turnover or getting to the correct area on the field for a fumble recovery. It also brings some energy or juice to practice and that can get contagious to the entire team.