INDIANAPOLIS — Defensive prospects will take their turn during on-field drills Sunday and Monday at Lucas Oil Stadium, and one or more of those prospects could end up with the Dolphins after the 2019 NFL draft.
Those who do will be playing for new defensive coordinator Patrick Graham, who joined Head Coach Brian Flores' staff after coming over from the Green Bay Packers.
Graham will be the one calling the defensive signals for the Dolphins, even though Flores handled that responsibility for the New England Patriots last year.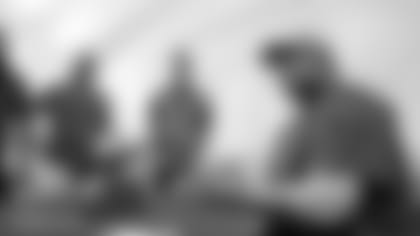 "Pat is someone I have a lot of respect for," Flores said this week at the combine. "I think he's an incredible coach. I think he's smartest guy in the room, quite honestly. Yale grad. He likes to tell people that. Great friend of mine. We spend a lot of time together. I feel good about him as a coach, him as a teacher. I'm very confident in his ability as a play-caller."
Flores, however, has said from the start that pretty much everything that goes on with the Dolphins moving forward will be a team effort, and that includes calling signals.
"It's a collaborative effort," Flores said. "It really is. Having done it for a year, I know it's not just one person making the call. You're getting thoughts, comments, help, really, that's the word, from various people. Whether it's the corners coach, the safeties coach, the head coach. So it's definitely a collaborative effort. This is a team game, through and through. From a coaching staff, personnel staff, and that kind of filters down into the team on Sundays or Mondays or Thursdays. That's always kind of the hallmark of how I want our team to be built. And I want that displayed on a day-to-day basis." 
Graham has been an NFL coach for 10 years and he's ready for the challenge of being a defensive coordinator for the first time.
He explained why he feels he's ready to be the play-caller for the defense.
"I hope all these hours of work and just trying to have an idea of how the offenses are trying to attack us and having my thought in line with Coach Flores and being ready," Graham said. "It's going to be from the preparation. That's all I can tell you, I'm going to prepare to be ready and when the time comes, it comes. I'm going to be prepared to be ready. That's how I know to be ready. Any other situation I've gotten ready for has been through preparation."