As they prepared for their second practice of the spring Wednesday, members of the Felix Varela High School football team in South Miami got a great surprise, courtesy of the Miami Dolphins.
The Varela players, accompanied by members of the school's girls flag football team, got the chance to hear a character talk by Dolphins alum and Youth Programs Ambassador Twan Russell in the weightlifting room, and that was followed by a short walk to the athletic field.
As the players, both boys and girls, gathered around the Dolphins truck, flag football running back/linebacker Cindy Montoya led the group by yelling, "It's a great day to be a Viper," followed by a quick response from the rest of the group: "Always."
Then it was time to raise the door at the back of the truck to reveal a large amount of equipment the Dolphins were donating to the school — among other things, footballs, medicine balls, shoulder pads, a large fan, cleat and an end-zone camera to better record practice.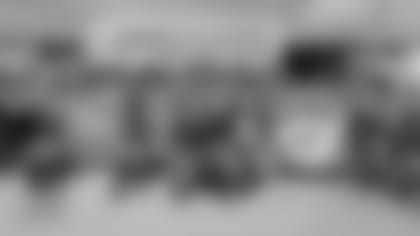 "It's overwhelming because we're doing our best to change the culture here to a winning culture and for the Dolphins to choose us, how gratifying is that?" said Varela head coach Patrick Ledan. "Because we weren't expecting this. They did this out of the graces of their heart. Overwhelming is the word. It's a lot of emotions and we will certainly put this opportunity to great use and capitalize off of it."
On hand for the event were Russell, new Dolphins defensive tackle **Joey Mbu**, as well as Rob Henry and Peter Smith from Baptist Health South Florida.
A similar scene played out three times this week, with the Dolphins bringing their Junior Dolphins Equipment Donation party to three major counties of South Florida.
On Tuesday, the Dolphins visited Pahokee High School in Palm Beach County and the stop Thursday was at Fort Lauderdale Stranahan High in Broward County.
The locales changed, but the message, the reception and the significance were the same at all three places.
"I never experienced nothing like it before," said Stranahan junior cornerback Keyandre Lawrence. "My favorite team is the Dolphins, so I was happy."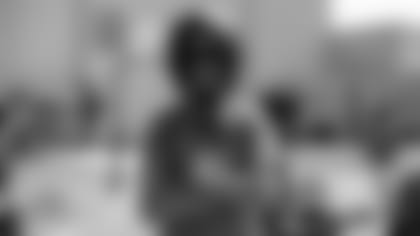 At Pahokee High, the equipment included Junior Dolphins and Baptist Health branded shirts, a treadmill, a stationary bike, tackling dummies, sleds, cleats and Gatorade products.
"For me, this is something that dates back to when my father was playing football here, we never had the resources and all the proper equipment to be a successful football team. Still, we defied the odds," said Pahokee High School Head Football Coach Demir Boldin, whose brother Anquan had a 14-year playing career in the NFL. "I think this donation will even out the playing field for our kids to better prepare them for college, to better prepare them for the game of football safely and it's something that I'm very, very excited about."
As was the case at Varela and Stranahan, Russell gave a talk at Pahokee and Baptist Health South Florida Certified Athletic Trainer and Physical Therapist Robert Scranton also was on hand for the donation.
Smith said he was happy to have Baptist Health South Florida involved in the equipment donation initiative.
"(The significance is) captured in the response from the students," Smith said. "You saw when that truck door opened and they saw all the stuff that they were getting, the happiness and the joy that came out of them spontaneously because not all the schools can afford all the things that the students want, so it's incumbent upon companies like the Dolphins and Baptist Health to come together and help the schools out to provide the things that the students need in order to be successful in the sports that they participate in."
There was little doubt the players, both boys and girls, were excited about the new equipment.
At all the stops, several young players actually were jumping up and down in unison after seeing what was inside the truck.
"I'm very surprised that we got all this stuff," said Varela quarterback Dominic Medina, who will be a junior in the fall. "I thought they were just coming to do a little speech with us. Very grateful that we got equipment like this, the balls, brand new things like that."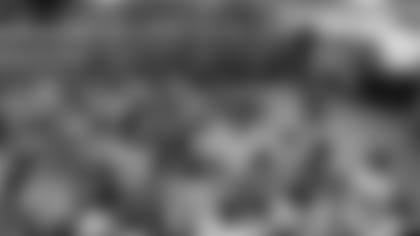 The talk delivered by Russell at Varela High focused on the importance of hard work and involved former Dolphins linebacker Zach Thomas, with Russell discussing the day he met him after signing with Miami in 2000.
Russell pointed out that Thomas wasn't the biggest, strongest or fastest player but made himself into a multiple Pro Bowl selection through sheer perseverance and hard work.
As it turned out, some of Russell's talking points where things Ledan had stressed to his players.
"It's very humbling," Medina said. "Like my head coach says, he tells us that stuff all the time. To hear it from an NFL legend like him, it sinks in a little bit better."
Russell's words also resonated with Montoya.
"His message was really powerful, especially me as a senior leaving to college," she said. "It was something that I will definitely take away because I want to aspire to be a professional soccer player. It's just inspiring me to keep doing what I want to do to reach that level."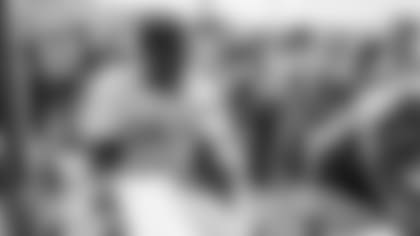 Chris Zellner, the coach of the girls' flag football team, was thrilled that his players were included in the day's festivities.
"They've never experienced anything like this, the Dolphins, the flag football community," he said. "The girls are finally starting to see … and get rewarded for their hard work. This is something they're always going to remember. This is such an amazing thing. They're always going to remember this."
Stranahan girls flag football head coach Jeffrey Williams was equally grateful.
"This was truly a blessing," he said. "It helped the kids, it boosted them up. They're really looking to see who's looking at them, so this really let them know that people care."
Mbu has been a member of the Dolphins since only April 9, but he wanted to quickly get involved in the community.
It's something he learned was important right from the time he first got to the NFL as a member of the Atlanta Falcons in 2015.
"It was important for me to just be in the community," said Mbu, who played two games with the Falcons in 2015 and seven with the Indianapolis Colts in 2017. "These are people who support us, so why not just give back to them, just talk to them and helped them put a face to a name. It was important for me to do that, especially for the kids.
"Every team I've been on, I've tried to give back to that community and meet people. You can never tell who you're going to impact. You could tell that they will really appreciate what we gave them today."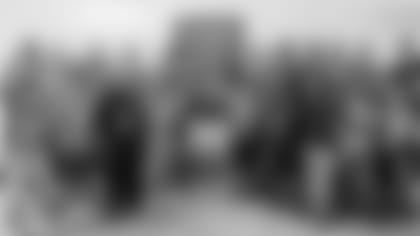 The mission of the Junior Dolphins program is to encourage youth players and coaches to teach, learn and play football in a fun and safe environment. The Junior Dolphins program is designed to give kids access to learn the fundamentals of football using the NFL's top resources. To grow the game, the Junior Dolphins program will work to educate coaches, parents and youth on the health and safety of football with a strong emphasis on character development.
This is the second year of the Junior Dolphins Equipment Donation program. In 2018, the Dolphins made donations to Miramar High School in May; Pompano Beach High School in July; Booker T. Washington in August; Spanish River High School, Key West High School, Marathon High School and Coral Shores High School in September; and Glades Central Community High School in November.
These events were #DolphinsHuddleFor100 service projects as part of the NFL's 100th celebration. The NFL has invited fans, players, clubs and employees to join Huddle for 100, an effort to inspire 1 million people to volunteer 100 minutes of their time to make meaningful contributions to their communities. These activities connect to the Miami Dolphins "Teamwork at Work" initiative to level the playing field through the power of teamwork to inspire a healthier, more educated and united South Florida community.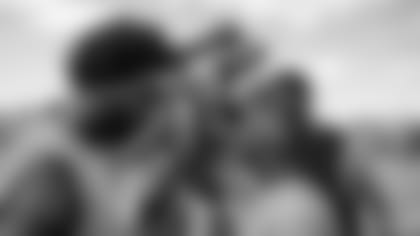 Ledan said he learned about two or three months ago his team had been chosen for the talk and equipment donation, though he had to keep it a secret from his players.
"(It was) eating me inside, eating me inside because I wanted to tell them," Ledan said. "With this generation of kids, it's instant gratification almost, so you want to tell them, 'Hey, listen to the advice I'm trying to give you because I've got something for you.' And yet we couldn't. So they just had to follow the formula almost blindly. I hope once they see, hey, if you follow the formula in order to be great Vipers, this is your reward. So now moving forward, if I tell you to do something, do it because they could be a great reward ahead of you.
"Now they can see that good things will come to them when they're good people. They can use this in other avenues of their life and know that, hey, if I'm good, if I try to do good, possibly — it's not guaranteed — something good could come back to me. That lesson of being a good person, not because you want to be rewarded but because that's our duty to be god people, who knows, something might fall into your lap you weren't expecting but you can definitely, definitely use."