The Dolphins selected outside linebacker Cameron Goode in the seventh round (224th overall) of the 2022 NFL Draft. Here are five things to know about the former California Golden Bear.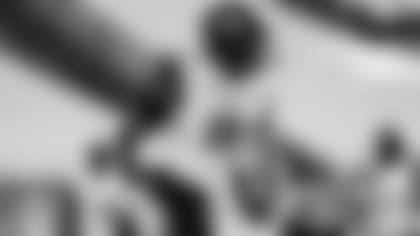 1. Productivity and Experience
Goode has been one of the most experienced and productive collegiate players in this year's draft class. He played six seasons (2016-21) at Cal, starting 37 contests. He had 21.5 career sacks, which ranked eighth on the team's all-time list, and led his team in sacks in each of his final three seasons. His 36.5 tackles for loss were just shy of the school's all-time top 10.
Goode has also been active in the pass game, totaling 12 career passes defensed and two interceptions returned for touchdowns.
His first collegiate touchdown came on the national stage as a freshman when he had a 31-yard pick-six in Cal's victory over Ole Miss in 2017. The play was a finalist for the Pac-12's #FanFueled Play of the Week and he was named Cal's Defensive Player of the Week in the win.
Goode had another pick-six the following season in the Week 1 game against North Carolina. This one was returned 38 yards for the score in a season-opening Golden Bears victory.
Goode has earned a lot of recognition during his collegiate career. His 7.5 sacks as a senior in 2021 were second in the Pac 12 and earned him second-team All-Pac 12 honors.
As a sophomore in 2020, Cal only played four games due to the pandemic. But Goode totaled eight tackles for loss in those four games and his two tackles for loss per game were second in the FBS.
The Pac-12 coaches voted him honorable mention all-conference in 2019 when he had a career-high 9.5 sacks. His 0.79 sacks per game ranked third in the Pac-12 that season and his 1.21 tackles for loss per game ranked second.
Goode's football talents run in the family as his father, James, and uncle, Don, were great football players themselves.
James played defensive end at Oklahoma and was a fifth-round pick (114th overall) by Atlanta in the 1991 NFL Draft. He wound up coaching Cameron in pee wee ball as a kid.
Don was a first-round pick (15th overall) by San Diego in the 1974 NFL Draft and played 112 NFL games over eight seasons – six with the Chargers (1974-79) and two in Cleveland (1980-81).
5. Trading Diamonds for the Gridiron
Football wasn't the only sport that Goode excels at. As a kid, he was also a great baseball player before focusing solely on football in high school.
It was Goode's baseball experience that actually gave him the first taste of Florida, a place he's eager to return to after being drafted by the Dolphins.
"I played baseball for 10 years so I've been in Florida for a good amount of times to play baseball tournaments out there," he said. "I've always loved it. I've always said I wanted to live in Florida. It's really a dream come true."