Frank Gore may be the fifth-leading rusher in NFL history, but he figures he's still got plenty of yards to gain. And there's really no place he'd rather keep doing his thing than home.
Gore is back in his native South Florida for the first time since his days at the University of Miami after signing with the Dolphins as a free agent, and he couldn't be happier that his football journey has come full circle.
"I feel great," Gore said. "I'm happy. I'll get to be back in front of my fans. You can just go back to Pop Warner, playing at (the) Boys Club. A lot of great fans here. I was born and raised here. A lot of people look to me. My kids get to see me almost every home game now. I'm blessed. I'm happy."
The Dolphins, however, didn't sign Gore just because of his feel-good, star-comes-home story. Yes, he'll turn 35 on May 14, but he remains a productive running back.
Perhaps the best evidence comes in the fact he's the only running back in the league to reach 900 rushing yards each of the past three seasons.
"I wouldn't doubt Frank with anything," Head Coach Adam Gase said last week at the NFL meetings in Orlando. "I know a lot of people are looking at his age but with him, it's irrelevant. He's a different dude. When you watch him run, the physicality he plays with, pad level, the way that he's able to drive defenders when they're hanging on him and carrying them still, he's a good fit for us."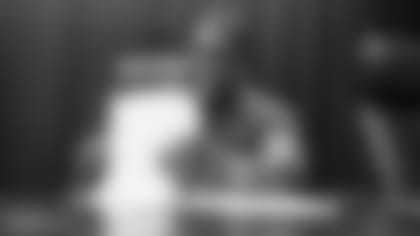 Gore and Gase first crossed paths in 2008 during Gase's one season as an assistant on the San Francisco 49ers coaching staff.
Gore was in his fourth NFL season then and had the fourth of his nine 1,000-yard campaigns, the last of which came in 2016 when he had 1,025 yards in his second of three seasons with the Indianapolis Colts.
With 14,026 career yards, Gore trails only Emmitt Smith, Walter Payton, Barry Sanders and Curtis Martin on the NFL all-time list.
"I will say I've been blessed, but I also work very hard and I also love the game," Gore said. "When you work very hard and love the game, that's why I've been so successful."
Gore was signed to handle the running back duties with Kenyan Drake, who is fresh off a 2017 season where he led the league in rushing over the final five weeks.
Drake's potential is obvious, and Gore is just the kind of consummate pro who could help bring it out to its fullest.
"I think he's a great guy for us to have in that locker room and that running back room," Gase said. "I think he's a great guy for Drake to see work day in and day out, and those two guys kind of being able to do their thing together. That's going to be a fun thing to watch."
The role of mentor is one Gore is ready to embrace.
"I can show him a lot of things, on and off the field, the way to be a pro," Gore said. "Just show him the way I work and why I've lasted so long to play this game at a high level. When I watched him, he's a very quick and fast guy. I think that one-two punch will be very nice for this team."