INDIANAPOLIS – It was new Dolphins assistant general manager Marvin Allen's turn to get a ringing endorsement on Thursday.
John Dorsey was responsible in his role as general manager for bringing in a lot of the players that helped the Kansas City Chiefs earn the No. 1 seed in the AFC in 2018, but he didn't want to look back or talk about whatever satisfaction he might have felt because he's more worried about his current job with the Cleveland Browns.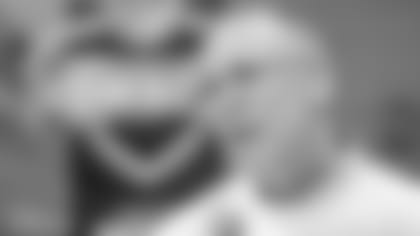 But Dorsey was more than happy to talk about Allen, who was one of the key members of his personnel department in Kansas City as the director of college scouting.
"True gentleman," Dorsey said. "I think Marvin is a true gentleman. He's an experienced veteran evaluator. He's going to make very sound, factual decisions. I love the guy. I think Marvin is a hell of a man."
During Allen's time as director of college scouting for the Chiefs, the organization drafted quarterback Patrick Mahomes, wide receiver Tyreek Hill and tight end Travis Kelce, all of whom earned Pro Bowl invitations last season when Kansas City led the NFL in scoring with 565 points — the third-highest total in league history.
Allen spent the last two years working as a national scout for the Buffalo Bills, but he began his scouting career with the New England Patriots, where he worked on the same scouting staff as Dolphins General Manager Chris Grier.
It was Grier's father, Bobby, who hired Allen after his NFL career as a running back ended.
"Marvin has always been very smart, very hard-working," Grier said on The Audible last week. "He kind of came up the right way, kind of like we did, kind of like an intern and then worked his way from area scout to a national scout to college director in Kansas City with John Dorsey. Marvin and I have known each other for years. I've known him since I was a freshman in college. I've always liked him. Very intelligent, hard-working, but a good person. Great personality."