The Dolphins have given permission to **Robert Quinn** to talk to other teams to facilitate a trade involving the veteran defensive end, but that doesn't mean they've closed the door on his return to the team.
Quinn is under contract through the 2019 season, and General Manager Chris Grier said Monday that he could be on the roster in the fall if the Dolphins can't work out a trade they believe is beneficial to them.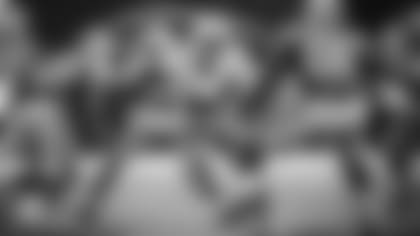 After visiting the Dallas Cowboys last week, Quinn was scheduled to visit the New Orleans Saints on Monday.
Grier said the Dolphins were just doing their due diligence in exploring all options, much like they did when they traded quarterback Ryan Tannehill to the Tennessee Titans on March 15 in a deal that netted them a seventh-round pick in 2019 and a fourth-round selection in 2020.
"A couple of other teams have called and inquired about (Quinn) recently," Grier said from the owners meetings in Arizona. "For us, as well as with the Ryan trade, we were just looking at all options available to us. Robert is a good player. We can keep him on this roster if we have to. He's a good player, he's got value and he probably fits some other schemes a little bit better in terms of what he does, so he and his agent and other teams are talking to us about it, and that's where we are right now with that."
In his first season with the Dolphins after coming over in a trade with the Los Angeles Rams involving draft picks, Quinn led the team with 6.5 sacks in 2018 and had two forced fumbles and nine tackles for loss.