"This has been an unbelievable afternoon on the opening day of the season for the Miami Dolphins and Tennessee Titans."
Indeed, the Dolphins' 2018 season opener against the Tennessee Titans at Hard Rock Stadium was unbelievable, as FOX Sports play-by-play man Sam Rosen described, though by the time it was done the afternoon had turned to night.
A game that started at exactly 1:02 p.m. didn't end until 8:10 p.m. The game time of 7 hours, 8 minutes made it the longest in NFL history — by far. The previous mark had been 5:16 for a 2013 game between the Chicago Bears and Baltimore Ravens.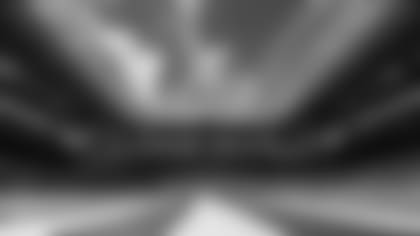 The Dolphins again had made history, even though what really mattered was being able to start the season 1-0.
"It's kind of like a good taste and a bad taste," wide receiver Jakeem Grant said. "The bad taste about being a part of the longest game in history is you've got to sit there for hours and hours and just stay focused in on the game. Nobody understands how hard it is to stay focused for five-plus hours when you're not even playing. The good part is that we went out there with all the delays, we stayed focused, we stayed together and every single time we went out after the delay, we went out there with energy. Coach (Adam) Gase said, whoever has the most energy is going to win this game. Being part of the longest game in history and also winning it, it's a great feeling. There's no better feeling than that, just being in the history books from just playing a game."
The game began under cloudy skies that produced scattered showers, some harder than the others. The forecast also called for thunderstorms, though nobody on the field or in the stands that day could have predicted what was to come.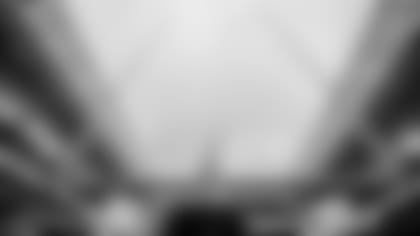 The kickoff of an NFL regular season always is an exciting time, as it ends a long wait and culminates months of preparation.
This one was no different for the Dolphins.
"It felt great," safety Reshad Jones said. "Practicing against each other all year, summer, spring ball, it was tough, but home opener, first game, everybody was excited. Everybody was juiced up. It was cool."
"To be back on the field for the 2018 season, I was ready, man," Grant said. "I couldn't wait any longer. Going into the offseason, it was just do what we do. We love grinding and grinding and grinding, but we're not playing any football games, so it's like, can it get here any time? Any second yet? When we got there on the field, Sunday, first home game, it was like just having a kid again. I was just like, Golly, it's a long time coming. There's no better feeling than that rush of playing in your home stadium and just the fans cheering. It was extremely loud. You could barely hear your teammates talking."
Despite the on-and-off rain, the game was moving along nicely when everything changed at 2:13 p.m. Eastern time.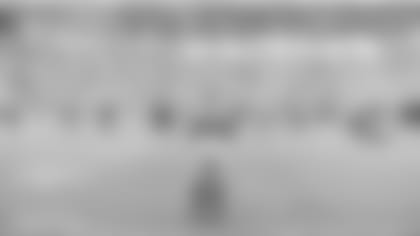 It still was cloudy at Hard Rock Stadium, but there certainly were no signs for what referee Jerome Boger was about to announce.
Stopping play as Tennessee prepared to run a play on second-and-10 from its 35-yard line with 1:09 left in the first half, Boger told the crowd: "It's been reported that there's a lightning strike close to the stadium, therefore we are suspending play until further notice."
At that point, there was no indication exactly how long the delay would last, though probably nobody expected it to be 1 hour and 57 minutes.
After the restart of the game kept being pushed back, the teams finally returned to the field for a brief warmup period before play resumed at 4:10 p.m., by which time three of the other 1 p.m. games around the NFL already had concluded.
The first half ended without much fanfare, the Dolphins taking a knee after stopping the Tennessee drive and taking a 7-3 lead into the locker room.
The Dolphins stayed right there on the field with their 7-3 lead because the NFL decided to cut halftime to 3 minutes, 30 seconds because of the lightning delay.
The Dolphins and Titans combined for three consecutive three-and-out possessions at the start of the second half before things got interesting. Really interesting.
The fun began with Reshad Jones' first of two interceptions on the day, which gave the Dolphins the ball at the Tennessee 35-yard line. Miami marched down the field and had a second-and-goal from the 4 when cornerback Malcolm Butler came up with an interception and returned the ball to the Tennessee 33-yard line.
Before the Titans could start their next drive came the second delay.
It was 4:53 p.m., there was 6:47 left in the third quarter, and by that time all the early-kickoff games long had ended.
This delay, unlike the first, wasn't expected to be a short one.
It ended up lasting 2 hours, 2 minutes, with the game resuming at 6:55 p.m.
At 6:19 p.m., 36 minutes before play would resume, this officially became the longest game in NFL history.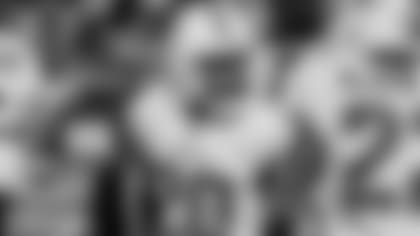 "They tell us the earliest we're going out is 7:30 and everybody is looking around like, what? 7:30?" Grant said. "I'm kicking back, just trying to keep my shoes on, trying to stay in the game. And I'm like, OK, let's do it. Talking to Danny (Amendola). Talking to other vet guys, like, man, have you ever witnessed something like this? Everybody is like, no, never, never, ever. So I'm like, OK. It's just kind of hard to just stay focused.
"Now everybody is getting hungry. I'm getting hungry. Kenny (Stills) is getting hungry. Danny is getting hungry. So we go and get out the Mission BBQ and we're like chowing down, just eating it. Me and Kenny get to the macaroni and cheese and they're like, '10 minutes.' And we're looking at each other like, are you serious? Like 10 minutes? I don't want to have a bubble gut and then, God forbid, if we get hit too hard in the stomach, we're going to need new pants. It was just crazy to go through the lightning delay. I've never witnessed anything like it."
Defensive end Cameron Wake said after the game there were a whole lot of sandwiches eaten in the Dolphins locker room as they waited for word to get back on the field. Peanut better and jelly, and turkey sandwiches, to be precise.
"There's no manual for that," Wake said. "The first time it was kind of like … kind of in your mind, OK, this is halftime, and just they kept pushing it back 15 minutes, so you were always on edge the whole time. Now, the second one was like, 'All right, you guys are going to be in here for an hour and a half.' It was just like, do I take my pads off, do I lay down, do I stand up, do I get on the bike? There's really no way, so everybody was doing a lot of different things. But at the end of the day, they always talk about football is more mental than physical, and when you come out on the field, you have to be ready to go. I don't know how it was out there for you guys (in the media), but they told us 7:30, and then all of sudden, they're like, 'All right, in 10 minutes we're going.' So you've got guys laying down, some guys on the bike, some guys (looking at) plays on the (Surfaces), and all of a sudden it's like, 'All right, it's go time.' The guys responded well. Everybody got back in the mode that they needed to be in, and obviously went out there and finished the game off."
When play resumed after the second delay, the Titans attempted a screen play on the very first snap. Linebacker Kiko Alonso sniffed out the play, took advantage of an overthrown pass and came up with the interception.
It would be one of several big plays that would help the Dolphins pull out a 27-20 victory, a list that included Grant's 102-yard kickoff return for a touchdown, Ryan Tannehill's 75-yard touchdown pass to Kenny Stills, and Jones' second interception, which he returned 54 yards to set up a field goal.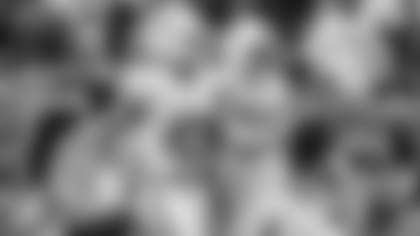 As the Dolphins put the finishing touches on the victory, clinching it when rookie linebacker Jerome Baker recovered a Tennessee onside kick, there still was a large group of fans who had stuck it out through the two long delays.
Via Dolphins Vice Chairman/President/CEO Tom Garfinkel's Twitter account and via a message on the large video screens at Hard Rock Stadium, fans in the upper level who stayed after the delays were invited to come down to the lower level to watch the end of the game.
Dolphins players certainly appreciated the fans sticking with the game.
"I think that was huge," Jones said. "Great support from the Miami fans. Gotta love the Miami Dolphins fans for staying there throughout the storm and being there in the rain and throughout a seven-hour (game), I think that's big. Shout-out to the Miami Dolphins fans."
Said Grant: "My reaction to just looking up and seeing the fans still there was just like, man, these are really true diehard fans. The fans that were there, we appreciate it."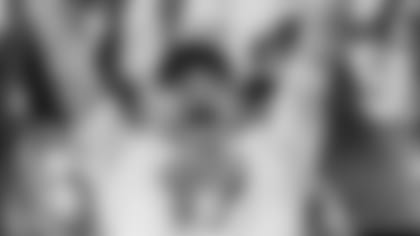 When the game finally ended at 8:10, every other day game around the NFL had concluded.
After answering several questions, Head Coach Adam Gase was asked during his postgame press conference how he was feeling some seven and a half hours after the game kicked off.
"I'm ready to go home," Gase said. "You've got to stop asking questions."
It indeed was quite an unusual season opener for the Dolphins, but it's not like they haven't dealt with unusual circumstances before.
It was just last season that their season opener was postponed because of Hurricane Irma and they had to move their operation to Southern California to prepare for their Week 2 game against the Chargers.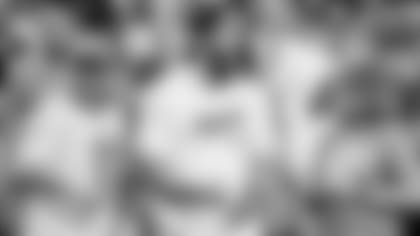 "Who can battle adversity better than us?" Grant said. "We've been through so much with the hurricane and all the season-opening games always seem to just go wrong for us. It seems like we're good at handling adversity and we came out with a W. Congrats to that."
Dolphins radio play-by-play voice Jimmy Cefalo had a good way of putting into perspective this wild day.
"Not bad," he said. "Not bad at all for a seven-hour football game."