Wide receiver DeVante Parker made his presence felt in his return to the lineup Sunday against the Oakland Raiders with a performance that included a spectacular one-handed catch down the sideline.
Parker finished with five catches for 76 yards, including that 26-yard one-hander that was awarded after video review after it initially was ruled incomplete.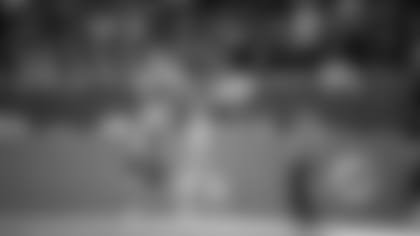 Parker said this was the first one-handed catch of his football career, even going back to his days at the University of Louisville.
After missing the past three games because of an ankle injury, Parker caught a 13-yard pass on the Dolphins' third offensive snap. He said that was all he needed to get going.
"It was great to be back," Parker said. "I missed too many games. I just like being out there with my teammates, out there working.
"I knew my ankle would be fine. It's just my first catch gets me going."
Jarvis sets record: A 3-yard reception late in the third quarter gave Jarvis Landry 343 career reception, and that helped him set a new NFL record for most catches in a player's first four seasons. Anquan Boldin caught 342 passes in his first four seasons with the Arizona Cardinals. Landry would add one more catch to stand at 344 with eight games left in the 2017 season. "It's a tremendous feeling," Landry said. "It's something I feel like I can't be proud of with the loss. I'd rather take the win. It's definitely a milestone for me. I guess I'm proud of myself."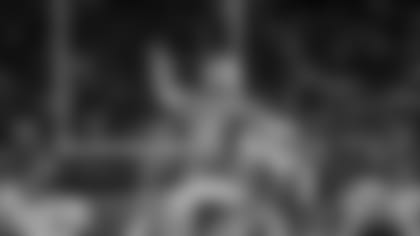 Cutler's return: Quarterback Jay Cutler marked his return to action after missing one game by setting season highs for passing yards (311), completion percentage (81) and passer rating (121.3). The completion percentage was a career high, topping the 80.7 he achieved for Chicago against Detroit in 2010. Cutler completed an impressive 34 of 42 passes against Oakland and had three touchdowns with no interceptions. "It was good," wide receiver Jarvis Landry said. "It's something we all know Jay can do. It was good to have him back out there. It felt good to have him back out there. I wish we could have put this one together somehow, though."
Denney's milestone: John Denney officially joined a pretty exclusive club when he snapped for rookie Matt Haack's first punt in the first quarter. The play made it 200 NFL games for Denney, as he joined Dan Marino and Jason Taylor as the only players to appear in 200 games for the Dolphins. "I couldn't be any more proud of John," Taylor said. "It really is an incredible accomplishment and Dan and I welcome him to the 200 club with open arms. We are all blessed to have played that many games for this great Miami Dolphins organization. I remember early on, Denney would get frustrated because he wanted to play defensive end and not just snap. I told him he could snap for a lot longer and it's a lot less painful." Denney's memorable night included two of his children retrieving the tee from the opening kickoff.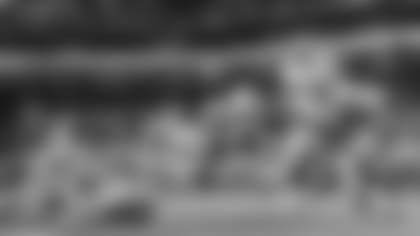 Williams' first start: Running back Damien Williams played in his 55th game for the Dolphins on Sunday, but he made his first career start against the Oakland Raiders. Williams tied for the team lead with six catches, including an 11-yard touchdown in the second quarter. Williams admitted there was something special about being in the starting lineup for the first time. "It's always special being able to go out there with your guys," he said. "It felt good. It felt good."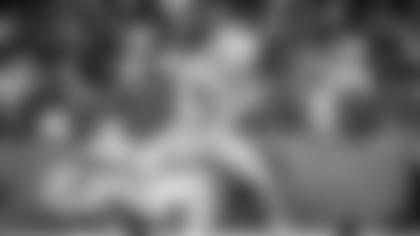 A tale of two kicks: For Cody Parkey and the Dolphins, the surprise onside kick in the second quarter worked to perfection. Parkey bounced the ball beyond 10 yards and easily grabbed the loose ball at the Miami 48-yard line. It was the Dolphins' first successful onside kick since 2012. Parkey said the key was simple. "Just practice, just doing that kick over and over and over and feeling good about it, having the coaches feel good about it," he said. "Like there's no hesitation calling it. We find something we like in the field, we go after it. I think that's the style we're playing." Of course, it was a lot more difficult for the Dolphins to recover an onside kick after their final score because the Raiders knew it was coming that time. "It's a wet surface, we don't really know what the ball is going to do and you just go out there and try to give a chance," Parkey said. "Obviously it maybe could have been a little better. Just on to the next one."