All of my favorite Zach Thomas stories center around the same themes: his love for football and his passion for preparation. Those were the hallmark traits of a signal-caller in the middle of one of the league's most dominant defenses. And now that signal-caller is going to Canton.
The numbers quantify what Zach Thomas accomplished. His 1,734 tackles, 17 interceptions, 20.5 sacks, 16 forced fumbles and four touchdowns stand tall next to any other linebacker in the Pro Football Hall of Fame. Despite his career overlapping with Ray Lewis and Brian Urlacher, Thomas was named to seven All-Pro teams – five times on the first team.
The stories about Zach's makeup better illustrated his impact. They describe what he meant to a defense that finished top 10 in total defense for seven straight seasons (1998-2004) and top four in scoring three out of four years (2000, 2002-03). They tell the story of a 5-foot-11-inch, 240-pound fifth-round draft pick turned fifth-leading tackler all-time.
Fans of our Fish Tank Podcast, part of the Miami Dolphins Podcast network, recall the stories. Falling under his Dad's truck as a toddler, racing to a buoy in the middle of the Atlantic Ocean and all the stories from Rolling Hills. Many of those stories included Thomas' teammate of five years, Larry Izzo, who revealed all the light switches in their shared home were covered in Cheeto dust. You see, a Hall of Fame linebacker has no time to clean the orange particles from his fingers when changing the reel or exiting the film room.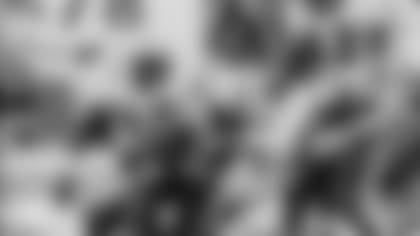 It was another of Thomas' teammates who painted the picture detailing Thomas' knowledge of the game and the preparation that bred one of the sport's most instinctive players.
Channing Crowder was a rookie in Nick Saban's first season in Miami, the first of three years the two played together. Recalling a story from that first year, when most rookies find themselves swimming in information, Crowder raved about the Hall of Famer's ability to spot tendencies in the opposing offense.
Every team designates a signal-caller in the middle of the defense. As Crowder recalls, Thomas would do more than relay the coach's messages. He often called the play before the snap.
Crowder said the first time Thomas predicted what was going to happen, he didn't react fast enough. Then, the play went exactly how Zach said, and that was the last time the rookie failed to listened to the accomplished vet. It wasn't just Thomas; own teammates that took note of his knack for knowing the opponent's offense. Peyton Manning made no qualms about who was the focal point of those early 21st century Dolphins defenses.
"The most unnerving thing about playing Miami is Zach Thomas calling out all of your plays. He caused the most problems for me of any player I ever faced."
Peyton Manning. The Sheriff. The man who's audible cadence is referenced in pop culture and known universally. Any time that guy praises a player's knowledge of the game, we should listen, and the voters did.
The results prove Manning's point. Excusing Manning's tumultuous rookie season, his brief stint in the AFC East was sent off course anytime his Colts met Miami. The Dolphins squared off with Indianapolis every year from 1999-2003 for a total of eight games.
Manning's passer rating in that five-year stretch was 91.32. When he faced the Dolphins, however, that rating dipped to a paltry 79.85. In those eight games, the Colts were 3-5, a .375 winning percentage. Comparatively, the Manning's Colts had a cumulative winning percentage of .638 in that half-decade span.
Manning's decorated career is predicated on his ability to play coach-on-the-field, so it's no surprise that the league's actual coaches agreed with Manning. In 2008, all 32 NFL coaches were polled on who they believed was the smartest defensive player in football. Zach Thomas beat out fellow Hall of Fame linebacker Ray Lewis for the honorable distinction.
Sure, that Miami defense featured Hall of Fame Defensive End Jason Taylor, a pair of All-Pro corners in Patrick Surtain and Sam Madison; but as Crowder and Manning each alluded to, it was Thomas that captained that unrelenting ship.
And unrelenting they were.
Thomas led a stop-unit consistently at the pinnacle of the leaderboards.
Miami's defensive ranks in the early 2000's rival any short-term dominance offered by other, more widely-recognized generational defenses.
Between the 2000-03 seasons, Miami ranked third, 11th, fourth and third in the league in scoring defense. The group never finished outside of the top 10 in total defense with two top-five finishes during that four-year span.
None of this is to say Zach Thomas didn't earn his fair share of individual hardware. The 1996 AFC Defensive Rookie of the Year award never came off the field. He was an exceptional run defender and an equally formidable cover-backer – evident by his 17 career picks. Four of those were taken back for touchdowns, tied for the most in Dolphins history.
Those early-2000's Dolphins teams were dependent on that dominant defense that Thomas led. During the four-year period from 2000-03, the Miami defense allowed 10 or fewer points in 22 games and won all 22 of them.
A Hall of Famer is described as a person recognized as one of the top performers in a particular activity, especially a sport. Zach Thomas met that criteria over a brilliant 13-year career in the National Football League, a career that will now be memorialized in Canton.
John Madden always said he believed the busts in Canton came to life at night. If so, I think the Cheeto dust and ocean swimming stories will go over well inside those halls.