For the second consecutive year, Zach Thomas is a Hall of Fame semifinalist.
The Pro Football Hall of Fame announced its Class of 2020 modern-era semifinalists Tuesday and the former Dolphins linebacker was among the 25 players selected from the list of 122 nominees.
In his 12 seasons (1996-2007) with the Dolphins, Thomas earned seven Pro Bowl invitations and was named All-Pro five times. He averaged an amazing 136 tackles per season, with six seasons with more than 150 tackles.
In addition, Thomas had 17 career interceptions, including four he returned for touchdowns, as well as eight fumble recoveries and 20.5 sacks.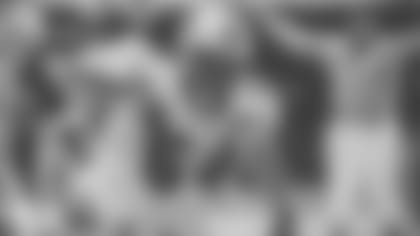 The 1996 fifth-round pick from Texas Tech is hoping to become the 11th Dolphins member elected to the Hall of Fame after Don Shula, Nick Buoniconti, Larry Csonka, Bob Griese, Jim Langer, Larry Little, Dan Marino, Dwight Stephenson, Jason Taylor and Paul Warfield.
The list of Modern-Era semifinalists will be trimmed to 15 finalists, who will be announced Jan. 2, 2020. The finalists then will be presented to the full 48-member Pro Football Hall of Fame Selection Committee during its annual meeting on "Selection Saturday," on Feb. 1, 2020, the day before Super Bowl LIV at Hard Rock Stadium. The Selection Committee will elect five Modern-Era players for the Class of 2020.
The other semifinalists include three first-year eligible players — safety Troy Polamalu, linebacker Patrick Willis and former University of Miami standout Reggie Wayne.
The other semifinalists are S Steve Atwater, LB Carl Banks, CB/S Ronde Barber, T Tony Boselli, WR Isaac Bruce, S LeRoy Butler, G Alan Faneca, WR Torry Holt, G Steve Hutchinson, RB Edgerrin James, FS John Lynch, LB Clay Matthews, LB Sam Mills, DE Simeon Rice, DE/DT Richard Seymour, ST/WR Steve Tasker, RB Fred Taylor, WR Hines Ward, RB Ricky Watters, S Darren Woodson and DT Bryant Young.
The five Modern-Era players selected for the Class of 2020 will be joined by 10 Seniors (players who have been retired for more than 25 seasons), three Contributors and two Coaches to comprise a special Centennial Class of 20 Hall of Fame members for 2020.
The 15 senior, contributor and coach inductees will be selected by a 25-person Centennial "Blue-Ribbon" Panel.
The Pro Football Hall of Fame's Class of 2020 will be introduced during "NFL Honors," a two-hour prime-time awards special to air nationally on the eve of Super Bowl LIV at 9 p.m. (ET and PT) on FOX. "NFL Honors" will be taped earlier that evening at the Adrienne Arsht Center in Miami when the Hall of Fame's Centennial Class of 2020 will be brought together for the first time. In addition, the NFL and The Associated Press will announce their annual accolades in this awards show with the winners on hand to accept their awards.
The Centennial Class of 2020 will be formally enshrined into the Pro Football Hall of Fame during the annual Enshrinement Week Powered by Johnson Controls from Aug. 6-9, 2020 and the Centennial Celebration in Canton on Sept. 16-19, 2020.