WHAT WAS THE MOST UNFORGETTABLE MOMENT OF YOUR DOLPHINS CAREER?
It's not really a moment on the field that I was making a great tackle or anything like that. Probably the most defining story in my football career would be from my rookie season in 1986. I got drafted by the Dolphins and right away I was a defensive captain and the starting inside linebacker. It was the first Monday night game of my career. It was pregame and I was stretching in the back corner of the end zone in the Orange Bowl with my eyes closed and just thinking to myself, "Oh my God, I'm in the NFL." I was just in the moment, soaking it all in. I opened my eyes and there was Coach (Don) Shula just looking down on me. He asks me in a really rough voice, "Offerdahl! Are You nervous?" Of course, I was, but I gave him the most lukewarm answer I could give him and said, "Not really." Coach Shula crouched over me and scowled at the top of his voice, "You gol darn (expletive) better be!" and just walked away. He said it with such a loud voice that all the players in the back corner (and the fans in the corner stands) were just looking at me in stunned amazement. So that was my preparation for my first Monday Night Football game. It was a moment where you look at your career and remind yourself to keep your mind on what's most important at the moment.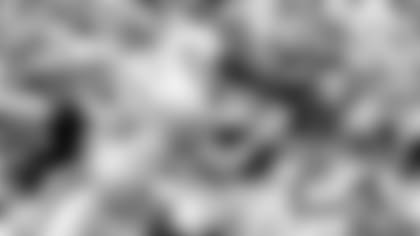 WHO WAS THE BEST PLAYER YOU EVER COMPETED AGAINST?
The best running back I played against was Eric Dickerson. He could make me miss or he could run me over. That put me in a position where I constantly couldn't tee off on one style. I had to play both. As far as an offensive lineman, it would have to be guard Jim Ritcher of the Buffalo Bills. Maybe he wasn't the best pass blocker, but he was really a good run blocker and I respected him. It was constantly like a war of survival going against him for me, and hopefully for him as well.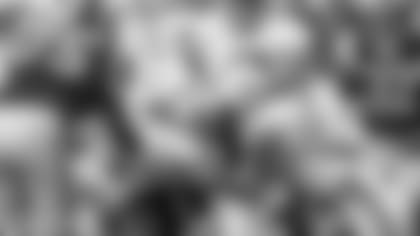 WHAT WOULD YOU HAVE DONE FOR A CAREER IF IT WASN'T FOR FOOTBALL?
In college at Western Michigan I started as an accounting major and then switched to a bio medicine major. In the first semester of my junior year, I sat down with my Head Coach Jack Harbaugh and told him that I decided I wasn't going to play football anymore. I almost pooped his pants (laughing). That was the first moment that he told me that I had a chance to play football past the college level and that I shouldn't give that dream up. If I would have quit football, I would have loved to have been on the research side of medicine. You know, I did graduate with a biochemistry degree, but thankfully I know I was a much better football player than I would have been a medical researcher.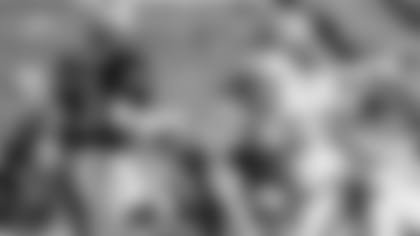 WHAT DO YOU MISS MOST ABOUT YOUR PLAYING DAYS?
I would say I miss the most was the opportunity to be great at something that gets analyzed instantaneously, being part of a team that has that same evaluation. You know where you stand. You either win or you lose. That's a pretty clear. It certainly magnifies the stress in life, but it's one of the things you miss especially if you like that moment.
WHAT WAS THE FUNNIEST THING YOU EVER SAW ON A ROAD TRIP?
There were two and they both happened in the same game at Buffalo. The first one was photographed for history's sake when (linebacker) Bryan Cox flipped off all of the Buffalo fans and there was me behind him curiously looking at his finger. That was great. After that game, there was a group of female Bills fan who showed their backsides to our team bus. They had the letters that spelled out Bills painted on them, but somehow they managed to spell it incorrectly. That was hilarious.