Brian Flores called it "a celebration of our game."
The goal of the event, as always when it involves youth and high school football, was coming together to try to make an impact and develop young people, both on and off the playing field. That's why it was important for Flores to deliver a welcome message and for college coaches from South Florida to Virginia to come share some of their knowledge.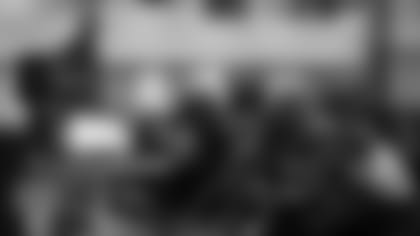 "What you guys do is so important, it's so vital and it's really a testament to the hard work you put in," Flores told the youth and high school coaches on hand. "You guys are really teaching our leaders of tomorrow. That's what you're doing. I will say, do not take that for granted. Don't take it for granted at all. One last thing, I think a lot of times — this happens to me as well — we as coaches, we kind of focus on ourselves and, 'We want to win this game,' or, 'We want to get this next job.' Really, what we need to do is invest in the kids and all the rest will take care of itself. I really believe that."
Along with getting coaching advice from the University of Miami, Florida International University, Florida Atlantic University, the University of Central Florida, St. Thomas University and Charleston Southern head coach (and Dolphins alum) Autry Denson, the participants got to hear discussions on concussions and injury prevention and management from University of Miami Dr. Gillian Hotz and on compliance and recruiting from Craig Damon of the Florida High School Activities Association, not to mention a message from Tod Creneti of the Positive Coaching Alliance.
As a bonus, representatives from USA Football were on hand so coaches were able to get Heads Up Football certification after the breakout sessions. Participants received a Nike gift bag and high school coaches received Gatorade product for their team.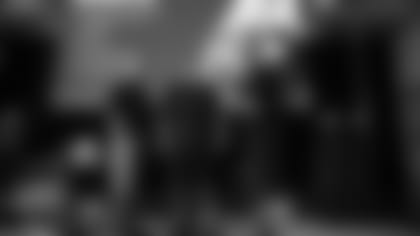 "We got great feedback from all the coaches," said RaShauna Hamilton, Dolphins Director of Youth Programs. "A lot of coaches just said that they learned a lot, they said that a lot of the sessions that they went to, they got new information. And they also said they enjoyed the chance to network with other coaches, especially the high school coaches getting a chance to network with some of the youth organizations to kind of figure out the challenges that they're having and have a connecting point."
After coaches had breakfast at 9 a.m., Flores delivered his welcome message. He began by talking about what football has meant to him since his days growing up in New York City, one reason he didn't hesitate for a second when he was asked to address the participants at the clinic.
"I told this to the players. I want to help each individual, each person I come around become the best version of themselves on and off the field," Flores said. "That's my job. I want to make that kind of impact. I want to invest in people that way. That's players, that's coaches, that's anyone that comes into my circle. That's what I want to do. That's my goal. 
"I don't ever want to lose sight of the off the field part. I've talked about this with my players, I've talked about it with my coaches: If you invest in the person, you'll get the best player."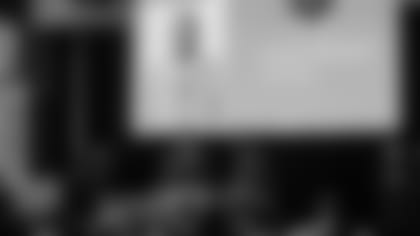 Breakout sessions then began with Hotz, Creneti and Damon, and UCF defensive coordinator Randy Shannon teaching blitz drills and new UM offensive coordinator Dan Enos talking about being a multiple offense.
Later, there were position-specific teaching exercises, all the way until the USA Football certification at 2:15 p.m. In all, there were 31 breakout sessions spread out among the club sections of Hard Rock Stadium and the lawn area outside.
"Luckily for us, it keeps getting bigger and bigger," Hamilton said. "We've been able to offer it as a free resource to coaches, so we hope to be able to continue the program in that way. What's been really great, and why people keep coming back, is because is we really have tried to give coaches everything they need in one day."
The **Junior Dolphins program** encourages youth players and coaches to learn, teach and play football in a fun and safe environment. The program is designed to give kids access to learn the fundamentals of football using the NFL's top resources. To grow the game, the Junior Dolphins program work to educate coaches, parents and youth on the health and safety of football with a strong emphasis on character development.
"We get a lot of support from senior level," Hamilton said. "(Owner Stephen Ross) and Vice Chairman/President/CEO Tom Garfinkel) both agree and support youth sports and believe that it's definitely important to our brand that we are really doing our part in the community to kind of help youth football players, be it tackle or flag."