Dolphins super fan Roger Avila's Hall of Fame moment arrived Thursday.
Avila was one of three fans around the country honored Thursday in Canton, Ohio, as part of the inaugural Ford Hall of Fans class.
Avila, along with fellow 2019 Ford Hall of Fan class members Don Wachter (Chicago Bears fan) and Rick Holman (Pittsburgh Steelers fan), was scheduled to be recognized Thursday night at a pregame presentation leading up to the Hall of Fame Game between the Atlanta Falcons and Denver Broncos at Tom Benson Hall of Fame Stadium, located adjacent to the Pro Football Hall of Fame.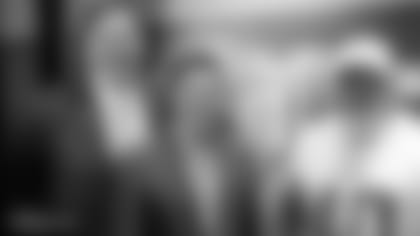 On Friday night, Avila and the other Ford Hall of Fans honorees will receive prestigious Ford Hall of Fans Blue Jackets from Mark LaNeve, Vice President, US Marketing Sales & Service, Ford Motor Company, and David Baker, President & CEO, Pro Football Hall of Fame, at the Enshrinees Gold Jacket Dinner.
The Ford Hall of Fans exhibit that celebrates NFL fandom was unveiled at a ceremony Thursday morning at the Pro Football Hall of Fame in Canton, Ohio, during Enshrinement Week.
Avila, 56, of Miami, is a 24-year season-ticket holder known as "Dolfan Maniac." He attends every Dolphins home game wearing his signature number 40 Miami jersey, white helmet and face paint. When Avila, who serves as a chaplain, is not cheering on his team, he frequently visits the Miami-area prison and preaches to inmates.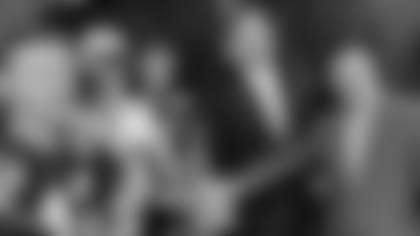 "Let me tell you something about my Miami Dolphins," Avila told dolphins.com in February, "I love them so much that when you slander my Dolphins and you mock them and you lose faith in them, to me you're not family. The Miami Dolphins are part of my life since I was a child. They're my family. And I understand when we don't win or make bad choices; it's just like life. If you have a brother that's not all that bright and he's always making tough choices, would you love him any less? No. The same thing with the Dolphins. That's why I keep going, and going, and going.
"It's my family. That love for my Dolphins is like that love for my wife and my kids. It's my family. I grew up in it. Don't you understand? As a child, it's part of my life. When I went to the military, it went with me when I traveled. It's my family. I love my Dolphins. That's my family.
"Win, lose or tie, I'm a Dolphin till the day I die. I don't ride bandwagons. This is my hometown team. I'm going to ride with them all the way to the end. That's my love for the Dolphins."