Roger Avila called it, quite simply, football heaven.
"I was in football heaven, man," Avila would say a few days later. "That was the best NFL experience I ever had in my whole entire life. It really was."
And this is a man who has had a lot of football experiences in his life, pretty much all of them involving the Dolphins. Avila has been a fan of the team since 1970 when he was 10 years old, though he took things to another level in 1994 when he became a season-ticket holder — but more importantly became the Dolfan Maniac.
And it was as the Dolfan Maniac that Avila earned his way into the Pro Football Hall of Fame this past weekend, courtesy of the new Ford Hall of Fans.
Yes, just as Jason Taylor did a year ago and Champ Bailey and others did this year, Avila got a knock on his hotel door in Atlanta during Super Bowl weekend from David Baker, the president and CEO of the Pro Football Hall of Fame informing him of his election. Avila was elected, as were Pittsburgh Steelers super fan Rick Holman and Don Wachter, also known as "Bearman."
The three of them were selected as finalists among 32 nominees, one from each team, after an online vote. All three were flown to Atlanta thinking only one would get inducted into the Hall of Fans, a new wing of the Hall of Fame, all after getting a knock on their door from a legend from their favorite team.
The knock on Avila's door in his Miami neighborhood of Sweetwater came from Dan Marino.
It came while Avila was filming an interview devoted to his Dolphins devotion, something he had done many times before, which is why he didn't think anything special was about to happen once he opened the door.
"I start sitting down telling my story, and when I got the knock on the door I thought it was my father," Avila said. "I wanted him to come by and when I opened the door I saw Dan Marino. I was like, ooooh, that's it. I lost it. Just wow! A dream come true.
"He's the only guy (from whom) I didn't have a personal autograph. I had an autograph from Bob Griese face to face, Larry Little face to face, Patrick Surtain face to face, but I've never, ever had an autograph from Dan Marino. I have all his pictures, his paraphernalia, books, everything, Wheaties box. But never got one from him face to face, and when I saw that, it was, what a dream come true! It was amazing!"
That was only the beginning of a memorable few days for Avila, who then got a police escort to the airport from the City of Sweetwater, a memorable weekend that included getting tickets to Super Bowl LIII and getting recognized at a Super Bowl luncheon, a police escort back from the airport to a local restaurant where a Welcome Home party was organized in his honor, complete with Sweetwater Mayor Orlando Lopez presenting him with a Proclamation declaring the week of Feb. 3 "Roger Avila 'Dolfan Maniac' Day" and giving him a key to the city.
Avila, 56, obviously is a fixture at Dolphins home games, where he sits in the East end zone every game covered in Dolphins colors.
It was a contest that turned him from avid Dolphins fan to the "Dolfan Maniac."
"Topps Stadium football cards had a contest and one of my friends told me, man, get dressed up," Avila said. "So I got a little helmet, a little pom-pom and funny glasses and I put them on and a Dan Marino jersey. I ended up winning anyway. I went to that game and I stayed dressed up that way and I went inside the stadium. And the people weren't getting up (because) either they were hot, they were tired, we were losing.
"And some guys yelled, 'Hey Maniac, get up, get the crowd going, get the crowd going.' The next thing I know they react to it, so ever since then I started building on that gig. My section where I sit, you'll see me standing there and trying to get these people (fired up). They react. They do. Four quarters of it. It's four quarters. We could be down 28-7, two minutes left, the game is almost over. That's what I do. Maniac."
In case you had to ask, yes, Avila — a heavy equipment operator, who also serves as a volunteer chaplain for prisoners — has a ton of Dolphins paraphernalia in his home and his truck features Dolphins colors and the logo.
He and his wife have three children, and he's quick to point out they're all Dolphins fans.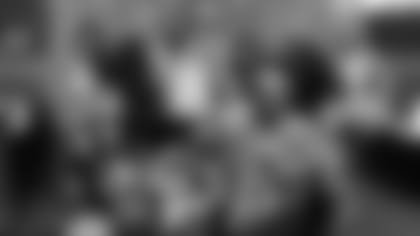 The Dolphins are his other family.
"Let me tell you something about my Miami Dolphins," Avila says, "I love them so much that when you slander my Dolphins and you mock them and you lose faith in them, to me you're not family. The Miami Dolphins are part of my life since I was a child. They're my family. And I understand when we don't win or make bad choices; it's just like life. If you have a brother that's not all that bright and he's always making tough choices, would you love him any less? No. The same thing with the Dolphins. That's why I keep going, and going, and going.
"It's my family. That love for my Dolphins is like that love for my wife and my kids. It's my family. I grew up in it. Don't you understand? As a child, it's part of my life. When I went to the military, it went with me when I traveled. It's my family. I love my Dolphins. That's my family.
"Win, lose or tie, I'm a Dolphin till the day I die. I don't ride bandwagons. This is my hometown team. I'm going to ride with them all the way to the end. That's my love for the Dolphins."