"Good-hearted people. People that want to work, people that want to get better. Those are the people you want to be around and that's how we all look at it." – Solomon Kindley
---
---
They didn't know it at the time, but when the Miami Dolphins hired Brian Flores, Austin Jackson, Rob Hunt and Solomon Kindley landed on the radar of the 10th Head Coach in franchise history.
It's not that Flores was looking ahead to a draft class two years away. That's inherently not in his nature. But traits that each of Miami's three starting rookie offensive linemen have would draw the Dolphins' interest in the 21-year-old left tackle, 23-year-old guard and 24-year-old right tackle.
Those traits are team-first mindsets, relentless determination and a love and appreciation for the game of football.
That's three traits, fitting for three players that made history in Week 13 when they became the first trio of rookie offensive linemen in Dolphins history to start a game together.
"To have two other rookies in the room to experience this all together, I don't think I would want it any other way," Hunt said. "All of us are here trying to make this team better and we also got to come in together and develop friendships with each other."
---
---
From Phoenix, Jacksonville, and tiny Jasper, Texas, Jackson, Kindley and Hunt bonded over their profession and a shared love for the game.
"It's great when you can meet people from different parts of the world and just connect and click," Kindley said. "I just love how we are a brotherhood. It helps with how we click on the field. We communicate with each other on and off the field. It's been a great experience and I can't wait to play more and more games with these guys."
The jump from college to the NFL is not an easy one. The players are smarter, bigger, stronger and faster. The playbooks are more detailed and the craft is a perpetual work-in-progress never interrupted by schoolwork.
Just because school is no longer in session doesn't mean the learning stops. Trading in Economics 101 for a classroom led by Offensive Line Coach Steve Marshall, the three rookies still utilize the shared experience of football education to help each other succeed.
"We always make sure we're getting extra work in after practice, just working on extra pass sets, extra run calls," Jackson said. "Sometimes we talk before meetings just to be sure. If someone is confused, we'll bring it up to clarify and do the best we can."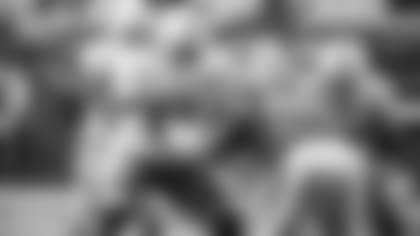 ---
---
Once the lessons are taught in the classroom, it's then time to apply the techniques on the practice field. That includes another form of mentorship by way of the veteran offensive linemen in the group. Observers of this year's Dolphins training camp saw the same routine each day. The glass doors of the facility swung open and No. 75 emerged draped in bungees and a pair of harnesses.
Ereck Flowers, and the rest of the Dolphins veterans in the room, serve as a conduit between Marshall and the rookies to expedite the learning process, and that includes bonus work.
"From Jesse Davis, Ted Karras, Ereck Flowers, Julién Davenport and Adam Pankey, those guys talk to us every day," Kindley said. "We see them staying after practice, so we know we have to do the same thing. Their biggest thing is to lead us in the right direction and help us not repeat the mistakes from their rookie years."
While the rookies are sponges for information from players and coaches, perhaps nobody pushes them harder than one another.
"We challenge each other to be better every day," Hunt said. "We all come in ready to go every day. That helps us out a lot, being ready to go 24/7. We talk about things we see and make suggestions and try to help each other fix things."
"You've got to have someone that will push you," Kindley said. "We stay on the field after practice getting extra pass sets, talking about life, and sometimes getting your mind off football and soaking it all in. You live one life. You have to cherish it. That's our biggest thing."
"We're all able to relate to each other," Jackson said. "All being rookie offensive linemen, moving to South Florida and being able to bond over that. It does take some pressure off. You have someone you can look to and that helps on the field, especially for our position on the offensive line because communication is key and that definitely helps."