Among the many beautiful notes that make up the sweet symphony that is the NFL, perhaps the best trait of the world's greatest league is the various backgrounds from which players come. Size, personality, first-round pick, undrafted free agent, blue blood collegiate program or the Junior College route, talent, work ethic and production supersede all.
Dolphins linebacker Andrew Van Ginkel checks a lot of the aforementioned boxes in an intriguing manner. He ended up at one of the most storied college football programs in the University of Wisconsin, but it was his third stop along the way prior to the pros. For a high school quarterback from a one-traffic light town who struggled to stay above 200 pounds, the dream of playing in the NFL didn't materialize until that final season in Madison.
"Going into (my junior) year, I didn't really know what the future held; but at the end of the year I had a few sacks and made some plays," Van Ginkel said. "That's when I started to really invest my time, change my eating habits and started trying to make the NFL. I wound up having a great senior year, balling out and giving myself a chance."
Between those two seasons at Wisconsin, Van Ginkel piled up 12 sacks, 19.5 tackles for loss, forced four fumbles and returned one of his two interceptions for a touchdown in the 2017 Big 10 Championship Game.
Van Ginkel was hungry for sacks and a shot in the NFL, but it was a forced hunger that helped him achieve that dream. Before he got to Wisconsin, he was a gangly, scrambling quarterback at Rock Valley Community High School in Iowa, a town with a present-day population of less than 4,000.
"It's a small town with one street light," Van Ginkel said. "Everybody's biking everywhere. Everybody knows everybody and everything that you do."
He offered up his scouting report on the 2014 Nighthawks quarterback, calling his former self a "very inconsistent thrower with some scramble ability."
With a position change coming, Van Ginkel knew he had to add weight, fast. And a lot of it.
"Maintaining weight is something I've always struggled with," Van Ginkel said. "Coming out of high school, I was about 200 pounds. My redshirt year at South Dakota, I wound up putting on 20-30 pounds right away. It's something I've always had to do."
The dedication paid off. Waking up nightly at 3 a.m. to eat and manipulate his metabolism, Van Ginkel showed a dedication to the craft from an early age, the same persistence his NFL coaches find commendable in the 25-year-old, second-year pro.
"He's just such an extremely detailed guy," Dolphins Linebackers Coach Anthony Campanile said. "Always looking for extra tips, and like I said earlier in the season, he's constantly doing extra work. Every little bit of information you give that guy, he puts it to good use. You can see him trying to work it on the field. He's all over pretty much all the coaches."
Van Ginkel's work continues to pay off. In five of the Dolphins' last six games, a potentially game-changing play occurs courtesy of the No. 43 Dolphins jersey covered in golden, flowing locks.
Last week in Denver, Van Ginkel forced a Melvin Gordon fumble at the goal line to keep Miami within seven points late in the fourth quarter. A week earlier, he blocked a punt to set the Dolphins offense up at the 1-yard-line for an early lead against the Chargers. Against Los Angeles' other team, the Rams, he scooped and scored the second-longest fumble return for a touchdown (78 yards) in franchise history. He also forced a fumble as a pass rusher against the 49ers and did the same on the kickoff team against the Cardinals.
The success is landing Van Ginkel time in the spotlight, primarily on NFL Network's Good Morning Football.
"He represents everything good about the world right now," said Peter Schrager on GMFB. "He's dominating every week and doesn't smile about it and doesn't say it's about him. We had the Van Ginkel jersey on the show and everybody tweeted him about it and he didn't even respond. I love this guy."
Humble and soft-spoken, Van Ginkel doesn't let the attention change him; but if he continues to make the splash play, the cameras are going to find him. It's the moments behind the scenes where Van Ginkel finds the appropriate time to "let his hair down."
"I like being in smaller groups," Van Ginkel said. "I'm not a very big public speaker, getting up in front of people or a 'rah-rah' guy. In a smaller setting, I'm more open and definitely bring out more of myself."
Dolphins Special Teams Coordinator Danny Crossman witnesses the looser version of Van Ginkel on a daily basis.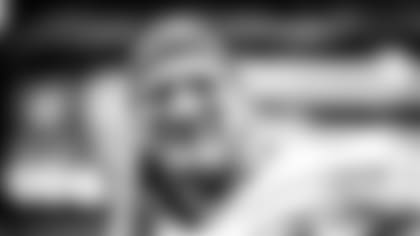 "He's got a little bit more juice than he leads on," Crossman said. "Since we've had Andrew, he's done everything we've asked. He went through some stuff last year and as the season progressed, the more we put on his plate, he was able to handle it and I think you've seen where that's picked up this year both in the kicking game and defensively. We're asking a lot of him and he is producing at a high level."
His own goals from rookie season to Year 2 went a long way in a jump in production for Van Ginkel. He's already set career highs in tackles (27), sacks (2.5), forced fumbles (3) and quarterback hits (6). At the conclusion of a rookie season that saw hm play in six games with one sack, Van Ginkel detailed his desire to become more physical, bigger and stronger to Outside Linebackers Coach Austin Clark.
"From the minute that I met him when I got here, he's said 'I want to become more physical.' He had all of these goals in place from last year that he wanted to accomplish," Clark said. "That's kind of what he's done through his unique journey through different colleges. Obviously he was great at Wisconsin. I think that's exactly what you're seeing. He's doing a hell of a job and I love the guy."
"Last year, realizing how big these tight ends and tackles are, I've got to do something to give myself a better chance to be more dominant and make plays," Van Ginkel said. "I knew it was something I had to do, putting on pounds and adding strength. So I spent a lot of time this offseason putting on a solid five to seven pounds of muscle."
That's the thing about labeling a fighter -- someone who's going to persevere regardless of the circumstances -- as an underdog. It develops a chip. An edge. A tenacity that produces a tireless worker.
"It puts a chip on your shoulder knowing that you've got to start from the ground up," Van Ginkel said. "It helps you stay motivated and hungry. Being at the bottom, it's tough down there so you always push yourself to get to the top."