Eric Rowe subscribes to the undefeated philosophy of happy wife, happy life. While the Dolphins safety is thriving on the gridiron this October, this is the month where his wife Vanessa tends to shine.
"Halloween is my wife's favorite holiday," Rowe said. "All month it's costumes, decorations, all of that."
Is it safe to say the Rowe house is the Halloween version of the Griswold's on Christmas?
"Oh yeah," Rowe said with deep laugh.
It's been seven years since the Dolphins played a game on Vanessa's favorite holiday (2013 overtime win over Cincinnati). However, with a willing husband, she's able to combine her passion for fashion and the last day in October through Eric's pre-game wardrobe.
Last season, Rowe wore a suit adorned with pumpkins to the team's Monday Night Football game at Pittsburgh.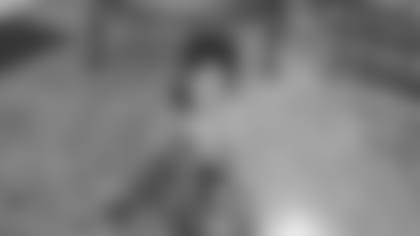 "The drip, that's my wife's thing. She likes to dress me," Rowe said. "She says put this on and I'm like, 'alright, I'll throw it on.'"
Again. Happy wife, happy life.
While he's happy to participate in the ghouls, ghosts and goblins of Halloween, it's his gameday gravitas that's sending chills down the spines of opposing quarterbacks. Rowe made the switch from cornerback to safety in Week 6 of 2019. In the 17 games since, Rowe's allowed just 37 completions on 64 targets (57.8 percent) for 338 yards (5.28 yards per target) and a passer rating against of only 70.9, per Pro Football Focus. Rowe's been especially adept at covering tight ends. During that stretch, Rowe squared off with two players who have five Pro Bowls appearances between them in George Kittle and Zach Ertz. They pair combined for one catch on four targets for 12 yards against the Miami safety.
The results are impressive standing alone and even more so considering what amounts to one season and one game of experience at his new position. Rowe – who weighs 205 pounds and played some free safety in college at Utah – won't accept the credit for the production.
"It's my teammates. It's not a one man show out there," Rowe said. "The pressure, Bobby (McCain) having my help on overs, I'd just say it's not a one-man show. I attribute it to the whole defense. We're trying to help each other and make each other better."
Since we'll never hear any self-praise from Rowe, we had to go to the source – Dolphins Defensive Backs Coach Gerald Alexander – to learn which nuances make Rowe special.
"He's gotten a hell of a lot better since I got here as a little intern last summer," Alexander said. "Eric is naturally a quiet guy and when he's on the field he has to be very verbal, loud and confident. You get the feel that he's getting better in that role."
Though he coaches all of the defensive backs, Alexander acknowledges the difference between playing cornerback and safety, especially a player like Rowe who often finds himself in the box among players with more than 100 pounds of body weight on him.
"He has to have recognition of cracks, splits, and be able to fit in the run game and see pulling guards," Alexander explained. "When you come from cornerback, you're not exposed to that so it's just different nuances, different keys and different movements to the position."
Before he was second on the team in tackles (both in 2019 and in 2020), Rowe was strictly a cornerback. A position change is a drop in the bucket as far as adversity is concerned.
After four years in the league with Philadelphia and New England, Rowe signed a one-year deal in 2019 with Miami. Missing 15 of a possible 36 games with various injuries through the first four years of his professional career, Rowe had to fall back on his fighter's mentality.
"I've been through it all," Rowe said. "The lows with the injuries, the highs with the playoffs and Super Bowl runs. I've been at the top and the bottom, and finding out what you learn from both is how much work you need to consistently to put in just to compete in this league because if you don't get better, you get worse."
Rowe's even-keel approach is far from exclusive to his personality as it echoes throughout the facility. It starts with the head coach, and the quarterback helps relay Brian Flores' message to the players. Rowe detailed a players only meeting that Ryan Fitzpatrick had called.
"We had a players meeting and (Fitzpatrick) told us to be the same guy whether we're losing or having success," Rowe said. "Be the same guy coming to practice or in games. Just because we're losing, don't be down on yourself; and if we're winning you might have extra energy. Just be consistent."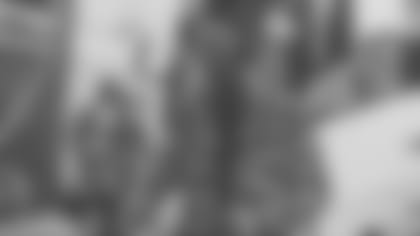 Rowe played a career-high 1,135 snaps last season spread across multiple positions. He was out wide as a corner, in the slot and box, deep as the free safety and contributed in special teams. When he first learned of the coaches' desire to kick him inside as a box safety, Rowe leaned on the lessons he learned from previous adversity in his career and attacked the challenge head on.
"When they made the position switch, I just kept working, Rowe said. "There's really nothing else I can do; I'm not a quitter so I'm not going to quit. It was the same thing last year. I had a rough start going in, but the only thing you can do is keep working."
The process paid off in the results. Rowe is second among NFL safeties with four pass breakups and seventh at his position in completion percentage allowed at 61.9 percent (minimum 10 targets).
While he won't acknowledge his individual successes, Rowe does appreciate the idea that he embodies the type of player Flores and General Manager Chris Grier are looking for.
"The guys he brought in all have the same mindset," Rowe said. "Everyone has the mindset of winning, but to get into more detail. We have a good chemistry on the team. They love hanging out with each other and respect each other. What comes from that is you're going to play hard for each other."
The Dolphins have a chance to make it 2-1 in the month of October on Sunday at home versus the Jets. Unfortunately, this year, the Dolphins don't have a game the week of Halloween, but might we get a sneak peek at Rowe's Halloween wardrobe one week early?
"We'll see, we'll see," Rowe said smiling ear-to-ear. "Vanessa might have something for me."
It's going to be hard to top the pumpkin suit, but Eric Rowe has been outdoing himself since he arrived in Miami.