On the day the 2019 Dolphins conducted their first practice of training camp, the organization once again proved its commitment to young athletes throughout South Florida.
At a press conference following that first practice, Dolphins Vice Chairman, President and CEO Tom Garfinkel presented a check for $1.5 million to the Baptist Health Foundation for the Miami Orthopedics & Sports Medicine Institute's Youth Athletic Outreach Program.
The amount is the pledge the Dolphins have made over the next five years to help fund the program, which provides free medical services to athletes throughout South Florida.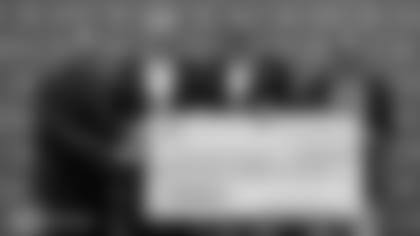 "We want to focus on youth football," Garfinkel said at the press conference at the Baptist Health Training Facility at Nova Southeastern University. "We spend a lot of time with youth football, with kids in the community. We want to grow the game of football with an emphasis on safety and that stars with education of coaches and the players and the parents and everybody.
"This pledge is significant because in partnering with Baptist to go out in these communities, to provide services to youth football programs to keep the game safe for all these kids that are playing so that they can get all of the wonderful things that football provides in a safe environment. We want to make South Florida healthier, educated and more united. We believe this comprehensive program helps us do that."
Through the outreach program, the Miami Orthopedics & Sports Medicine Institute provides athletic trainers at every varsity football game in Miami-Dade County, voluntary EKGs to all student-athletes, pre-participation screenings, baseline testing, conditioning tests, and continuing education in sports medicine.
"To say we're excited today is really an understatement," said Nelson Lazo, CEO of Doctors Hospital and the Miami Orthopedics & Sports Medicine Institute, both part of Baptist Health South Florida. "The expansion of this longstanding partnership is very important to us and it's very important to the youth of this community. With this additional funding, we hope to continue to grow this program and bring other folks into the fold. We're excited about it."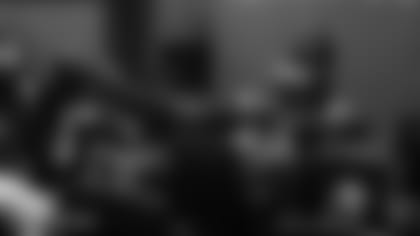 Along with Lazo and Garfinkel, others present at the press conference included players from both Miami Edison High School and youth players from Liberty City, Gulf Coast Pop Warner officials, representatives from the Baptist Health Foundation and Baptist Health South Florida, including Dr. John Uribe and Dr. Michael Swartzon, both of whom serve as Dolphins team physicians.
Lazo indicated the Youth Athletic Outreach Program began some 30 years ago as the brain child of Uribe, and the Dolphins' donation would help it continue to grow.
"We're excited because funding always becomes an issue," Lazo said. "This is a pro bono program. The reason we do it, not because we ask the doctors to do it, it's because the doctors have a passion for it and they think it's important for our community. Today the Miami Dolphins have demonstrated their passion for this program as well."
"We care about the game of football," Garfinkel said after the press conference. "Football helps shape young men in this country into men of character and work ethic. I know that for me it helped create who I am as a person today, as a leader, as a teammate, all kinds of things. We care about the game of football and this announcement today helps make the game more safe for a lot of kids."