This article was originally published on Nov. 14, 2013 to celebrate the 20th anniversary of Don Shula's record-breaking win against the Philadelphia Eagles.
I remember the day so well back in November of 1993. It was unseasonably warm in Philadelphia. The Dolphins came in with a 6-2 record. They had just lost to the Jets after winning their previous five games. But on this day the team wasn't the story. It was all about the coach.
Twenty years have passed since that game in Philadelphia on Nov. 14, 1993 when Don Shula became the winningest coach in NFL history. Twenty years since he took his last victory ride. Twenty years since Shula etched his name in the record books, a spot that in all likelihood will remain his for as long as this wonderful game is played.
"It doesn't seem like 20 years," Shula said. "It's something I'm very proud of. To do something nobody else has done is something that's special."
It seemed so fitting on that day in Philadelphia that the Dolphins would win with a seldom-used back-up quarterback named Doug Pederson, who was replacing the injured Scott Mitchell, who had replaced the injured Dan Marino. Get it done. No matter what. That's what Shula was about.
Who can forget that 1972 season when another back-up quarterback, Earl Morrall, led the Dolphins to an unbeaten regular season record? Get it done. No matter what. One man goes down, someone else takes his place and the Dolphins don't lose a step. That's what Shula always preached. And on this day it was Pederson's turn to help lead the Dolphins to a 19-14 victory. It was Pederson's turn to be Earl Morrall.
"I always stressed being ready," Shula said. "Pederson did a nice job that day."
Pederson came in late in the third quarter when Mitchell went down with a separated shoulder. He was 25 years old and had never before thrown an NFL pass that counted. So Shula had to adjust. He went to two backs and two tight ends. He had plays called that wouldn't put too much pressure on Pederson. Short passes. Smart passes. Pederson would complete three of his six passes and helped set up a Pete Stoyanovich field goal that gave the Dolphins that five-point lead.
Nothing, on this day, was going to stop Don Shula from reaching 325, from passing George Halas, from putting the perfect stamp on a remarkable coaching career.
A late fumble recovery sealed the deal and the only question that remained was a Gatorade bath or a victory ride? Veteran guard Keith Sims was one of the players making that decision.
"A classy man," Sims said about that day. "We looked at the Gatorade and said: 'You know, we need to do the classy thing." So they lifted Shula on their shoulders. On top of the football world.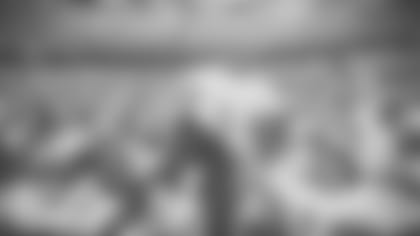 Years later, I ran into Pederson. Ironically, he was an assistant coach with the Eagles at the time. I asked him about that day. I asked him what he remembered. "I was just so honored to be in that position," he said. "But it wasn't about me. I was just a guy doing his job. It was all about Coach Shula. That was his moment."
I can still close my eyes and see Shula standing in the corner of a crowded locker room that day in Philadelphia, that game ball in his hands, that wide-eyed smile on his face. "Did I ever imagine this?" Shula said in his press conference 20 years ago. "No way. One day I'm going to have the luxury to sit back and enjoy this."
And now is that time. Now is that day.
"I really enjoy the memories," Shula said.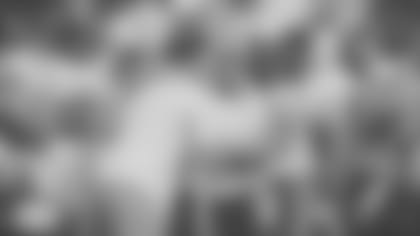 A few days after that Philadelphia game I was in Shula's office. He handed me a game program from that game. On it he signed: Don Shula "325". I can't tell you how much it meant as a young reporter to receive something like that. What a first-class man.
People still ask me today what separated Shula from all the other coaches, what made him so special. My answer is always the same: Don Shula had the ability to adjust, the ability to take the talent on his roster and compile a team based on those strengths. There was no system that he was locked into, no philosophy that he refused to change.
He won with running the ball in the 70's and passing the ball in the 80s and 90s. He won with Larry Csonka's bruising style and Dan Marino's picturesque throws. He created a two-headed quarterback called WoodStrock and got to the Super Bowl in the 1982 season. There was no master blueprint. As old school as he seemed, he was smart enough to change what he believed based on the talent in his locker room.
That 1993 season didn't finish the way Shula had hoped. The Dolphins lost five in a row to end the season to finish at 9-7. On Shula's standards, that was a disappointing season. The early-season injury to Dan Marino was too much to overcome. But nothing that happened that season could take away from the events of that day in Philadelphia. Nothing could tarnish the accomplishment.
"When you step back and realize you've won the most games and there have been a lot of great coaches, it's a special feeling," Shula said. "When your name is on top, you have to be grateful to so many people who contributed."
Shula paused. "Yes, I have a lot to be grateful for."