Miami Dolphins defensive end Emmanuel Ogbah came to the United States from Lagos, Nigeria when he was just nine years old. Until recently, he'd never been back to his home continent. Thanks to the National Football League's NFL Africa initiative, Ogbah finally got that opportunity.
Ogbah, alongside Brian Asamoah (Minnesota Vikings, Ghana), Arnold Ebiketie (Atlanta Falcons, Cameroon), Paulson Adebo (New Orleans Saints, Benin) and Ikem Ekwonu (Carolina Panthers, Nigeria), traveled to Nairobi, Kenya to help coach and train prospects aged 16 – 21 from numerous African nations as part of a talent identification camp and NFL Flag football showcase.
"That was truly a humbling experience," Ogbah said. "Just watching the kids out there, just happy. You know they don't have much but they're still grateful. You see them dancing from drill to drill. We had Afrobeats playing. They were just excited, just ecstatic to be out there."
Ogbah has also been a consistent presence in the community here in the U.S. During the heart of the pandemic, he provided laptops for children in Houston to better communicate and engage with their classwork while they took remote classes.
The Dolphins also recently named Ogbah the 2022 Nat Moore Community Service Award winner for his involvement in the South Florida community and his efforts towards youth mentorship & education.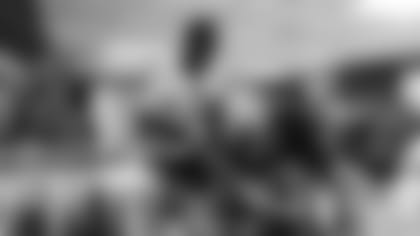 "It's very important to me because I've always been big on the youth," he said. "I feel like they're our future."
As Ogbah continues his work in the community, he's also planning to return to the field after an injury ended his 2022 season early. Throughout a tough, lengthy rehab process, it's his father that has kept him motivated.
"Watching my dad work and bring his whole family here, starting from scratch, driving two hours a day to work and two hours coming back just to provide for his family, just inspires you," he said. "If my dad can do that for his family after being good in Nigeria – he was getting paid good – and he moved over here. If he can do that, it's just football, you know. I can do it too."