Running back **Kalen Ballage** made sure to go above and beyond to get himself ready for the start of training camp, and it sure looks at this point as though the hard work has paid off.
After a rookie season where he showed glimpses of his considerable ability, Ballage has looked very much this summer like a player ready to take a big step forward in his second year.
"There's nothing I didn't do," Ballage said after practice Friday. "Honestly, just conditioning, keeping my body right and my mind in the right place as well. I just did a little bit of everything to prepare me for these moments."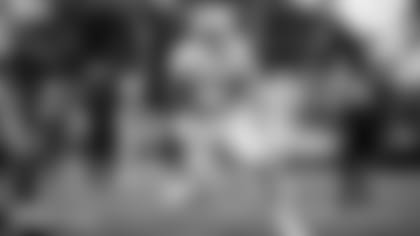 By "these moments," Ballage referred for the many opportunities he's been getting in practice, including a lot of time with the first-team offense.
While it's too early to be talking about starting roles, Ballage clearly appears in line for a bigger role in the offense.
He says there's no pressure to prove he's worthy of the additional responsibilities.
"Not at all," he said. "I play in front of 60,000-70,000 people every Sunday or Saturday when it was in college and you just kind of get used to it. This is the game that we chose to play, so you get used to it.
"It's exciting. I just go out there and work and try to make my coach happy, my teammates and do the best that I can. I come out here every day with the same mind-set to progress and be the best player that I can be for my team. I think at the end of the day you put your all, your effort into that and good results will come out of it."
While he contributed on special teams, Ballage's offensive opportunities were limited by the presence on the roster of not only **Kenyan Drake** but also since-departed veterans Frank Gore and Brandon Bolden.
"I just waited my turn," Ballage said. "I had Frank to always talk to me. He was always in my corner. 'We see the talent, that's not an issue at all. You just gotta wait your turn and see how it plays.' Hopefully, I'll be able to put a lot of good stuff on film this year.
"I think that even in just a year, I've just matured so much physically, mentally and just kind of knowing what to do, when to do it. I think (I've improved) in all aspects of my game."
Running backs coach Eric Studesville, who was among the assistants retained from the previous staff by Head Coach Brian Flores, has noticed the improvement in Ballage's game.
"I think it's all-inclusive," Studesville said. "It's everything that he's done — how he works in the meeting room, how he has prepared himself physically. He comes out here knowing what to do. He knew what to do last year too, it's just a matter of getting opportunities to sometimes show what you can do. The timing of it is different all of the time for different players. But he continues to push himself. He's passionate about it, he wants to be really good and he works like that."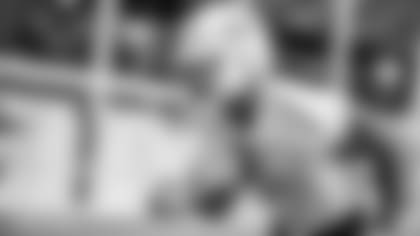 Based on the experience of the running backs and their previous contributions, it's fair to suggest Ballage will be competing for the starting job with Drake, who is heading into his fourth season with the Dolphins.
Ballage calls Drake "my brother" and says he's learned a "whole bunch" from him, though he also says he enjoys the competition — even if the designation of "starter" doesn't necessarily mean that much to him.
"If you don't have competition, I don't think you get better," Ballage said. "It's a continued battle every day in a healthy manner and you're always going to get better.
"I just want to win football games. At the end of the day, that's what matters. And if I'm the guy that can contribute and help out in that way, then that's fine."