In year one under head coach Mike McDaniel, the Miami Dolphins returned to the playoffs for the first time since 2016.
Here's a look at some of the record-setting performances and historical milestones that highlighted the Dolphins' 2022 season. 
In 13 starts, quarterback Tua Tagovailoa threw for 3,548 yards, the most by a Miami quarterback since 2015, when Ryan Tannehill posted 4,208 yards in 16 starts. Tagovailoa joined Tannehill and Dan Marino as the third quarterback in team history to throw 25 touchdowns in a single season and became the first to do so while also throwing single-digit interceptions (8). 
Additionally, Tagovailoa became the youngest quarterback since 1984 (Marino) to lead the league in passer rating (105.5). He also logged the league's top marks in red zone passer rating (112.2), and third-down passer rating (130.1).
In Miami's dramatic 42-38 Week 2 victory over the Baltimore Ravens, Tagovailoa set career highs in completions (36), passing yards (469), and touchdowns (6), which tied the franchise single-game record previously set by Marino and Bob Griese. 
Tagovailoa threw a franchise-record four touchdown passes in the fourth quarter as the Dolphins outscored Baltimore 28-3 in the final 15 minutes and posted its largest fourth-quarter comeback (21 points) and road comeback in franchise history.
Much of Miami's success in the air came through connecting with the Dolphins' dynamic duo of wide receivers: Tyreek Hill and Jaylen Waddle.
Hill finished the regular season with 119 receptions for 1,710 yards, the most yards by a player in his first season with a team in NFL history.
Hill set new franchise records for single-season receptions, held by Jarvis Landry (112) since 2017, and single-season receiving yards, which had stood for nearly 40 years since Mark Clayton's 1,389-yard season in 1984.
Waddle, meanwhile, recorded 75 catches for 1,356 yards, the third-most receiving yards in a season by a Dolphin.
Hill (7) and Waddle (8) combined for 15 touchdown receptions and 13 100-yard performances, reaching triple digits in the same game four times.
The pair finished second and seventh, respectively, in receiving yards league-wide.
The Dolphins concluded their season with a league-leading 14 completions of 40+ yards and a third-best 62 completions of 20+ yards. Their 13 yards per catch also topped the league.
On the opposite side of the ball, Christian Wilkins registered 98 tackles during the regular season to lead all NFL defensive linemen and set a franchise record for most tackles in a season at his position since 1994.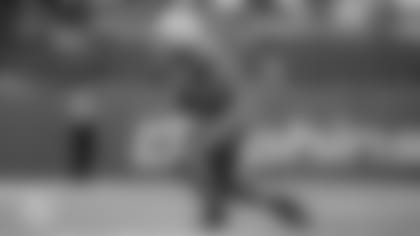 Linebacker Jaelan Phillips became just the second player in Dolphins history (A.J. Duhe) to record at least seven sacks in each of his first two seasons. 
Punter Thomas Morstead finished the year with 28 punts into the opposing team's 20-yard line, the second-best mark in his 15-year career. 
Offensive tackle Terron Armstead and cornerback Xavien Howard earned Pro Bowl selections while Hill garnered Pro Bowl and first-team All-Pro honors.