Miami – The Miami Dolphins today announced Kenny Stills as the team's nominee for the WALTER PAYTON NFL MAN OF THE YEAR AWARD. Representing the best of the NFL's commitment to philanthropy and community impact, Stills was selected as the Dolphins' Man of the Year and is now eligible to win the national award. Considered one of the League's most prestigious honors, the Walter Payton NFL Man of the Year Award recognizes an NFL player for outstanding community service activities off the field as well as excellence on the field.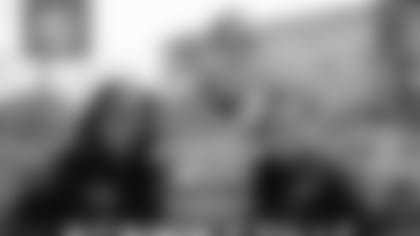 Three of the nominees will be selected as finalists for the national award, renamed in 1999 after the late Hall of Fame Chicago Bears running back WALTER PAYTON. Finalists will be announced in January 2018. The winner will be announced in Minneapolis at NFL Honors, a two-hour primetime awards special to air nationally on Feb. 3, the night before Super Bowl LII, from 8-10 PM (ET and PT) on NBC.
Stills has become a pioneer among NFL players in addressing societal issues. In 2016, he worked with the Miami Dolphins and Ross Initiative in Sports for Equality (RISE) to host a town hall meeting that brought influential local leaders together with law enforcement to discuss actionable steps that could be taken to address issues of racial inequality and unite the community. Items that came from this meeting included a police ride along program and CommUNITY tailgates, which bring local student-athletes, coaches, parents, community leaders, law enforcement and military personnel together at every Dolphins home game. Stills has used his platform this season to help inspire other NFL players to host similar programs in their local communities to enhance the relationship between citizens and law enforcement. This resulted in five teams joining the effort and hosting their own ride alongs in their cities – encouraging dialogue and displaying the teamwork that unites communities and their NFL teams directly to youth in the area. In addition, multiple teams have expressed similar plans to host law enforcement related events in their respective communities.
Additionally, since joining the Dolphins prior to the 2016 season, the wide out has attended far and away more community events put on by the team than any other player on the roster. Dolphins Head Coach Adam Gase recently said, "On any Tuesday, if you try to get a hold of him, you're going to have to wait until five or six o'clock because he's doing community stuff all day. I've been impressed with how he's made himself available, how much he tries to do." His efforts extend beyond this season, as he earned the team's 2016 Nat Moore Community Service Award, given each year to a Miami Dolphins player recognized for his involvement in the South Florida community.
On the field, Stills is coming off a career year where he was tied for sixth in the NFL with nine receiving touchdowns in 2016. Also a leader on the field and in the locker room, his teammates voted him as one of the team's captains for the 2017 season. Through six games, he leads the team and is tied for seventh in the NFL with four receiving touchdowns.
Stills has made it his mission to use his platform as a professional football player to give back not only to his community, but inspires other colleagues throughout the league to work to make a change as well in their markets. He embodies both the on- and off-field elements that Walter Payton exemplified.
The Dolphins have had three players win the award (Dwight Stephenson, Dan Marino and Jason Taylor). Miami is one of only seven teams to have had three or more winners of the award.
Starting in Week 14, the Walter Payton NFL Man of the Year trophy silhouette will appear in uniform elements to further recognize past award winners and current nominees. Stills will wear a Man of the Year helmet decal through the end of the season, in recognition of his accomplishments on and off the field.
Five hundred thousand dollars will be donated in the name of the 2017 winner. $250,000 will be donated to the winner's charity of choice and $250,000 will be donated in his name to expand Character Playbook across the country. The two other finalists will each receive a $100,000 donation to their charity of choice and a $100,000 donation in their names to expand Character Playbook. All other 29 nominees will receive a $50,000 donation to their charity of choice and an additional $50,000 donation in their name to expand Character Playbook. All donations are courtesy of the NFL Foundation and United Way Worldwide.
The NFL announced last month a Super Bowl Ticket Giveaway, a new initiative this season to surprise fans across the country with an invitation to attend Super Bowl LII in Minnesota. As a Man of the Year nominee, Stills received two Super Bowl LII tickets to give away to community heroes.