The Dolphins are one of the most fascinating teams heading into the 2019 NFL draft and thoughts about what they might do in the first round are all over the place, based on national mock drafts.
A lot of the uncertainty stems from the presence of a new head coach, Brian Flores, as well as General Manager Chris Grier now overseeing personnel decisions. And, of course, there's the issue of the Dolphins' stated goal of landing a franchise quarterback and Grier's comments that the organization could wind up selecting a quarterback this year, or maybe next year, or maybe taking one in both drafts.
In a study of 25 mock drafts released after the first wave of free agency, defensive tackle Ed Oliver from the University of Houston and quarterback Dwayne Haskins from Ohio State emerged as the most popular choices for the Dolphins first-round pick, but each got only four mentions.
All told, 13 different players were mentioned as Dolphins first-round picks, with quarterback and defensive tackle the most popular positions with seven mentions each.
Next was defensive end with six, offensive line with four, and finally there was one vote for a wide receiver, DK Metcalf from Mississippi.
Behind Haskins and Oliver, the other players to get the most mentions were Missouri quarterback Drew Lock and Alabama offensive lineman Jonah Williams with three apiece.
Three analysts had the Dolphins making trades in the first round, including one that saw Miami move up to No. 2 to select Ohio State defensive end Nick Bosa, the son of former Dolphins first-round pick John Bosa and brother of former Chargers first-round pick Joey Bosa.
Another trade had the Dolphins moving up to draft Haskins and the other had them moving down to No. 25 and picking up a second-round pick from the Philadelphia Eagles.
Here's the rundown of those 25 national mock drafts, along with the date of the mock and the comments that accompanied their Dolphins picks.
Pete Prisco, CBSSports.com
"They have to get a quarterback for the future. Lock has the big-time arm and can spend time learning from **Ryan Fitzpatrick**."
Jared Dubin, CBSSports.com
Jonah Williams, OL, Alabama
"Miami seems content to let Ryan Fitzpatrick start at quarterback for now and looks like a good bet to be picking No. 1 overall next year, which means they'll have a good shot at Tua Tagovailoa, Justin Herbert, or Jake Fromm. Whoever they end up with, he'll need to be well protected, so the Dolphins spring for some offensive line help in the first round here."
Will Brinson, CBSSports.com
Clelin Ferrell, EDGE, Clemson
"With the Dolphins basically rebooting the whole franchise, I see them trying to land the best player available but also someone who can be a locker room leader for Brian Flores' new vision of this Miami team. Ferrell's got the chops to qualify for both."
Matt Miller, Bleacher Report
Montez Sweat, DE, Mississippi State
"Following a ridiculous performance at the NFL Scouting Combine that saw Montez Sweat run a 4.41 second 40-yard dash at 6-6 and 260 pounds, many believed he could jump into the top 10 picks of the 2019 draft. In this mock, thanks to the rise of quarterbacks and offensive tackles, he's available at a sweet spot for the Miami Dolphins."
Eric Galko, Optimum Scouting
Jonah Williams, OL, Alabama
"Dolphins like Williams a lot. They could look to move up for Ed Oliver or even a quarterback like Drew Lock, but I'd imagine they look to bolster their offensive and defensive line early and often."
Ryan Wilson, CBSSports.com
"The Dolphins signed Ryan Fitzpatrick — and there are no plans to Tank for Tua in '20 — but if new coach Brian Flores wants to turn things around before then, the team could target Lock, who could sit and learn behind Fitzpatrick, and possibly even see playing time next season."
R.J. White, CBSSports.com
25. (After mock trade with Eagles), Jeffery Simmons, DT, Mississippi State
"Dolphins get No. 25, 53 for No. 13. With the Dolphins at the beginning of a rebuild, we should expect them to explore trade-down scenarios to add more premium draft capital. Here, they're able to land a top-half-of-the-first-round talent in Simmons, who is expected to slip as he recovers from a torn ACL. But since the Dolphins don't need him to be healthy by Week 1 for a playoff push, adding a player of his caliber is a nice outcome for the long term."
Chris Trapasso, CBSSports.com
Jonah Williams, OL, Alabama
"With Ja'Wuan James now in Denver, the Dolphins are ecstatic to land a franchise tackle prospect in Williams."
Charlie Campbell, Walterfootball.com
Rashan Gary, DE, Michigan
"I'm not sure the Dolphins value Daniel Jones enough for this spot, and he's the only quarterback left. Instead, I think Miami could go for more defensive line talent. Rashan Gary would be a good scheme fit and give the Dolphins a replacement for Cameron Wake."
Walter Cherepinsky, Walterfootball.com
D.K. Metcalf, WR, Ole Miss
"D.K. Metcalf didn't look like a No. 1 receiver at Ole Miss, as he was unproductive while running poor routes. However, he posted elite numbers at the combine, displaying a ridiculous amount of upside."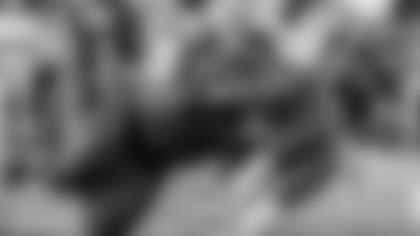 Scott Wright, DraftCountdown.com
"Oliver is one of the most hyped defensive tackle prospects of all time, first capturing the imagination of draftniks as a true freshman. Oliver announced his intention to go pro prior to his junior campaign and to say there were unrealistic expectations would be an understatement. Instead, Oliver produced career lows across the board while generating headlines for the wrong reasons by feuding on the sideline with his coach. Oliver is severely undersized and won't be a fit for everyone. However, if utilized properly Oliver can be a unique, dynamic weapon in the front seven due to a rare blend of athleticism and quickness."
Benjamin Solak, The Draft Network
Andre Dillard, T, Washington State
"With Ja'Wuan James out, right tackle is open for the taking, and Miami has time to develop Andre Dillard, a high-caliber mover on the offensive line in need of technical polishing."
Rashan Gary, DE, Michigan
Haskins dropping out of the top 10 might entice a team like the Dolphins to make a trade up. But it's clear the Dolphins need to find pass rushers in this draft. Robert Quinn has been shipped to Dallas, leaving Miami with almost nothing in terms of pass rushers. Gary, while flawed, could develop into the type of movable pass rusher new head coach Brian Flores should know how to utilize."
Luke Easterling, Draft Wire
"It sure looks like the Dolphins are prepared to punt on this year's quarterback class, and if that's the case, they should be targeting the best defensive lineman available here. Luckily for them, they land one of this year's top talents in Oliver, who wasn't used to his full potential at Houston."
2. Miami Dolphins (trade with SF), Nick Bosa, DE, Ohio State
"The Dolphins need a Bosa to rush the passer in Brian Flores' defense ... and to match their organizational draft history after taking Nick's father John in the first round 32 years ago, then Nick's uncle Erik Kumerow in the first round 31 years ago."
Brian Burns, EDGE, Florida State
"Signing Ryan Fitzpatrick solves the Dolphins need for a stopgap QB. Unless they trade up, they likely miss out on Kyler Murray, Dwayne Haskins or Drew Lock. Interior line, receiver and edge rusher are the remaining offensive needs. Burns totaled 29 tackles for loss and 14.5 sacks over the last two seasons."
Doug Farrar, Touchdown Wire
QB Dwayne Haskins, Ohio State
"The best thing about Haskins is that he reads and reacts to defenses with the acumen of an NFL veteran on his second contract. The worst thing about Haskins, at least at this point, is that his lack of functional mobility (i.e., throwing on the run and when he's flushed out of the pocket) limits his viability in certain offenses. New Dolphins offensive coordinator Chad O'Shea spent the last 10 seasons as the Patriots' receivers coach, so he's used to working with a quarterback who doesn't run around a lot and still manages all-time results. Not that Haskins is the next Tom Brady, obviously, but the fit is reasonable here."
"Wrecking ball of a big man who spent his college career bowling through double teams."
"Miami found their bridge quarterback in Ryan Fitzpatrick, and could very well be in the mix to trade up for a quarterback if there is a guy they love."
6. Projected trade with Bills; Dwayne Haskins, QB, Ohio State
"If the Giants pass on Haskins at No. 6, the Dolphins can find their future starter and have bridge quarterback Ryan Fitzpatrick run things in 2019 (or until the team thinks Haskins is ready)."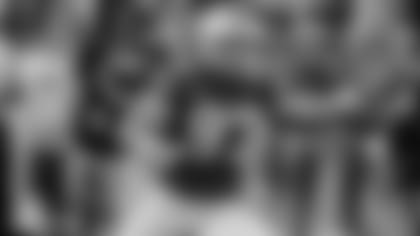 Christian Wilkins, DT, Clemson
"The Dolphins are clearly in rebuilding mode, seeking leaders and champions. They got one in defensive back Minkah Fitzpatrick (drafted 11th overall out of Alabama) a year ago; Wilkins is that guy for them this year. His college numbers are absurd from the DT spot: 208 total tackles, 45 tackles for loss, 17 sacks and 56 quarterback pressures across four seasons, with two national championships as cherries on top."
Dwayne Haskins, QB, Ohio State
"Dolphins general manager Chris Grier might weigh Haskins' long-term potential against the 2020 QB class. The Ohio State standout has the arm talent and pocket passing skills to shine in an offense that features a variety of catch-and-run playmakers on the perimeter."
"I thought about Lock for Denver at No. 10 and Cincinnati at No. 11, but Miami also makes a ton of sense. The Dolphins are clearly in the beginning stages of a rebuild, and they need a new face of their franchise after parting ways with Ryan Tannehill. Lock (6-4, 228 pounds) is inconsistent, but he has a strong arm and can make every throw. There have been some rumblings that Lock could be the second quarterback off the board, before Ohio State's Dwayne Haskins. Miami could go also go offensive line with this pick, or it could try to trade down to pick up assets."
Dwayne Haskins, QB, Ohio State
"We already know the king of the bridge quarterbacks is in place and waiting to start for the Dolphins (Ryan Fitzpatrick), but he would also be an excellent choice to help mentor the future at the position."
Christian Wilkins, DT, Clemson
"On (defense), Miami needs some help up front, and Christian Wilkins would be a nice addition at No. 13 overall. Wilkins is a guy who was absolutely dominant during his time at Clemson, leading the team to two national titles, and would be a nice building block for this defense moving forward."