Dolphins offensive line coach Pat Flaherty has been getting some new pieces for his position group, and he's anxious to ramp up the work with all of his players.
When rookie minicamp starts Friday, Flaherty will get his first on-field look at third-round pick **Michael Deiter** from Wisconsin and sixth-round pick **Isaiah Prince** from Ohio State.
"I'm really fired up," Flaherty said Thursday when all Dolphins assistant coaches met with the media in Davie. "I had a conversation with both those guys the last two weeks, just checking to see how they're doing and working out, make sure that they're running and things like that to get ready for this weekend. Really looking forward to see how those guys develop because both played a lot of football at really good schools, Wisconsin and Ohio State. I'm fired up.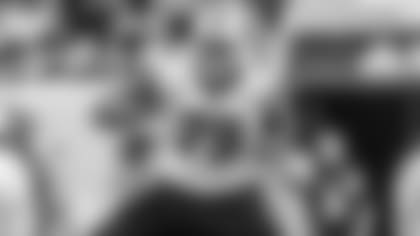 The six-year veteran has started 82 of his 87 NFL games, including all 48 the past three seasons with the Buffalo Bills.
"He's a veteran," Flaherty said. "He's played a lot of football. Even though he's been in the league a little bit, he's got a high ceiling and he can even get better at a lot of things he's doing. We're excited about having him."
Even though Mills comes with plenty of starting experience, Flaherty said there would be an open competition at right tackle.
One candidate will be **Zach Sterup**, who has appeared in 12 games with two starts for the Dolphins the past two seasons. Prince also could be in the mix.
"Zach Sterup has done a good job in the offseason program," Flaherty said. "He's worked his tail off in the weight room, on the field. Now, with Jordan Mills here and (having) drafted Isaiah Prince, you would think that the two veteran guy have a little bit of a step ahead of the rookie. But we'll see how it goes. It's hard to evaluate where you are on the offensive line until you put pads on."
While Prince lined up at right tackle throughout his time at Ohio State, Deiter started at center, left guard and left tackle at Wisconsin.
Flaherty would rather Deiter focus on just one spot as he begins his NFL career.
"We'll get him settled in one position," Flaherty said. "Where that is right now, we'll kind of meet on that tonight, see where we're going to start him. I would assume it's going to be one of the guard spots. You don't want to move a young guy around too quick because he doesn't learn the one position. As he feels that he knows what he's doing in one position we'll work him at other positions, be versatile."