The Dolphins offensive line practiced under its new coach Tuesday, and there were some differences as one expect.
What remains the same is the goal.
"I would say there would be minor technique differences, as there is with every coach," said veteran center **Daniel Kilgore**. "It's what they think will put you in the best position to take on a block or a single or a double. There'll be some differences, but not drastic. I told the guys after practice, the only ability for us right now is being able to adapt. Adaptability. And that's really going to be the biggest task, to put our head down and go work."
DeGuglielmo, who was reassigned Monday from his previous position of analyst, brings impressive credentials to his former/new role.
He was assistant offensive line coach for the New York Giants when they won the Super Bowl in 2007, was offensive line coach for the New England Patriots when they won the Super Bowl in 2014, and oversaw an Indianapolis Colts offensive line that led the league in fewest sacks allowed per pass attempts.
"It's awesome," Kilgore said. "They were a playoff team. You look across the line and they had an outstanding year just from the stats. He's been around the league. He's been with this coaching staff before. It's an opportunity for this team to really grow together with this staff. Looking forward to working with him every day."
"Guge is a good guy," Holden said. "He's a hard-nosed coach, something I like to take to as a player. That's kind of the coaching I've always had. I'm excited to see what he can do with us."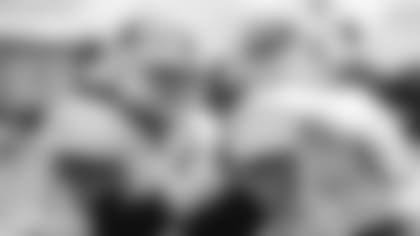 Because they're two different coaches, DeGuglielmo invariably will do certain things differently than his predecessor, Pat Flaherty.
That will create a transition, one the Dolphins offensive linemen hope is a smooth and short one.
"He wants us to get after it, but it's just working out the kinks, wanting to do his drills and getting used to his drills," Kilgore said of DeGuglielmo. "It's his first day. He's playing catch-up. Now we're playing catch-up with him with what he wants and terminology and drill work. It will take the next couple of days to get what he wants as far as individual work, but after this week we should be good."
For the first practice under DeGuglielmo, Davis said the intensity might have been ramped up among the big guys in the trenches.
"Yeah, a little bit more fired up," Davis said. "Obviously he's got to leave his mark on us moving forward and this camp is not supposed to be easy or not hurt people's feelings. If you can't take the coaching, you're not going to really make it in the NFL. A couple of little different coaching style, but it's the same offense."
Ultimately, the Dolphins offensive linemen are just looking to become the type of unit that can help the team win games.
Davis summed up how he sees the offensive line.
"We're tough guys," Davis said. "We're going to get stuff done. We're going to protect Fitz (Ryan Fitzpatrick) and (Josh) Rosen. We're not going to take any crap. It's going to job to get it done, keep guys clean, put points up."