To borrow the made-up expression, it's déjà vu all over again for Brock Osweiler, and he couldn't be happier about it.
When he signed with the Dolphins as an unrestricted free agent March 23, Osweiler was reunited with three coaches with whom he worked in Denver, most importantly Head Coach Adam Gase. The other two are quarterbacks coach Bo Hardegree and new run game coordinator/running backs coach Eric Studesville.
"Every coach has his system, and as a quarterback when you can find yourself playing in the same system for multiple years, I feel like your play starts elevating," Osweiler said. "This will be roughly my third year in Coach Gase's system. It's just a huge honor. I'm going to come in, I'm going to work extremely hard, always put my teammates first. This is just very special to be a part of such a first-class organization."
Osweiler first joined Gase and Studesville in Denver in 2012 when the Broncos made him their second-round pick in the draft, this about a month after they signed Peyton Manning as a free agent. Hardegree joined the Broncos coaching staff in 2014.
It was in Denver that Osweiler spent five of his first six NFL seasons, with a stop in Houston in 2016 mixed in. His best season came in 2015 when he started seven games for Manning and compiled a 5-2 record to help the Broncos on their way to an appearance in the Super Bowl.
Gase is hoping Osweiler's familiarity with his system will help him get off to a fast start with the Dolphins.
"I think Brock has the tool set really that we saw when we drafted him in Denver," he said. "He's had a little bit of a rocky road here the last few years. When you're used to working with a guy and you kind of know each other already and you're able to skip a few steps and get right into the meat of the action there and just get into fine-tuning a few things … I think he'll do well in practice with us and he'll be able to get on the same page with guys really fast. He kind of knows how things need to be done. It's just going to be about when you hit the preseason, how does that really work out? Can you get those other guys to play well around you and can you make the right decisions?"
For his part, Osweiler is looking forward to this new chapter in his new career.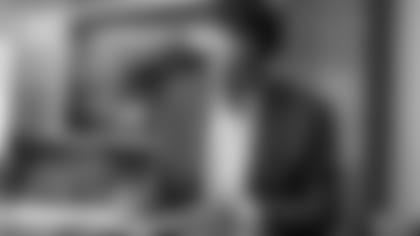 "It's all about getting better, and getting better every single day," he said. "We're all trying to perfect our craft. Nobody stays the same. You either get worse or you get better, and I'm trying to get better every day. Not only that, I want to be part of a special culture. From my visit here in Miami, you can tell from what Mr. (Stephen) Ross has done, all the way down to Mr. (Chris) Grier, Mr. (Mike) Tannenbaum and now Coach Gase, something special is brewing here. And the culture is right. This is special place. There's special people here and it's just an honor to be a part of such a great deal.
"It's tremendous. It's really hard to put words into place that really describe this feeling. It means a lot to me for a lot of reasons. Reuniting with Coach Gase, Coach Hardegree, Coach Studesville, guys like that. I grew up watching the Dolphins. It's always been my dad and my brother's favorite team. I feel like I know a lot about this organization. It's just an honor to now be a part of it."