Six former players who made significant contributions to the Dolphins came to Davie on Thursday afternoon. The purpose, as simply stated by Executive Vice President of Football Operations Mike Tannenbaum was "to make them Dolphins for life, the way it should be."
Vernon Carey, Chris Chambers, Jeff Cross, A.J. Duhe, Brandon Fields and Paul Soliai were at the Baptist Health Training Facility at Nova Southeastern University to sign one-day contracts that will allow them to officially retire as members of the Miami Dolphins.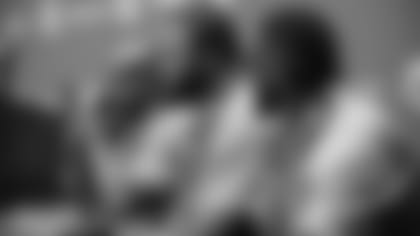 The six players will be on the Dolphins roster until 4 p.m. Friday, at which time they will be placed on the team's Reserve/Retired list.
"It's a great opportunity to show that the Dolphins brand is about once you're a player, you'll always be a player," said Nat Moore, Senior Vice President for Special Projects and Alumni Relations. "Once you're part of this family, you'll always be part of this family.
"This is just sort of solidifying that bond but also giving these guys the chance to leave under their terms."
The six players lined up at a table in the team auditorium, with Fields at one end and Chambers at the other. Five of them wore leis brought for the occasion by Soliai.
After answering a few questions, every player signed his contract. Duhe took advantage of the occasion to joke about benefits.
The players all expressed their gratitude for this opportunity, and Soliai could not hide his emotions as he choked up when he took his turn to talk about the moment.
"Where I came from, we don't have nothing," said Soliai, who was born in Orange County, California, and attended high school in American Samoa. "Never thought I'd be here, but this organization believed in me and drafted me. I might be a big dude, but I'm very humble."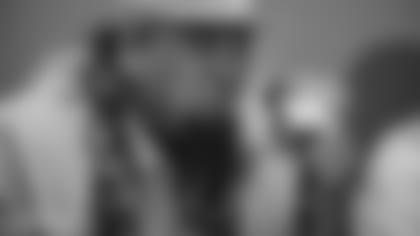 Cross, Carey and Duhe all played only for the Dolphins during their NFL careers, while Chambers, Fields and Soliai had brief stints with other teams.
But all of them always were recognizable as Dolphins players.
"It's something I wanted to do for quite some time now," said Chambers, who played for the Dolphins from 2001 until he was traded to the San Diego Chargers during the 2007 season. "This is my home. When did leave here in 2007, I cried so hard. I felt empty from that feeling. Just to get that opportunity to sign back with the team is going to bring me closer. Now I feel like I'm complete."
The six players all were asked for their favorite memories from their time with the Dolphins.
Carey mentioned the December 2008 victory at a frigid Arrowhead Stadium in December 2008  that was part of the Dolphins' run to the AFC East title; Chambers mentioned the Thanksgiving Day victory at Dallas in 2003 when he scored three touchdowns; Cross mentioned the 1992 AFC Championship Game at Hard Rock Stadium, though he says the loss against Buffalo still haunts him to this day; Duhe offered the 1982 AFC Championship Game against the Jets when he had three interceptions, including a pick-six; Fields talked about a 2010 game against the Jets when he averaged 56.4 yards on 10 punts to help the Dolphins pull out a 10-6 victory at the Meadowlands; and Solia mentioned another game against the Jets when he got the start because of an injury and on the first play pushed back perennial Pro Bowl center Nick Mangold to get to Hall of Fame running back LaDainian Tomlinson.
This marked the second consecutive year the Dolphins signed former players so they could officially retire as members of the organizations.