Tank Carradine is thankful the Dolphins gave him a chance to revive his NFL career this year, and he's intent on making the most of that opportunity.
So far so good for the former Florida State standout and 2013 second-round pick.
Carradine, who signed with the Dolphins on Feb. 15 — 11 days after Brian Flores was hired as head coach — is listed as a first-team defensive end on the first depth chart of 2019 and could be in line for a big role this season.
"I'm looking at it as a big opportunity," Carradine said. "It's a chance for me to get my career back on track. I thank the coaches for giving me this opportunity. I've got to get my career back on track and just be there for my team and do everything I need to do, set the edge in the run and be able to play third down in the passing game."
Carradine joined the Dolphins after being out of football since early last October when he was released by the Oakland Raiders.
His experience in both 3-4 and 4-3 schemes, along with his experience, made him attractive for the Dolphins and he jumped at the chance to get back into the NFL.
"I thought it was cool," Carradine said. "I sat out last year. It's something that really humbles you when you don't get picked up. I saw it as another opportunity for me to get better and be able to give it all I've got out there on the field. I was so excited about it. I came here, I said I'm going to give it all I've got. I know I'm getting older. I know this could be my last shot, so I'm going to try to make the most of it."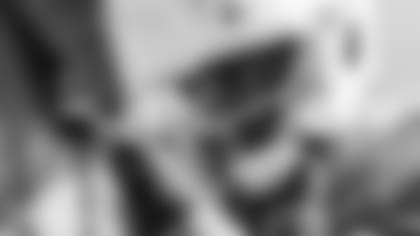 Carradine, who turned 29 in February, joined the Raiders after spending his five years with the San Francisco 49ers, including a rookie season spent on injured reserve. Carradine played 45 games for the 49ers and made eight starts, including a career-high seven in 2017.
Carradine entered the NFL as a highly touted prospect after earning third-team All-American honors in 2012 in his second of two seasons at Florida State.
Ending up being a starter would just be icing on the cake for him.
"That's very important to me because I do have experience and they have a lot of young guys and I've just got to lead them the right way and keep helping them grow so we help each other develop and leave it all out there on the field," Carradine said. "So it's very important. It also is going to give me a chance to get my career back on track, do everything it takes to help the team win and just be successful out there on the field."