The Dolphins' preseason opener featured the return of quarterback Ryan Tannehill to game action, some strong performances by a few rookies and a wild finish.
The Tampa Bay Buccaneers pulled out a 26-24 victory at Hard Rock Stadium when Chandler Catanzaro kicked a 27-yard field goal with 23 seconds remaining in the fourth quarter.
That came after the Dolphins took their only lead of the game, 24-23, when quarterback Bryce Petty threw a 6-yard touchdown pass to Isaiah Ford with 1:50 left and the two then connected on a two-point conversion.
Tannehill looked sharp in his first game since December 2016. Tannehill completed his first four passes while playing the opening series of the game, opening the game with a rollout and 15-yard strike to Kenny Stills.
He later completed passes of 7 yards to running back Kenyan Drake, 5 yards to Stills, and 5 yards to Danny Amendola.
His one drive ended with a missed 53-yard field goal attempt by rookie kicker Jason Sanders.
The drive featured a 10-yard run by Drake, one of four runs of 10 yards or longer by the Dolphins in the first half.
Among rookies who had solid performances were draft picks Jerome Baker, Kalen Ballage and Cornell Armstrong, as well as undrafted free agents Anthony Moten and Buddy Howell.
The Dolphins' first touchdown of the preseason came on a 7-yard run by Senorise Perry in the second quarter. It capped a 75-yard drive where Perry gained 34 yards on three carries, as well as gaining 8 yards on a screen pass.
Ballage also had success on the ground, with gains of 14 and 9 yards, and he added a 10-yard reception on a screen pass to convert a third down. He did have a fumble after catching a screen pass, and that led to Tampa Bay's second touchdown of the game, a 2-yard run by rookie Ronald Jones.
The play was doubly painful for the Dolphins, who lost linebacker Mike Hull to a knee injury on the play. Hull eventually was carted off the sideline and immediately was ruled out for the rest of the game.
After Tannehill left, David Fales and Brock Osweiler rotated at quarterback for most of the rest of the game. Petty came in for the final drive, which started at the Dolphins' 43 with 3:19 left.
Fales led the Dolphins' two scoring drives of the half, the first one ending with a 29-yard field goal by Sanders.
Fales was part of the longest play for the Dolphins on this night, as he connected with Francis Owusu for a 45-yard pass play in the third quarter. Osuwu added a 23-yard catch on the Dolphins' final drive.
On defense, Vincent Taylor came up with impressive plays on back-to-back downs late in the first half as he sacked quarterback Jameis Winston before dropping running back Jacquizz Rodgers for no gain after he caught a screen pass.
Peyton Barber scored Tampa Bay's first touchdown on a 4-yard run after the Buccaneers took over at their 43 following Sanders' missed field goal attempt.
Tampa Bay also got a touchdown pass from Ryan Griffin to tight end Alan Cross in the third quarter that gave the Buccaneers a 23-13 lead.
Sanders made a 23-yard field goal in the third quarter after safety Jordan Lucas recovered a fumble forced by linebacker Chase Allen in Tampa Bay territory. Greg Joseph kicked a 48-yard field goal later in the third quarter.
Veterans Frank Gore, Cameron Wake and Reshad Jones all sat out the game for the Dolphins, as well as four players who are or have been nursing injuries — William Hayes, Tony Lippett, A.J. Derby and Jake Brendel.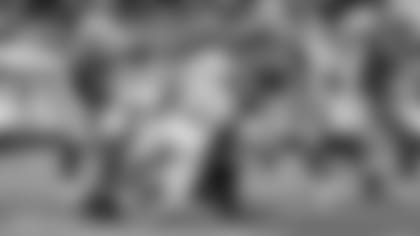 Rookies Mike Gesicki and Minkah Fitzpatrick started on offense and defense, respectively.
Other rookies had productive nights. Armstrong had two tackles after no gain on the same Tampa Bay drive in the third quarter. Baker was active throughout the second quarter. Rookie free agent defensive tackle Moten had the tackle on back-to-back running plays in the third quarter, one of them for no gain. Howell showed determined running while gaining 15 yards on three carries in the fourth quarter, and had a nice gain on a reception on the final drive.
The Dolphins' next preseason game will be next Friday night against the Carolina Panthers.