The Minnesota offense used an up-tempo, no-huddle offense early in the game that led to three first quarter touchdowns and a 21-0 lead. It was the first time the Vikings scored three times in the first 15 minutes since 2011, and those explosive plays seemed to steal some confidence away from the Miami defense. Vikings quarterback Kirk Cousins used play-action passing exclusively in the first quarter to take advantage of the success on the ground. Running backs Dalvin Cook and Latavius Murray combined for 220 yards on the ground. They had plenty of space and opportunities to control the tempo and find the end zone. The early dominance limited the Dolphins offensive chances in the first quarter, and as a result, Miami's offense was held to just nine plays for 27 yards.
There's no question that Minnesota completely dominated the first quarter and most of the first half. The Dolphins finally pushed back when rookie defensive back **Minkah Fitzpatrick** anticipated a wide receiver screen. Fitzpatrick stepped in front of a Cousins pass and took it to the house for a pick-six and Miami's first points of the game. The Dolphins followed that score up with a short **Jason Sanders** field goal and went to the locker room down 21-10. That's when the momentum completely shifted to Miami as rookie running back **Kalen Ballage** took the first play from scrimmage in the second half and streaked 75 yards for the first touchdown of his career. That play narrowed the deficit to just four points, and more importantly, gave the Dolphins confidence that they could come back and win. But the Vikings turned up the pressure on defense and found more explosive plays in the fourth quarter offensively to squash the comeback bid.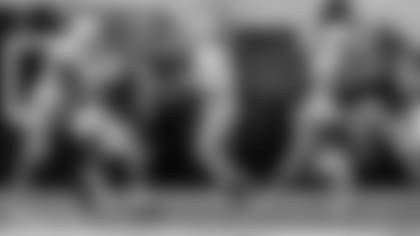 The Dolphins offense didn't handle the Vikings defensive pressure well and that led to consistent pressure and nine sacks on quarterback **Ryan Tannehill**. All 11 players on offense should shoulder the blame because it was a different player breaking down along the line of scrimmage or in the backfield on the majority of the sacks. Sometimes it was the offensive line, tight ends or running backs not reacting quick enough to give Tannehill the pass protection needed to have success. Nevertheless, Tannehill at times would've been better off throwing the ball away or shifting slightly within the pocket, instead of moving closer to the pressure. Simply put, the Dolphins were out played in the fourth quarter and didn't match the intensity or play with the consistency to win a game on the road.