**Albert Wilson** joined some select company Wednesday when he was named the AFC Offensive Player of the Week.
Honored for his performance in the 31-28 overtime victory against the Chicago Bears on Sunday, Wilson became the fifth Dolphins wide receiver to be named AFC Offensive Player of the Week since the award began in 1984, and the first since Chris Chambers won it in 2005.
The other Dolphins wide receivers to win the award were Mark Clayton (1984), Mark Duper (1987) and Mark Ingram (1994).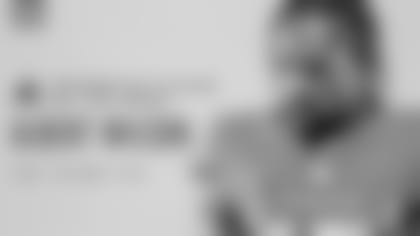 Against the Bears, Wilson had six catches for 155 yards and two touchdowns.
His performance included a huge fourth quarter, during which he had five catches for 150 yards and touchdowns of 43 and 75 yards to help the Dolphins erase deficits of 21-13 and 28-21.
The 150 receiving yards represented the third-highest fourth-quarter total in the NFL since 1991.
What's more impressive is that Wilson did the bulk of the work on the two touchdowns, because he scored his 43-yard touchdown after catching a pass at the line of scrimmage and he scored his 75-yard touchdown after catching the ball 4 yards downfield.
Thanks to those two plays, Wilson leads the NFL in average yards after catch at 14.06.
The last time a Dolphins player won an AFC weekly award was for Week 14 of the 2017 season when cornerback Xavien Howard was recognized for his performance in a victory against the New England Patriots at Hard Rock Stadium. The last Dolphins offensive weekly award came in Week 16 of 2016 when running back Jay Ajayi was honored for his play against the Buffalo Bills.