A venerable defensive coordinator and two-time Super Bowl Champion with the Miami Dolphins, Bill Arnsparger's already impressive list of accomplishments got a little longer on Monday. He was named a co-recipient of the Pro Football Writers of America's annual Paul "Dr. Z" Zimmerman Award for lifetime achievement as an NFL assistant coach. Romeo Crennel shares the 2020 honors with the architect of both the No Name Defense and the Killer B's Defense of the 1970s and 1980s, respectively.
The list of past winners is a who's who of NFL lore. Arnsparger earns his place among some of the legendary contemporaries of the profession alongside powerhouse names like Dick LeBeau, Tom Moore, Dante Scarnecchia, Monte Kiffin, Wade Phillips and Mike Westhoff, among others.
Arnsparger's legacy produced video game-like production. During a two-year period (1972-73) that brought a pair of Lombardi Trophies home to Miami, while posting a combine record of 32-2, Arnsparger's defense surrendered just 11.5 points per game over the 34-game stretch.
The No Name Defense materialized under Arnsparger. From that group, All-Pro Dick Anderson credits "One More Reel," Arnsparger's nickname for his relentless film study sessions, as the straw that stirred the proverbial drink.
"It's remarkable that he never called a defense we didn't have total faith in," Anderson said. "The man was brilliant. He put us in the right place at the right time for our abilities. He never asked someone to do something they couldn't mentally or physically do."
Winning came with the territory for Arnsparger. In his 21 years as an NFL assistant, his teams had a regular-season mark of 214-85-6 (.712), averaging more than 10 wins per year. His teams earned trips to the NFL Championship Game or Super Bowl in seven of his 21 seasons, including one trip to the NFL's final four with each team he coached (Colts, Dolphins, Chargers).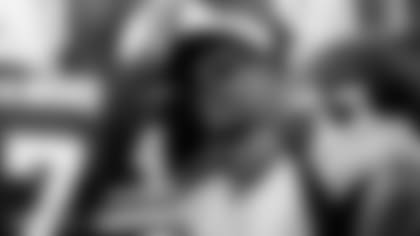 The play-caller of record for the first – and now one of two – defensive Super Bowl shutouts, Arnsparger's revolutionary "53" defense served as a precursor to what's now known as the 3-4 defense. Named for do-it-all linebacker Bob Matheson (who wore No. 53), Arnsparger built the scheme around Matheson's ability to blitz, play coverage, rush the passer and line up inside as a down lineman.
The focal point of Arnsparger's second defense dominant enough to earn a household nickname, linebacker A.J. Duhe pointed to Arnsparger's evaluation and teaching skills for the results produced on Sundays.
"He was not an instructional coach," Duhe said. "He'd draw everything up on the chalkboard, he'd show us film, that's why [we called him] 'One More Reel.' He could teach better with the reels than by lining up and showing how he wants it done. It was a unique coaching style and system that he had. He'd watch the film 24 hours a day if he could."
That tireless film study bred innovation.
"I think Arnsparger invented the zone blitz," Duhe said. "I don't remember seeing any teams do the stuff that we were doing."
Duhe served as the another example of Arnsparger's tinkering with original positions at a time where that level of forethought was beyond uncommon. In fact, it didn't exist. Duhe, a defensive end in college, switched to linebacker where he put a bookend on his brilliant career by intercepting three passes in the 1982 AFC Championship Game.
"[Coach Arnsparger] had all 11 guys on the field figured out. It was like having the eye in the sky on ground level. I was always impressed how he could diagnose what we were doing right and wrong in our defensive schemes."
Arnsparger's winning resume was not exclusive to Miami or his time with Don Shula. During his 21 seasons as an NFL assistant, Arnsparger coached in seven NFL Championship Games and Super Bowls. In 15 of those 21 seasons, Arnsparger's defenses finished top five in the NFL in scoring with five occasions as the No. 1 scoring defense in the league.