The Dolphins are now almost done signing their 2018 draft class.
After signing four of their eight picks Friday, the Dolphins signed three more Wednesday: third-round selection Jerome Baker, and fourth-round choices Durham Smythe and Kalen Ballage.
The signing leaves second-round pick Mike Gesicki, the tight end from Penn State, as the only unsigned Dolphins draft choice.
First-round pick Minkah Fitzpatrick, sixth-round pick Cornell Armstrong, and seventh-round choices Quentin Polling and Jason Sanders all signed Friday.
Practice report: The defense had the most memorable plays of practice Wednesday, topped by cornerback Taveze Calhoun's pick-six. Safety Reshad Jones also had an interception, which came after T.J. McDonald tipped a pass. … The highlight on offense was a long completion from Bryce Petty to wide receiver Malcolm Lewis where Lewis made a nice adjustment to catch the ball near the sideline. … Tight end Thomas Duarte did not practice. Wide receiver Leonte Carroo (knee) and defensive back Jordan Lucas (lower leg) again sat out.
Return engagement: The Dolphins have been rotating players at several offensive and defensive positions throughout the spring, and that applies to the return game as well. Special teams coordinator Darren Rizzi said Wednesday the idea is to have as many players as possible being able to handle both roles — punt returner and kickoff returner. Jakeem Grant was the main returner for both last season, and others who have gotten a look in the spring include newcomers Danny Amendola, Albert Wilson as well as Drew Morgan and Kenyan Drake on punt returns, and Wilson, Senorise Perry, Torry McTyer and rookie Kalen Ballage on kickoff returns. Adding to the decision-making process are the new kickoff rules, which will prohibit teams from having more than three players beyond 15 yards from the line of scrimmage. Rizzi said he would have to decide whether to have one or two players deep. These are all decisions that Rizzi said would work themselves out before the start of the regular season. "I like to have as many options as possible," he said. "As we go through preseason games, we'll try to narrow it down. As many good on the roster that can do it, the better off we are."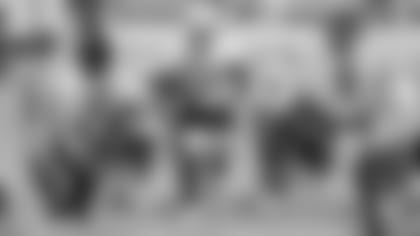 Parker plan: Wide receiver DeVante Parker has put in a lot of work this offseason to maximize his impressive potential and the Dolphins gave him a vote of confidence when they exercised the fifth-year option on his rookie contract. This is what the move said to Parker: "That they have a lot of confidence in me and they knew what I can do and the ability that I have." Parker has shown flashes of brilliance in his first three seasons but has been slowed by injuries, and he says his biggest focus in the offseason has been to work as hard as possible to make injuries a non-issue in 2018. "I just come here and work hard every day," he said. "My offseason has been real good. I've been here just about every day, working, training, trying to get my body right." Parker said his goals for the season include 1,000 receiving yards and "a few" touchdowns, but there's something else he mentioned first: "Stay healthy. But if you're not, you've just got to fight through it, play through it."
Grant gets his wish: Jakeem Grant has been a fan of Danny Amendola for several years because both succeeded in college as undersized receivers and both did it at the same school (Texas Tech), and he said the news of Amendola joining the Dolphins as a free agent was music to his ears. Grant knew Amendola beforehand from the latter's visit to his alma mater and he sent him a text immediately after hearing the news. "I was like, you've got to be kidding me, you're not going to be here in Miami with me," Grant recalled texting. "I never got to play with him. I always watched him, watched film on him and everything like that, watched him in the NFL. And I was like, man, I get to see this guy I've been looking up since I've been in college come and play right along with me. It felt great." Grant knew right away that Amendola was someone he could learn from, and that's just what he's been doing this spring. "The big thing is learning coverages from him," Grant said. "I'm picking his brain every single time when we're in an offensive meeting."