DOLPHINS: Who is your Dolphins breakout performer of the season?
Andy Cohen: Has to be Kenyan Drake. He was hardly on our radar when the season began. Now he is perhaps the key component to this offense, a player who has shown he could be an every down back. We saw flashes last season. But not with the consistency that we see now.
John Congemi: My breakout performer is running back Kenyan Drake. Although Drake hasn't had a full season to show his complete skill set, I really like the explosive plays that he brings to the Dolphins offense. He's had runs of more than 31 yards in each of the last three games and has compiled over 100 total yards in those games as well. Kenyan looks like he could be the three down back that Head Coach Adam Gase has been looking for allowing the offense to play fast and keep the pressure on opposing defenses.
Alain Poupart: That's a tough one because there's no shortage of worthy candidates, such as Kenyan Drake, Jordan Phillips, Xavien Howard and Bobby McCain. The temptation is to go with Drake because he's shown in the past three weeks he's got all the tools to become a feature back, but this may be just a case of somebody getting an opportunity. And Howard just got a real chance this year because he didn't have to deal with an injury in training camp like he did as a rookie in 2016. In terms of pure progress, you have to look at Phillips and McCain, but I'll go here with McCain. After an up-and-down 2016 season, he really has become an impressive nickel corner and showed the last two weeks he also can play on the boundary.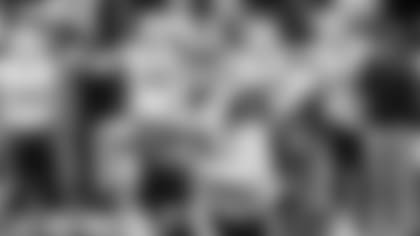 NFL: What is the NFL's biggest surprise team in 2017?
Cohen: Can it really be anybody but the Jacksonville Jaguars? They were 3-13 last season. Now they are 10-4. I imagined their defense would be improved, but I didn't expect dominance. Their formula is old-fashioned. Play strong defense. Run the ball. Control the clock. Mix in a little Blake Bortles. The only question now: How far can they go?
Congemi: One of the biggest surprises in the NFL has been the turnaround of the L.A. Rams. Their 10-4 record has shocked the entire league and has been led by the youngest head coach in the league Sean McVay. The 31-year-old McVay has been able to get the most out of second year quarterback Jared Goff and the offense is averaging over 31 points per game. The defense is loaded with talent and they have been successful in keeping opposing teams out of the end zone. This unit ranks first in the league in scoring defense and is led by arguably the best defensive tackle in the league Aaron Donald.
Poupart: This has to be, hands down, the Los Angeles Rams. Sure, they had a lot of nice pieces on defense when the Dolphins faced them at the L.A. Coliseum in November of 2016, but their offense was a mess and who could have thought that new head coach Sean McVay could make such an impact on that offense in such a short time. Several teams made a big jump this season, but none quite like the Rams, who are coming off a signature win for the program with their dismantling of the Seahawks — at Seattle, no less. Honorable mention goes to Jacksonville, which has ridden the best defense in the NFL to its first playoff appearance in 10 years.
Pop: What is the first holiday gift you remember getting?
Cohen: It was the neatest yo-yo I had ever seen. It made noise. It lit up in the dark. I saw it in the store and my mom must have noticed. It was in my hand on Christmas morning. I probably kept that yo-yo for a good 10 years. It went everywhere with me, and you just can't find one quite like it nowadays.
Congemi: I'm not sure if my memory is accurate but the first Christmas gift that I believe my parents gave me was a baseball glove. I'm glad it was because it's a game that I loved to play as a kid and throughout my high school years. It's a sport that gave me many great memories and friendships for life.
Poupart: The one that immediately comes to mind was a tabletop bowling game that was popular way back when and I haven't seen in decades. It had a lever on the front to set up and tighten the pins and you just rolled this miniature plastic ball just like the real thing. I don't recall exactly how old I was when I got it, but that's the one that sticks out in my memory because of how cool it was — though I eventually grew to like Skittle Bowl even more. If anybody remembers either of those two, I'd be impressed.